Scarecrow's Garden Log: Fortnight 15:01:2011 to 27:02:2011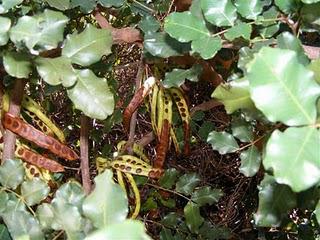 Carob pods drying on the tree!
Temperatures this week:
Lowest Min 8.2C
Lowest Max 21.7C
Highest Max 35C
5mm Rain


What's the weather been like in the garden?

Mild days, cool nights, a little rain then temperatures rising to mid 30's at the end of the fortnight.


Propagation:




Seeds:


Broad Beans Early Long Pod DT Brown
Wallflowers (seeds from garden)


Potting up: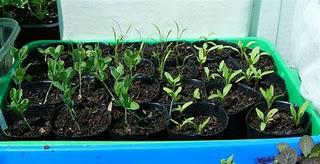 Alyssum White
Fennel Florence
Hollyhocks
Perpetual Spinach
Sweet Peas


Volunteers:


Hollyhocks
Red Kale
Warrigal Greens


Cuttings/Division:


Chives

Allium schoenoprasum


Ginger Mint

Mentha arvensis syn. M. gentilis


Oregano variegated

Oreganum vulgare

'Variegata'
Pineapple top
Society Garlic

Tulbaghia violacea


Tarragon French

Artemisia dracunculus sativa


Thyme Russian

Thymus nitidus


Yarrow White

Achillea millefolium




In the Garden This week: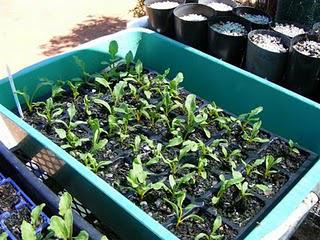 We spent some time in Adelaide with Doc's Mum last week so I prepared all the seedlings for a few days without water.
Cat trays come in handy to hold seedling trays and small pots and allow you to leave just enough water to keep the moisture level up without drowning young seedlings.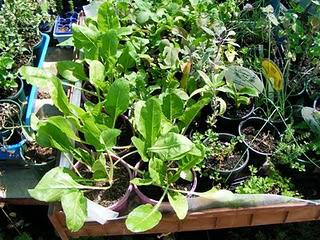 Lining other trays with plastic helps with larger pots.
That is as long as it doesn't rain in which case you wouldn't need the trays.


I relied on our trusty 7 day weather forecast which was for once correct in predicting no rain and fortunately no high temperatures either.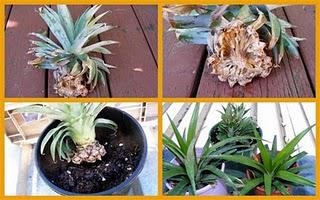 Recently we purchased a pineapple with a leafy top! Seems rare these days most of them have their tops chopped off. I cut the top off with approx 2.5cms attached and left it to dry in a sheltered spot. This week I potted it up. It will live in the shadehouse with three others I've planted this summer. They will move to the hot house for winter. Pineapples are not a locally grown food so I'm attempting to grow some here. Might work, Might not!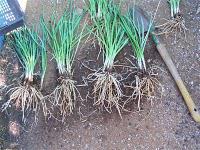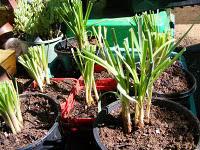 I dug up a small clump of Society Garlic,
divided the plants and potted them up.


At The Community Garden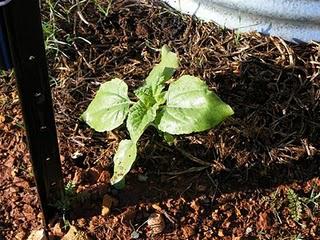 The Sunflower seeds I sowed around the base of the tank bed are starting to grow and so far seem to be surviving Locust/Snail attack!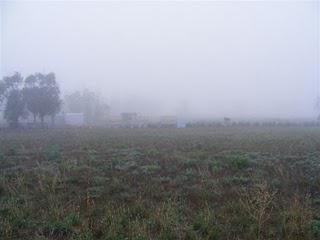 As we walked to the garden on the 16th we could barely see it from the road due to thick fog!
We harvested (

and ate on the walk home

) the first Yellow Baby Pear Tomatoes...yum!


Fortnight Harvest Tally:


Doesn't include Greens fed to the chooks on a daily basis or herbs picked for use in the kitchen for cooking or tea making.
Or veg grown in the Community Garden bed.
Beetroot Greens***86g
Kohlrabi Purple Vienna***50g
Shallots Red***56g
Silverbeet Rainbow Mixed***380g
Sweet Potato Leaves***50g
Tomato Kotlas***405g
Tomato Red Cherry***54g
Tomato Yellow Tommy Toe***170g
Zucchini (?)***2892g
Zucchini Cocozelle***3011g
Apples Cox's Orange Pippin***6157g
Apples Golden Delicious***11742g windfalls for drying and cooking!
Blackberry Thornless***242g
Grapes Black Sultana***5204g
We have also been grazing

(eating outside without weighing!)

on:
more Grapes, Ida Gold Tomatoes, Figs, Plums...




Eggs


13 From the 5 Farmyard Ferals
0 From the 3 Barnevelders
9 From the 5 Faverolles
To see how the various Garden areas fit on our half acre block check out the newest Map of our place HERE


As I seem to have trouble keeping up with weekly log postings lately I will now post a monthly journal update and try to post a few interesting items and photos in between as things happen.