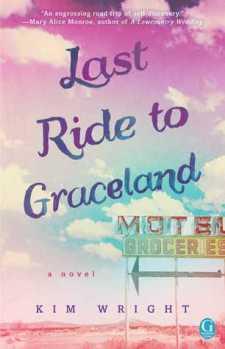 Last Ride to Graceland by Kim Wright
Published by Gallery Books on May 24th 2016
Genres: Contemporary Women, Family Life, Fiction, Literary
Pages: 288
Format: eARC
Goodreads


Lauded for her "astute and engrossing" (People) writing style imbued with "originality galore" (RT Book Reviews), Kim Wright channels the best of Jennifer Weiner and Sarah Pekkanen in this delightful novel of self-discovery on the open road as one woman sets out for Graceland hoping to answer the question: Is Elvis Presley her father?Blues musician Cory Ainsworth is barely scraping by after her mother's death when she discovers a priceless piece of rock 'n' roll memorabilia hidden away in a shed out back of the family's coastal South Carolina home: Elvis Presley's Stutz Blackhawk, its interior a time capsule of the singer's last day on earth. A backup singer for the King, Cory's mother Honey was at Graceland the day Elvis died. She quickly returned home to Beaufort and married her high school sweetheart. Yearning to uncover the secrets of her mother's past—and possibly her own identity—Cory decides to drive the car back to Memphis and turn it over to Elvis's estate, retracing the exact route her mother took thirty-seven years earlier. As she winds her way through the sprawling deep south with its quaint towns and long stretches of open road, the burning question in Cory's mind—who is my father?—takes a backseat to the truth she learns about her complicated mother, the minister's daughter who spent a lifetime struggling to conceal the consequences of a single year of rebellion.
When I saw the cover of this book, it caught my attention immediately. The cover, together with the title itself captured my attention so I decided I just had to read this book.  I hadn't heard of the author, Kim Wright, but it was worth taking the chance.
Thanks to the family I grew up in, the very first opening paragraph of the Last Ride to Graceland had me laughing out loud. You see, I could relate completely. My mother's side of the family is from West Virginia and no offense if any of them are reading this, but stories tend to grow, shrink, change or completely disappear if the need arises. Half truths (or half lies) are just a way of life and every truth can be covered with a lie so that everything seems okay on the outside.  Sometimes they actually lie when the truth would sound better. Oh, so back to the book – are you curious about that first paragraph? Here's what it said:
"I was a premature baby who weighted nine pounds and nine ounces. Yeah, I know. Impossible. But you have to understand that this particular kind of medical miracle is common in the rural South. Jesus still looks down from billboards around here and people care what their neighbors think. We pray and we salute… and most of all, we lie. It's why we have so many good writers per capita, and so many bad writers too, because all of us learned to bend the truth before we could even half talk."
See what I mean? Yeah, so I knew this book would be fun and kept reading.  The Last Ride to Graceland is the story of a 37-year old blues musician, Cory Bet Ainesworth who loses her mother, Honey, a former back up singer for Elvis Presley.  A year after her mom's death, Cory decides she wants to seek out the truth of a story she had heard from her mother (and mostly ignored) for most of her life.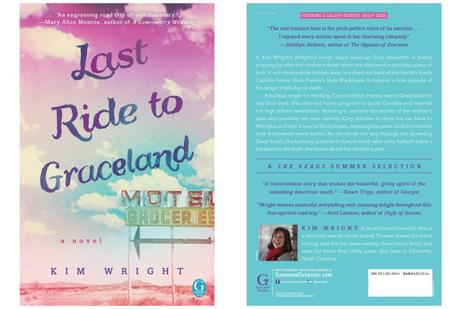 The Last Ride to Graceland starts out being told through Cory's eyes, but he book shuffles between what she learns or speculates and her late mother's story. Cory knows that her mother was there the day Elvis died, but that she returned home to Beaufort, South Carolina and married her high school sweetheart. Since the timeline doesn't add up right, Cory also knows her father couldn't truly be her biological father, except for the fact that she's been told she was a nine-pound premature baby, so she wants to know who her real father is.
Cory discovers Elvis Presley's 1963 Stutz Blackhawk hidden away in her dad's shed and she decides she's going to Graceland in an attempt to learn more about herself and return the car. The car itself is in mint condition and contains unusual clues from her mother's past.  While Cory's journey begins seeking out her real father, she ends up learning about her mom's life secrets and at the same time, she realizes that her mother was much more complex than she ever knew.  
This journey forms a stronger connection with her mother and also we see Cory get a grip on her future. As she discovers her mother's past, Cory comes to realize that she and her mother weren't as different as she had always thought. The author uses actual historical facts and weaves them into Honey and Cory's story making it very realistic to readers. The use of humor was perfect in this story and I loved how the story flowed so well. (Side note: the only negative that I'd say about this book was the use of the "F" bomb – not a fan myself, but I felt that the story would not have been affected had the word been left out of this book entirely so it was really unnecessary.
I love stories that take you on the road with them and Last Ride to Graceland did exactly that. The characters were believable and realistic and I even felt bad for Cory at the beginning. As a big dog lover, I loved it when Cory adopted the stray dog on the way to Memphis. I also enjoyed reading as Cory finally began to realize her own self-worth. Overall, I enjoyed the book and I'm sure I'll be reading more Kim Wright novels in the future!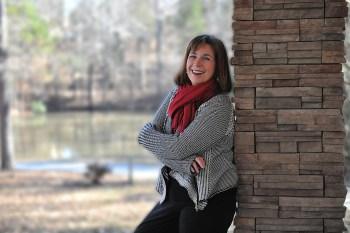 Kim Wright is the author of Love in Mid Air, The Unexpected Waltz, The Canterbury Sisters, and the most recent, Last Ride to Graceland, all published by Gallery Books, an imprint of Simon and Schuster.
She also wrote the City of Mystery series which includes City of Darkness, City of Light, City of Silence, City of Bells, City of Stone, and the Christmas-themed novella, The Angel of Hever Castle. This series is set in the Victorian era and deals with another of my obsessions, the founding of the first forensics unit in Scotland Yard. My chief detective, Trevor Welles, struggles to be a modern man in an antiquated system.
She is the mother of two grown children and recently became a grandmother for the first time.  Her hobbies include ballroom dance, travel, and dogs.
I was provided with a complimentary digital copy of this book from NetGalley in exchange for my honest review and unbiased opinion.
~ ~ ~ ~ ~ ~ ~ ~ ~ ~ ~ ~ ~ ~ ~ ~ ~ ~

It would be great if you would stay connected with me!! You can follow me on Twitter @DebiL1611, like me on Facebook at 2014 and Beyond, circle me on Google+, follow me on Tumblr, Instagram and Bloglovin', subscribe on YouTube, or connect with me on LinkedIn and Pinterest.

Please make sure to visit my homepage and subscribe to my blog for more great posts on running, fitness and lifestyle topics as well as food, product, music and book reviews, and more!