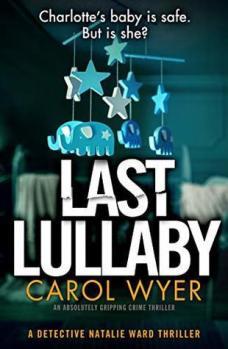 Last Lullaby by Carol Wyer
Published by Bookouture on December 7th 2018
Genres: Crime, Mystery, Mystery & Detective, Suspense, Thrillers
Pages: 336
Format: ARC, eBook
Goodreads
Buy on Amazon



Charlotte's baby is safe. But is she?

When the body of mother Charlotte Brannon is discovered by her husband Adam, in their bedroom, Detective Natalie Ward is first on the scene. The killer has left a chilling calling card: The word 'Why?' written on the wall in blood.

As Natalie begins to delve deeper into the couple's lives, she discovers that Adam has a dark past he's been hiding and she's sure that the Brannon's teenage babysitter Inge has secrets of her own.

Then another mother is murdered on her doorstep in front of her young son, the word 'why' scrawled on the wall next to her.

All the key suspects have alibis and with her own marriage hanging by a thread, Natalie is struggling to stay focused on cracking her toughest case yet.

When a young woman and her baby disappear, a member of Natalie's own team is put in terrible danger. Can Natalie stop this twisted serial killer and save one of her own before more families are torn apart forever?
Back in September of last year, I read this seriously awesome book, The Birthday by Carol Wyer (see review HERE).  I later learned that it was book 1 in the Detective Natalie Ward series.  After I finished The Birthday, I knew I was hooked on anything by author, Carol Wyer.  When I saw her latest book, Last Lullaby, available for review on NetGalley through my book blogging association with them, I jumped at the chance.  I knew there was no way I was going to miss book 2 in the series — I was gratefully was approved!
In case you are reading this, Ms. Wyer — you totally had me on this one, darn you! I really thought it was someone else.  I'm usually pretty good at this too, so great job!! I started Last Lullaby Sunday afternoon and despite the fact that I worked all day Monday, I finished that evening. There was no way I could put it down! It was just that good.
In this story, Detective Natalie Ward is called in to investigate the horrific murder of a young mom, Charlotte Brannon, who was beaten to death with her baby asleep in the next room.  Heading up the list of suspects is Charlotte's husband, who is a seemingly reformed ex-con.  There are also the two youths that were seen fleeing from the house at the time of the murder.  As the story moves forward, readers learn that Charlotte is also not all who she seems and that she has a secret of her own from her wild youth. 
The tension builds as Natalie and her team climb over the many roadblocks along the way. The author provides a very well written and believable story along the way.  A young woman and her child are kidnapped, putting the pressure on Natalie and her team to get the case solved quickly before they find another body to deal with. 
Okay, Ms. Wyer, again if you're reading this — I'm already looking forward to your next book in this series!! Please don't make me wait too long……. 
---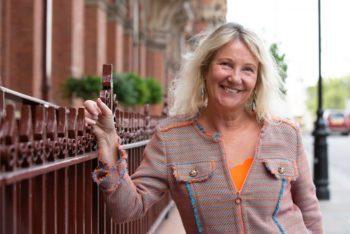 Carol E. Wyer who also writes as Carol Wyer is an award-winning author whose humorous books take a light-hearted look at getting older and encourage others to age disgracefully. More recently she has chosen to write for the "dark side" and embarked on a series of thrillers, starting with the gripping best-seller, Little Girl Lost.  Her book Grumpy Old Menopause won The People's Book Prize Award for non-fiction 2015.
Carol has been interviewed on numerous radio shows discussing 'Irritable Male Syndrome' and 'Ageing Disgracefully' and on BBC Breakfast television. She has had articles published in national magazines 'Woman's Weekly' featured in 'Take A Break', 'Choice', 'Yours' and 'Woman's Own' magazines and for The Huffington Post. Carol is a signed author with Bookouture and Delancey Press.

 You can connect with Carol on social media:
---
I was provided with a complimentary electronic advanced reader copy of this book from Bookouture through NetGalley in exchange for my post.  I was not required to post a positive review, but have chosen to do so because it was such a great story!

~ ~ ~ ~ ~ ~ ~ ~ ~ ~ ~ ~ ~ ~ ~ ~ ~ ~

It would be great if you would stay connected with me!! You can follow me on Twitter @DebiL1611, like me on Facebook at 2014 and Beyond, circle me on Google+, follow me on Tumblr, Instagram and Bloglovin', subscribe on YouTube, or connect with me on LinkedIn and Pinterest.

Please make sure to visit my homepage and subscribe to my blog for more great posts on running, fitness and lifestyle topics as well as food, product, music and book reviews, and more!