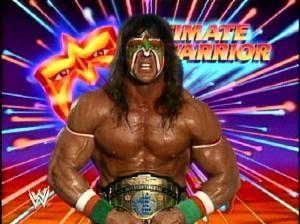 Jim Hellwig, aka the Ultimate Warrior, in his prime as WWF World Heavyweight Champion
I was very sad to learn of the passing of Jim Hellwig, known to millions as pro wrestling's "Ultimate Warrior" from the late 1980s through the mid-1990s. He was one of the true legends of pro wrestling, with an outsized personality to match his cartoon-like physique. But he was always something more, too. He was an articulate, intelligent guy who never quite fit the medium intellectually. He spoke with great conviction about big ideas, spiritual thoughts, and grand visions; things pro wrestlers don't tend to trade in.
He left the big stage of the then-WWF in 1996 and largely disappeared from public view after that. I interacted with him at length via phone calls and emails around 2000-01, when I was running a network of websites and e-commerce operations for a number of Hellwig's contemporaries from the pro wrestling world, and I was struck by how different he was.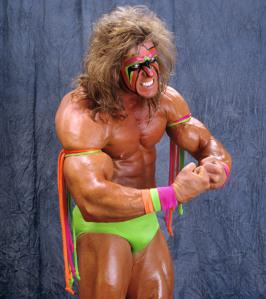 The Ultimate Warrior in all his glory as a WWF icon
While we never wound up building a site for him (he was stuck at the time trying to build a brand while mired in lengthy, bitter legal battles with Vince McMahon and the WWF), I've never forgotten our interactions. He wasn't just another good ol' boy who sacrificed his body in the ring in the name of entertainment. He existed on another plane mentally, and it was fascinating to get a glimpse of that during our many exchanges. He wrote emails that were long philosophical essays, not short missives, and our calls often lasted an hour or more as he described his thoughts on the wrestling industry, the WWF, his brand, and bigger ideas like those he so eloquently summed up in his all-too-brief return to the ring last week when he cut a promo for the WWE, just a day before his passing.
His final words to the public were eerie given what happened just hours later:
"Every man's heart one day beats its final beat. His lungs breathe their final breath. And if what that man did in his life makes the blood pulse through the body of others, it makes them bleed deeper and something larger than life, then his essence, his spirit, will be immortalized."
I didn't know him well, but I am so glad I got the opportunity years ago to engage in deep, thoughtful conversation and correspondence with someone who entertained so many over the years, including a younger version of me when I was following pro wrestling with great fervor back in the 1980s.
Rest in peace, Ultimate Warrior. You were, indeed, larger than life.