H
ey guys,
S
o for my first post I decided to do a review on Lancome's Teint Vissionnaire and Lancome La Base Pro. It's my first time using both these products.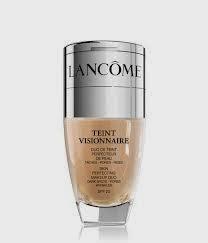 Lancome Teint Vissionnaire

• SKIN CORRECTING MAKE UP• NICE PACKAGING :)•NATURAL FINISH•NOT HEAVY FEELING• PRETTY PRICEY• NO TOUCH UP NEEDED
I
decided to give this a try because I really liked the idea that it's a skin correcting make up. First of all I would say it's pretty pricey (I got it for $60 at my local drug store) but it's worth the money. It provides an amazing coverage and I only used tiny bit of amount ( 1 pump) I didn't even use a concealer at all and normally with my old foundation I'd still use one because of my acne scars, and dark circles. It's medium to full coverage but it feels light on. I used my fingers to apply it and it does give a dewy look. But the number one thing I loved about this product is that the foundation didn't oxidized what I mean by that is normally with my other foundations after a long day my face darkens, with Lancome Teint Vissionaire my face color stayed the same through out the day ( YAAY ME )
Over all I would recommend this foundation, I am happy with it but keep in mind we all have different skin types,( I have very oily face)  it worked for me but I don't know about you LOL, they're just my opinions and I am glad I gave it a shot.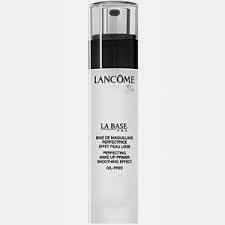 Lancome La Base Pro

•PERFECTING MAKEUP PRIMER• REFINES SKIN TEXTURE• SOFT AND SILKY FINISH• PRETTY PRICEY

A
nother product that I decided to try is Lancome La Base Pro, I decided to try it because my mom recommended it. She said it's pretty good qualty, nice, blah blah... anyway the first thing I should say is oh man Lancome products are small but the prices aren't small hihihi. La base is about $46 I think, it supposed to give me a smooth, radiant canvas for a flawless make up. Well in my opinion, I really LOVED the fact that after applying the La base in my face and while putting on my foundation my skin feels smooth and silky, my make up glides smoothly (not even kidding!)  I also liked how it visibly reduces my imperfections instantly after applying the base ( yes I saw the difference right away hooray for that LOL) On the box it says it controls shine, leaves the skin matte and soft you know something like that but I think La Base wasn't able to control the shine and oiliness of my face, I can't blame them though I have really oily skin (you can even fry a chicken with my face!) My face was matte and shine free for a few hours and then I am greasy again but oh well that's why I gotta get some blotters. 
Over all I would say I'd buy it again, and that means I gotta make some more bank haha! 
There you have it folks, my first review on something!!What do you think girls, thumbs up for Lancome?
- Melissa
♥