BEAUTY
❤ ❤ ❤ ❤ ❤ ❤ ❤ ❤ ❤ ❤ ❤ ❤ ❤ ❤ ❤ ❤ ❤ ❤ ❤ ❤ ❤ ❤ ❤ ❤ ❤ ❤ ❤ ❤ ❤ ❤ ❤ ❤
GO EYECONIC WITH WHITE 
BREAK THE CODES WITH WHITE ON YOUR EYES THIS NEW YEAR 
LAKME LAUNCHES 5 NEW SHADES IN THE EYECONIC KAJAL PORTFOLIO

After the phenomenal success of Lakmé Eyeconic Black Kajal, Lakmé brings home yet another international trend in the form of Lakmé Eyeconic White - an innovation that's likely to break all codes of traditional kajal usage'. For years, the black kajal has remained an integral part of an Indian woman's beauty regime, but the new Lakmé Eyeconic White promises to change the game for eye make-up. Spotted at several runways internationally this is a first of its kind introduction by Lakmé in India. Along with white, Lakmé also introduces four
must-have shades of brown, blue, gray and green
to the Eyeconic collection.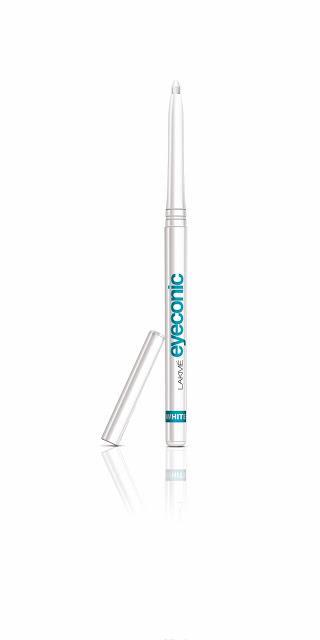 The Eyeconic shades by Lakmé are easy to apply and require zero maintenance, just like your regular black. In merely one stroke the kajal promises a
smudge-free professional finish up to 10 hours
. It comes with a
waterproof formulation
that allows one to be carefree while washing face or even traveling. It is dermatologically tested and is safe to apply with its two-way retractable twist-up format.
Speaking about the outstanding looks created for Eyeconic's new range, Natasha Nischol, Lakmé Make-up Expert mentions, "The new range of Eyeconic is extremely unique and promising. White is an exciting color for the eyes, which
can be used in the waterline to open up your eyes, or in the inner corners for the hint of brightness
. Alternately you could also use it on the upper eye lids alone or with another color for a more dramatic effect. We have crafted some amazing looks with Kareena Kapoor to showcase the potential of this unusual color. Each color from the range is very unique and thoughtfully chosen to suit the Indian skin type. As a make-up professional, I am confident that this launch will surely create waves in the beauty and fashion scene in India." 
To get you started, Natasha Nischol has shared a cheat sheet with some quick eye looks to help you perfect the 'white eye look' this season.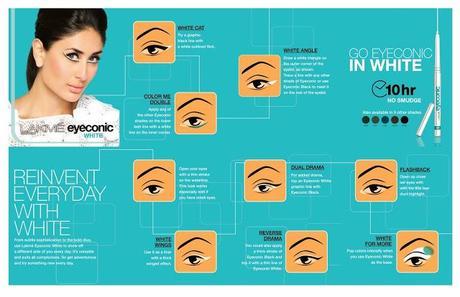 Price of Lakme Eyeconic Kajal are priced at Rs 250 (0.35 gm) and will be available at all leading beauty stores starting 21st December 2013.
About Lakme
Stay updated with more New Launches by Lakme.
EMAIL   FACEBOOK      TWITTER      GOOGLE+ 
Disclaimer:
Press Release. To know more, please read my
Disclosure Policy
.