I'm super stoked.
Can you peel of a pao from the lot like this?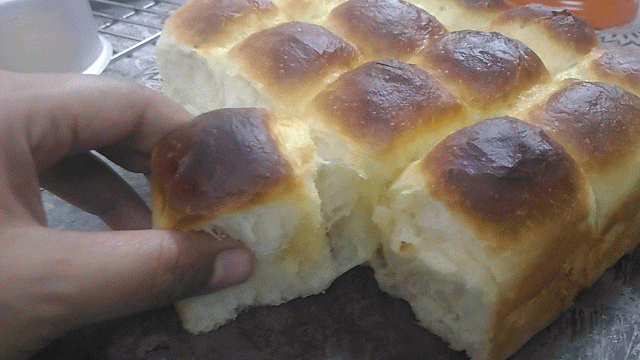 Can you???
Can you???
It's almost like cotton candy peeling off.
And this time the only difference is that instead of using butter ,I used Desi ghee or clarified butter.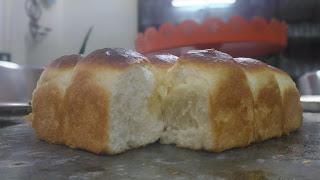 No tangzong ,no eggs, no milk powder nothing.
Just pure milk flour and yeast and some major muscle power with desi ghee.
Yup, the much maligned Clarified butter needs to be shown in all its glory.
Mine is home made.
But we'll go there in the next few posts.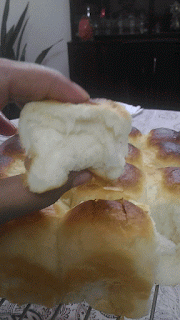 Back to being stoked. And Ladi Pao.
The softest, yummiest pao bread you can make... and in the smallest interval of time.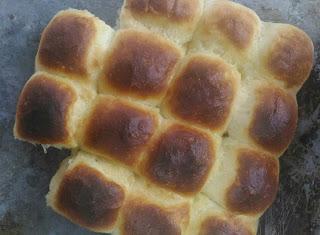 And today , I kneaded the bread by hand. Not in the stand mixer. Not that easy, but not that difficult either.
For the
Ladi Pao Eggless Pao Bread
You need
2 cups maida or all purpose flour
3/4 cup milk plus 2 tbsp extra - to make 200mils
1 tsp salt
1 tbsp sugar
1 tbsp cream of milk -optional
2 tsp instant dry yeast
40 -50 gms melted /softened butter-Amul or Desi ghee/clarified butter
Oil to grease tin
Grease an 8 inch cake tin with oil/butter.
On your clean worktop heap the maida or all purpose flour , salt and mix well with your fingers and make a well.
A lot of people add milk powder, but its never in my cupboard,so I have given up on it.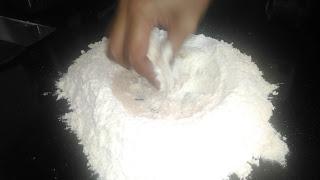 You may add malai or cream at this stage, but even if you don't, it will be ok. I didn't.
Warm the all the milk and add sugar and yeast-If you are using the active dry yeast, allow the yeast to mix and froth.
 If you're not, dive straight in. Just mix it with the flour, but away fro. The salt.
No pretense.
No preparation.
You can also liken that to eloping.
Marry in haste but never repent...
Back to the dough.
Into that well we made, pour in the milk mix.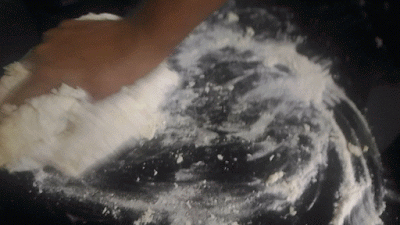 Keep your hand the same way like Hulk holds his.... claw like and mix into  a sticky oozy mess.
Yup its perfectly all right.
You'll need your bench scraper and end up with a sticky dough.
Now pour the butter or ghee over.
Stretch, fold, bring back and generally fool around with the dough.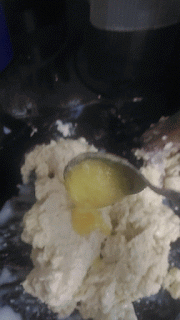 Remember to use the heel of the palm to drag the dough forward and the bench scraper in your left hand to bring it back.
Almost like a coordinated motion.
Knead almost 10-15 minutes.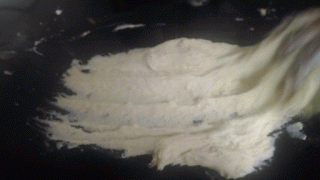 You may be tempted to add more flour. But if you do, these pao will not be soft enough.
Remember, chemistry / biology at work here.
And your bench scraper is your friend . Push forward ,scrape back.
The gluten protien will form accordingly.
You'll know the dough is done when it has come together and you are able to drag it towards you without any dough sticking on the work top. Make your ball by stretching the top and tucking strays under.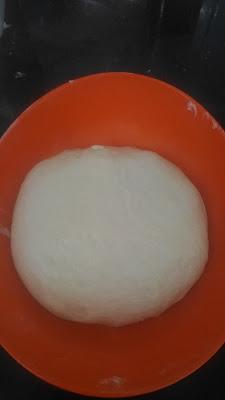 Grease a bowl with oil and place the dough ball seam side down in oil. Cover with film and set aside. Doubles so fast...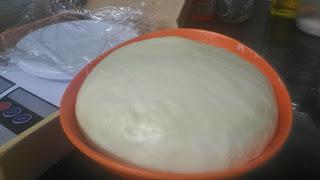 After the dough has doubled divide into 9 or 16 balls. My dough is generally 540-560 gms. So a ladi pao will be approximately 60 gms. Or 30-35 gms.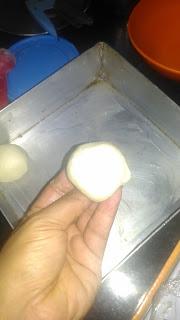 Stretch one side and pinch strays under. Like so.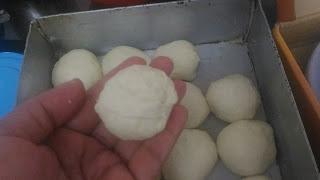 Place close to each other .
Flatten the tops.
Allow these to prove 45 minutes.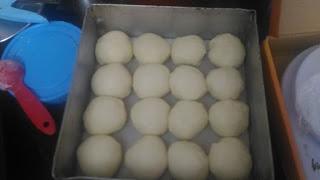 Halfway through ,preheat oven to 200C. Never over proof the pao. Bake within 45 minutes of second proof or as soon as it doubles.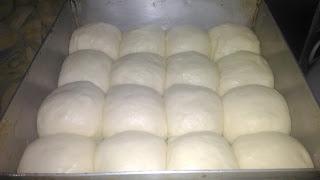 Brush with milk and pop in the oven for 18-20 minutes. My Morphy Richards needa me to broil the bread a minute for that perfect color.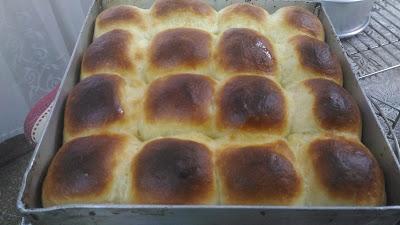 Your home will be awash with amazing yeasty , buttery, bread toasting aromas by now.
Once they are done, check by knocking on the base for that hollow sound if you're not sure... but one can tell they are done by looking at them.
Brush with soft butter. I used a spoon of ghee.
Wait 5 minutes and turn the pao out onto a wire rack. You may need to run a knife around them in the tin.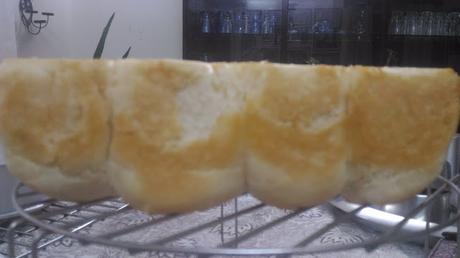 Allow to cool 5-10 minutes and then enjoy with your bhaji or Chai.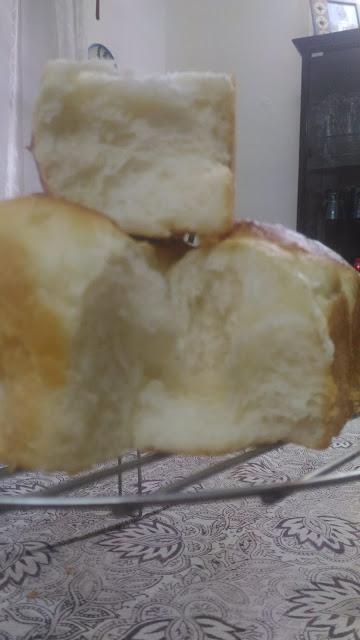 This is best enjoyed fresh, the day they are baked. Remember, we use no preservatives at home.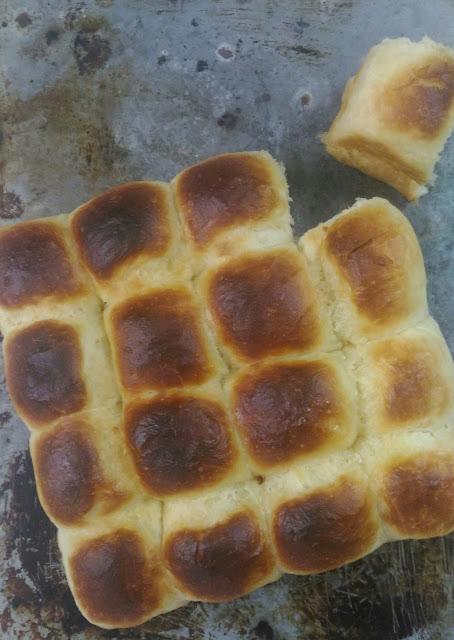 I've never had a chance to photograph these before, though I've been baking these for a long time now...so I deliberately did it while the boys are out.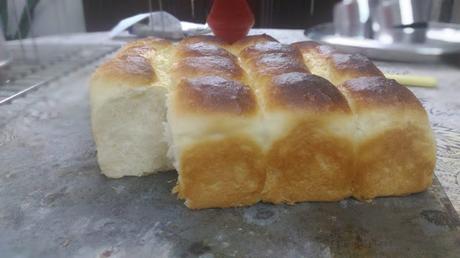 Just the weather for these pao with Chai. Since they already contain enough butter...
With The Chana Achaari also they are fabulous.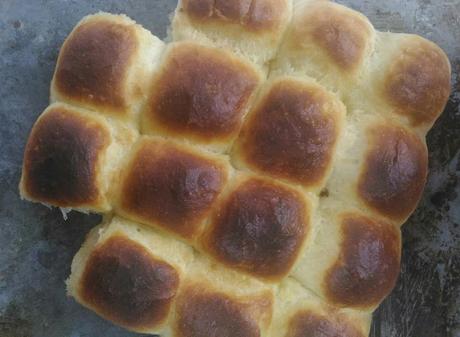 Try them today. Oh and sweet dog Romeo practically webt ballistic while I was taking pictures. He wanted... the whining and the sniffing...And then sweet child walked in ,back from school, wet from the rain...
"Fee Fie Fo Fum, do I smell some Bread today????"


So what are you baking today???