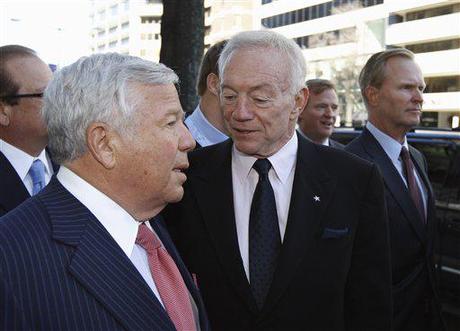 As the never ending saga of the NFL labor talks continue.Many including my self are wondering if anything will happen but, by the having a 24 extension it. 
clearly indicates that both sides want to reach some kind of agreement and maybe this is a sign that they are coming to an agreement. On the respective issues that have been discussed such as the 9 billion in revenues and the rookie wage scale.
Today George Cohen will meet with both sides to discuss there differences in the labor agreements. George Cohen has already got the players union to agree to a 7-10 day extension he is now just waiting for the owners.
This clearly indicates that the labor talks look like they might take some more time, but it could also provide that there will be a mutual agreement when both sides are finished with these days possibly. We will just have to wait to see what happens by 11:59 tonight friday.
*****Update yesterday march 4 the owners and the players agreed to a 7 day extension this is a good idea, because it shows their making progress they just need to really sit down and get this down. 
***credit to bay news 9 for the image