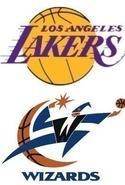 The L.A. Lakers (9-14) travel to take on the Washington Wizards (3-16) in our pick if the day.
The Lakers look to snap a four game losing streak and try to turn around what currently looks like a disaster season.
The Wizards look to spoil their plans as the look to win their fourth game of the season. The Wizards beat the Miami Heat to win their first game of the year.
Look for the Lakers to have some fire in tonight's game. At the same time the Wizards look to get some rhythm in their season.
Who do you think will win?
Let us know your thoughts on the game!
<a href="http://polldaddy.com/poll/6770184">Take Our Poll</a>