I had the opportunity to spend a glorious long weekend in the California sunshine over Memorial Day weekend.  Relaxing with family, catching up with friends, seeing some of the sites, both touristy and not ~ albeit breif, it was really just a wonderful getaway.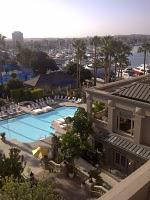 The view from our room
Of course food played a role in the enjoyment. After all, it was vacation so you've gotta live a little! We spent a couple of days at the Ritz Carlton in Marina Del Rey (how much would I love to call it home?)  On Saturday morning we picked an outdoor table overlooking the marina under gorgeous cloudless blue skies.  I started on a healthy note with a large bowl of incredibly fresh berries and rosti potatoes with diced onion and yellow pepper, but honestly, with that view, I think anything would have tasted good.
It was such a beautiful day that we spent it poolside, so lunch was there as well.  The hotel-made tortilla chips and guacamole with a cold margarita served me just fine (and I snitched a couple of french fries from my friend's son which were a little too good!)  So were the hummus (which I did eat with cut vegetables) and the truffled potato chips...I told you: vacation!
For dinner we dined at
Katsuya
on the corner of the famed Hollywood and Vine.  It is a total see-and-be-seen Japanese place, and it was clear why.  The restaurant, which boasts a few locations around LA, was dimly lit with large beveled mirrors, funky wall designs and cool accessories.  I enjoyed the Vitamin A ~ tequila with freshly squeezed lime juice and acai berry (antioxidants are important you know...) some vegetable sushi and a delicious mixed green salad with tofu and a citrusy ponzu sauce.  Everyone really enjoyed their meal.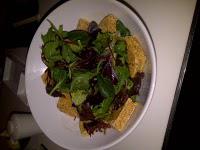 The tofu and mized greens salad
with ponzu at Katsuya
On Sunday we went to the famed
Farmer's Market
next to the Grove, a very pretty outdoor mall with a dancing water fountain in the center.  The Market was unlike any farmers market you might imagine ~ no outside stalls with copious amounts of fresh produce, but rather 40+ individual stalls selling their fare, from crepes to pastry, oysters to nuts, candy to barbecue.  Being vegan there wasn't as easy as I'd anticipated but I was able to order a custom burrito with white rice, zucchini, corn and guacamole topped with a flavorful salsa verde.  It was a nice was to spend a morning LA style and the mutiple choices were great for 5 of us who all sought different things.
Monday morning brought us to Old Pasadena and
Mi Piace
.  While breakfast there wasn't especially vegan-friendly, this chic, high-ceilinged restaurant is surely a local destination.  The front wall of the restaurant is floor to ceiling glass to the street with outdoor tables, opposite mirrors of the same height.  White and lime green adorn the rest of the sleek space with funky chandeliers and white leather banquettes at the tables.  While my options were limited, my potatoes (flavored with bits of jalapeno) were delicious and the lunch and dinner menus boast other Italian fare that would have given me more to choose from.  As we left we saw the pizza dough baking in the large brick oven and it looked fabulous (as did the display case full of non-vegan pastries!)
Of course beyond what I ate, it was such a great way to spend a few days.  The weather held up for us, and we did a little sightseeing but there are endless possibilities...I'd love to hear what your faves are!