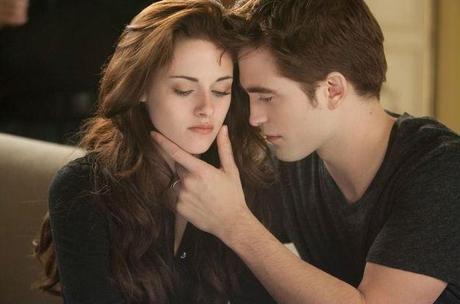 Kristen Stewart and Robert Pattinson in The Twilight Saga: Breaking Dawn – Part 2. (Summit Entertainment)
-Kristen Stewart eats crow to sell her new film in a new interview with Newsweek: "I apologize to everyone for making them so angry. It was not my intention."
-Meanwhile, Robert Pattinson and Kristen Stewart are filled with Christmas cheer – surprising.
-Speaking of KStew, Ben Affleck just dropped out of the comedy they were supposed to star in together. Maybe he realized that his comeback would by jeopardized by trying to shoot a funny film with the most dour girl in the world.
-Rumours that Blake Lively and Ryan Reynolds' wedding spread in next week's Martha Stewart Magazine will feature no shots of her dress or face(!) is bumming me out. Way to ruin Christmas, Blake!!
-Taylor Swift took her teen boyfriend to get a giant tattoo yesterday.
-Meanwhile, Taylor's cat really, really likes her new song.
-A new Golden Globes promo has landed, with Amy Poehler and Tina Fey promising a "drunken," "slightly ghetto" show. God bless them!
-For some reason, Christina Milian has jumped into the fray and insists Chris Brown is still dating Karrueche Tran.
-Kim Kardashian got bangs and everyone has a lot of feelings about it.
-It turns out that Rachel McAdams is just as nice as you hoped she'd been.
-Speaking of Rachel, the trailer for Terrence Malick's very weird film To the Wonder starring her and Ben Affleck has arrived.
-Lindsay Lohan is feeling pretty confident that the judge will let her off the hook during her probation hearing. She's probably not wrong.
-James Marsden is a new daddy. His ex-fling just had a son.
-Jennie Garth says that dating Luke Perry "might be weird." Please just get over it and give our inner teen a reason to live!
-Ke$ha was forced to sing "Die Young" — according to Ke$ha.
-Miley Cyrus continues to be inappropriately hands-y this week.
-I dig this casting news: Jason Schwartzman is coming to Parks and Recreation.
-Is Tom Cruise dating Malin Akerman's sister? Probs not.
-The Voice's new promo (featuring Usher and Shakira) is actually pretty great.