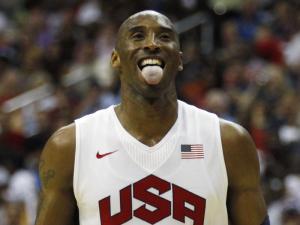 Photo: Reuters
- Adam Parker
Somebody call the presses, Kobe Bryant just tore David Stern a new one!
Okay, not really. But in retrospect, isn't that kind of what he did?
When the
Mamba
speaks, the whole world listens.
After saying in Las Vegas that he hopes NBA pros will continue to represent their countries in the Olympics, Kobe voiced his dismay with the 23-and-under concept that's being floated by NBA commissioner David Stern in even stronger terms Tuesday when Team USA arrived in the United Kingdom ahead of the 2012 London Olympics.
Speaking at an appearance at the town hall in Manchester not long after the Americans set foot on British soil via a red-eye flight after Monday night's exhibition victory over Brazil in Washington, D.C., Bryant made it abundantly clear that he thought Stern's proposal to restrict the NBA's Olympic to players aged 23 and younger is just downright 
"stupid."
"It's a stupid idea,"
Bryant said.
"It should be a (player's) choice."
Well, there goes Kobe being Kobe again — keeping it real and telling it how it is. This candidness is just another of the countless reasons that the
Mamba
is such a cool cat.
He's honest to a fault and has no problem telling you how he feels.
While I understand the concerns of Stern and the NBA owners around having your star players represent their respective countries in the Olympics, I also don't feel think it's smart to restrict your stars from doing so. 
They say they're concerned about the long-term health of their players and whether that investment in said players (if they're allowed to continue playing in Olympics) will be worth it in the long run.
I think Stern and the owners see it this way — the players are paid boatloads of dough to play their best basketball for their professional teams. What about the extra mileage that players (especially the guys on the wrong side of 30) put on their bodies to represent their countries? Or even worse, what if guys get injured while competing?
To be fair, those are all legitimate arguments. However, I don't think it's going to happen. Not only does USA Basketball like the system that's in place now, you better believe that the NBA Players' Association will also likely fight any potential change to the rules as w regarding Olympic age limit.
As far as injuries occurring, guys play pickup basketball all the time during the off-season, so what's to say they won't get injured doing that? In my opinion, that's just as likely as the possibility of getting injured in international competition.
Face it, these guys are going to find ways to shoot hoops during the off-season no matter what. The game is in their DNA.
Also, according to Clippers' point guard Chris Paul, playing in
the Olympics
paved the way for what he feels was thus far his best statistical NBA season. Said Paul,
"I personally would like for it to be your own decision, because playing in an Olympics — this will be my second — is the greatest experience of my life.
"If you look at the track record for it, I can honestly say my best season in the NBA statistically was the 2008-09 season, which was after my first Olympics. You see guys, when they come back from playing on a team like this, they go into the new season with the ultimate confidence. We talk during the season, we talk about how tired we're going to be in the summer, but as soon as we all get out to Vegas, we're excited. We're ready to go — it's on. It's better than being at home just working out and playing ball. You get to play against the best players in the world."
Well said, CP3.
We concur.
We implore Stern and the other decision-makers on this to re-consider their position. After all, can you imagine the public outcry? Do you really want to deal with the thousands upon thousands of NBA fans that will undoubtedly flood your inboxes with hate email and storm NBA headquarters with pitchforks and torches in hand?
I didn't think so. A player's career is short enough. Don't deny them the phenomenal opportunity of playing for their countries in the Olympics. Let each player make his own choice. After all, who knows what their bodies can handle better than the players themselves?
Our advice Stern and company?  — Take Kobe's advice. Leave this one alone. Trust us, you don't want to anger the
Mamba
.
Be sure to follow Beard And Stache on Twitter 
@BeardAndStache
, and also Adam 
@Adam_Parker43
, Like our Facebook page 
HERE
!