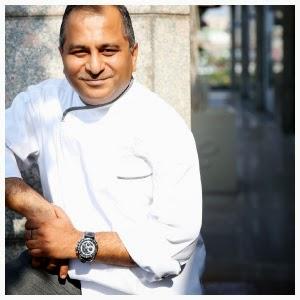 Chef Ravi Saxena, Corporate Chef – The Claridges Hotels & Resorts
There are very few individuals who dare to take the uncharted territory and continue to challenge the status quo. I met one of them a few days back. He is none other than the Corporate Chef of The Claridges Hotels & Resorts - Chef Ravi Saxena. He was instrumental in starting one of the finest destinations for Italian cuisine in Delhi -
San Gimignano
at
The Imperial
. In this exclusive interview with Mystic Foodie Mantra, he gives us peek-a-boo into his background.
MFM: Tell us something about your background? Chef Ravi:
I belong to Allahabad. I come from a family of professionals, be it doctor and engineers. 
MFM: Then what made you opt for Culinary as a career?Chef Ravi:
I was also on the course of following the family tradition and had applied for the dental surgery course. But on my friend's suggestion I had also filled the form for IHM. I got selected for both, but choose IHM over dental surgery because of the glamour associated with the hotel industry. Since I was selected for IHM Goa, there was a charm of the place which allured me. Also, I wanted to break the family norms and wanted to do something different.
MFM: So did you find it charming?Chef Ravi:
I joined IHM Goa in the year 1988 and it was during my industrial training stint at Hyatt Regency Delhi that I experienced the reality. As part of the training, one has to undergo the process of hotel operations, be it cleaning cutlery, making guest beds or clearing dining tables. It's during this time most of the students leave the course. But I enjoyed the entire process and within 6 weeks, I was assigned the opportunity of managing coffee shop. For the rest of the duration I was in the coffee shop managing everything on my own. I believe the training is not just about learning, but it gives one clarity on one's future path.
MFM: Tell us about your career?Chef Ravi:
Post completion of my course at IHM I joined Leela Goa as an Italian cuisine. Did a stint in Leela Mumbai. I joined Holiday Inn Pune as Sous Chef when the brand came to India. I moved up to become second to Executive Chef. Then moved to Bahrain. I had to come back due to family exigency. I joined The Imperial. By then, I was contemplating moving out from a specialist role, an opportunity with The Claridges came my way. I took up the challenge to re-energize its brand.
MFM: How did 'Dhabha by Claridges' happen?Chef Ravi:
Dhaba is an iconic brand with a history of more than three decades. It's signature recipes are loved by Delhities. While I was working on refreshing the brand, I thought of widening the reach of the brand. There was a gap in the market for such a concept. After a lot of coaxing and convincing the management, I opened the first one at DLF Saket in December last year. Since then the second one has also come up at DLF CyberHub in Gurgaon.
MFM: Any plans for taking it out NCR? Chef Ravi:
Yes, we are planning to take it to cities like Mumbai, Bangalore etc.
MFM: Do you cook at home?Chef Ravi:
Yes, I do. My kids love Italian cuisine that I prepare.
MFM: What do you do to unwind yourself?Chef Ravi:
I love spending time with family, going out on weekend breaks with them. Recently, we spent a quiet weekend together at a property in Surajkund.
Picture Courtesy Dhaba By Claridges