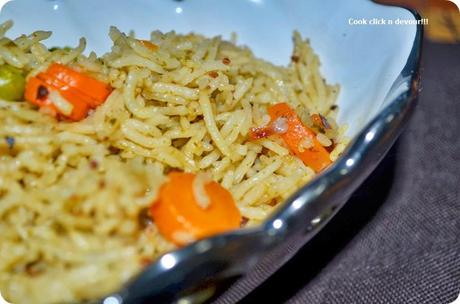 This post has been in my mind for long time,to be precise when I blogged about how to make perfect gravies.We Indians have a love that has no bounds towards rice and when it is a fragrant biriyani or pulao it increases even more.I have seen and heard people shying away from making biriyani at home due to the fear of over or under cooked rice/veggies.I also got few requests on cooking perfect rice varieties .So here I am haring the little I know on making good mixed rice varieties at home.Trust me with little planning and patience we can really good pulao/biriyani at home.Here I have compiled the tips into few sections,I hope at least a few will benefit out of this.
Biriyani and pulao:
As per my understanding and reading pulao is one where rice and veggies/meat cooked in water/broth.These days pressure cooker is widely used.There are no layers in pulao,whereas in biriyani,rice is par cooked first,veggies/meat are also fried and then layered and then cooked under very low flame with/without dum.Biriyani is more juicy and has some moisture compared to pulao.biriyani is often topped with fried onions/cashews.The success of any biriyani/pulao lies on how perfect the rice is cooked.Here are few pointers to cook basmati rice.
Basmati rice:
Basmati rice is a type long aromatic rice grain,specially used for pulao and biriyani varieties.India is one of the largest producer of basmati rice. Read more about basmati rice here
How to cook basmati rice:
1.Before using wash the rice only once or twice.Washing more than twice will result in loss of flavor.
2.After washing soak the rice in water atleast for 30 minutes.This will ensure rice will get cooked well also become really long once cooked.
3.After 30 minutes,drain the rice and spread it on a wide plate and allow the rice to cool completely.
4.Then cook the rice according to your recipe.(Pressure cooker/open method)
Pulao varieties: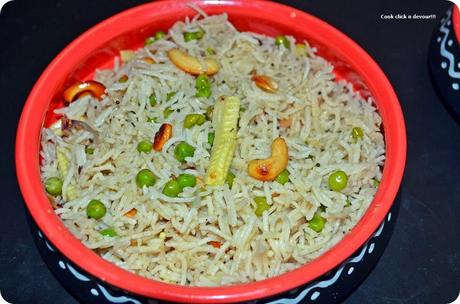 1.Always use a thick bottomed kadai or pressure pan for cooking pulao.
2.For any pulao you can substitute water with tomato juice(unless curd is used in the recipe).This lends a pleasant color and flavor.Though you cannot do this for peas pulao/jeera rice as they are supposed to be white.
3.Once you saute the veggies and masala for pulao,add the drained rice and fry at low flame for at least 3 minutes.This ensures any left over moisture in the rice is absorbed.
4.Addition of water is crucial for perfect pulao.Say if you are using 1 cup rice and 3/4 to 1 cup of chopped veggies,1 3/4 cup water should be sufficient.
5.After sauteing the rice,add the water,salt and let it boil.Bring to one full boil before closing the pressure cooker.
6.I generally cook my pulao for 3 whistles. It is ok even if you cook for extra few minutes(just ensure that your pan is thick enough to avoid burning),if you under cook the water will remain and rice will be mushy on top and un cooked at bottom.
7.Once the pressure is released,open the cooker,do not mix yet,after 2-3 minutes close again.This is to release the pressure completely.Allow to rest for 15 minutes.Opn,mix very gently and serve hot.
Biriyani varieties: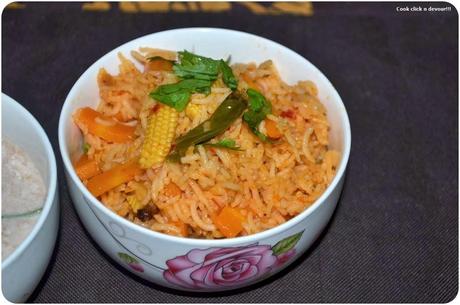 Here is a disclaimer before I write about biriyanis.There are many varieties of biriyanis especially non vegetarian ones.Here I am sharing my knowledge about the vegetarian ones I make at home.I suggest using a thick bottomed vessel (not pressure cooker) for making biriyanis.Traditionally clay pots were used for making biriyanis.
1.Prepare the basmati rice till draining part as mentioned above,then par cook the rice till 70% done.I generally pressure cook for 1 whistle with 1.2 cup water for 1 cup rice.
2.Next fry the veggies along with masala.
3.Now keep a thick cast iron tava on the stove and heat over low flame.Keep the thick bottomed vessel and spread the par cooked rice and veggies in repeated layers.Cook over very low flame till the rice is done.
4.Do not open the pan in the middle.Check after 15-20 minutes and if rice is cooked completely,add the fried onions,mix gently and serve hot.
Mixed rice varieties: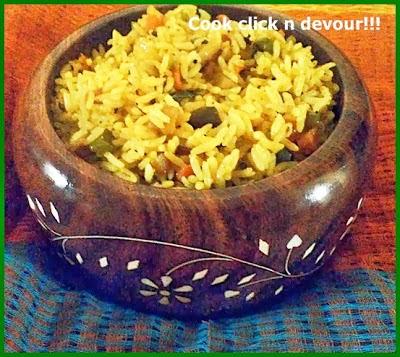 Though it is a sheer bliss eating a slow cooked biriyani or an authentic pulao,one can never deny the convenience of quick variety rice we make during rushed hours.You can make mixed rice with almost any chutney,curry or left over sanzi too.
1.Cook and cool the rice thoroughly before making the variety rice.Add few drops of oil while cooking the rice.
2.Heat a pan and cook the masala/curry/chutney.If using left over heat the masala.
3.Spread the cooked rice,add 2-3 teaspoons ghee/oil and cover.Let it rest for 10 minutes.Open,mix gently and serve.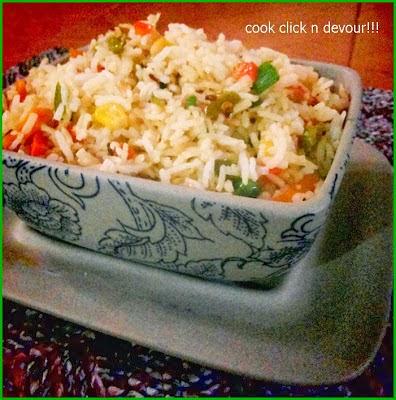 Please note I have not given recipe for any specific biriyani/pulao here.So ingredients like saffron,curd,lemon juice should be added according to the recipe.Please use this as a guideline and follow the recipe you are referring for ingredients and quantity
Here are few recipes for pulao,biriyani and variety rice