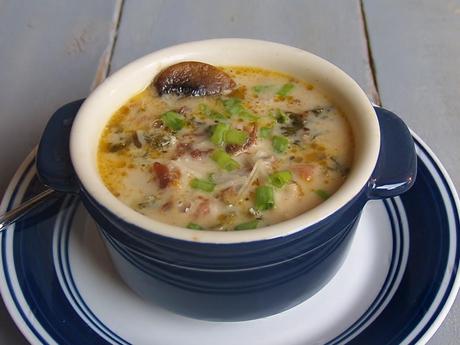 This soup is scrumptious and I cannot wait for you to try it.  But first, I want to catch you up on the FaveCrafts.com and Krylon contest.  I found out today that I came in 5th place overall and won $100!  Thank you so much for voting and pinning for me.  I can't wait to buy all kinds of new paint with that money.
"The company, Red Gold-- is focused on slow cooking this Fall, and encouraging families to have a hot meal waiting after a busy school/work day.  Getting back into the Fall schedule is always busy, and slow cookers make mealtimes easier. What's more, in most families there's usually some delicious leftovers to freeze and reheat on another busy night! Using tomatoes in soups, stews and casseroles may also offer more nutrition: when tomatoes are heated, the antioxidant lycopene (linked to several health benefits) is released. Red Gold also will be hosting a promotion on its Facebook fan page starting today, September 17 during which they will give away two slow cookers a day for three weeks — that's 44 Crock-Pots. Just go to this LINK to fill out an entry form."
Red Gold recently sent me a variety-pack of tomatoes plus an apron, wooden spoon, and recipes. The kit contained 2 cans of crushed tomatoes, 1 can of diced tomatoes, 1 can of diced w/ green chiles, 1 can of diced with lime juice and cilantro and 1 can of diced with garlic and olive oil. The recipes are absolute must tries, Pulled Pork Sliders, Sausage & Sweet Potato Chili and Slow Cooker Mac & Cheese. Yummy! You can find all of Red Gold's slow cook recipes HERE.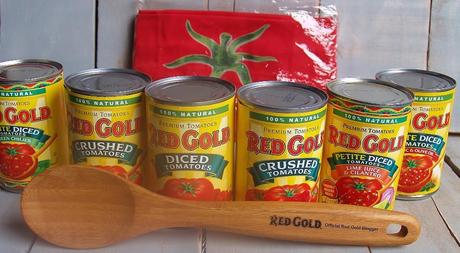 The way to enter to win this fabulous prize pack is below – it's not super detailed – it's very simple.
I came to create this soup because I wanted to make the soup, Zuppo Toscano, that is from Olive Garden.  My co-worker and I went to enjoy the unending soup and salad promotion they generally offer in January and February – once I tasted that soup, I wanted to know how to make it.  I have been working on it and tweaking the recipe ever since.  It only vaguely resembles the Olive Garden soup now so we call it Knock Your Socks Off!
Ingredients:
8 oz. Italian sausage, cooked and crumbled
4 potatoes, peeled and cubed into bite sized pieces
1 Can Red Gold Diced Tomatoes with Garlic and Olive Oil
1 Cup bacon, fried very crisp and chopped very finely (I used that already bagged kind and it works best)
1 container of Mushrooms, sautéed in a little butter or olive oil then chopped finely
1 Cup Kale cleaned and chopped with that woody stem cut off.
2 Cups Heavy Cream
32 oz. Chicken Broth
2 Tablespoons flour
Directions:
Break out the Crock Pot!
Put in the sausage, potatoes, chicken broth, can of Red Gold, and JUST enough water to cover but ONLY if you need it.
Cook on high for 3-4 hours.
Whisk the flour into the heavy cream, make sure to get lumps out and all other items are chopped very finely – makes a huge difference!
Put the cream, kale, mushrooms, and bacon into soup.
Cook for another 30 – 45 minutes.
Sprinkle with freshly grated parmesan, bacon bits, and green onion if desired then serve!
This may be put into containers and frozen for lunches.  It is delicious!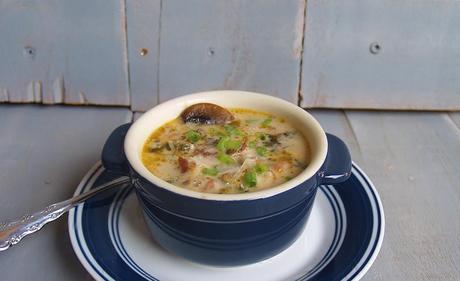 Now, check out how to enter to win the Red Gold prize pack.  Here's what I do on these things:  Whatever I already do or don't mind doing in the long term – I get entries for, if I don't want to do it or will only do it to try to win the prize – I just don't do.  Easy Peasy!  Good Luck!!
a Rafflecopter giveaway