Disclosure: I received a Kiwi Crate to help facilitate this review. All opinions are my own.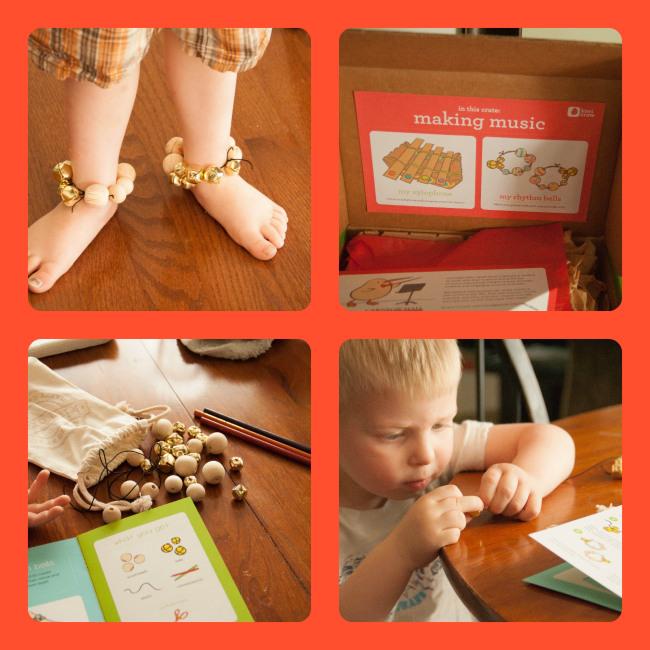 It is funny, I consider myself a fairly creative person, but when it comes to coming up with ideas for things to do with my kids I'm a blank slate. I can't seem to think up fun and interesting ideas to save my life, or their day. I'm B-O-R-I-N-G. That is where Kiwi Crate comes in. Kiwi Crates are boxes that are delivered right to your door, and they are filled with fun, creative themed 'crafts'. The crate I had a chance to review was all about percussion instruments and it had two build-it-yourself crafts to keep the kids busy while introducing them to music making. First we got to make hand/foot bells. It was a great little craft that worked through a creative outlet. My youngest son, Lorenzo, helped me make them one day and I was amazed by how much he could do and understand. We needed to decorate our wooden beads which allowed him to show his artistic side (which he gets from me!), then we strung the beads and bells onto elastic band which was provided with our Kiwi Crate. Finally Lorenzo had a chance to make some noise! And he completely enjoyed making that melodic noise all through the house.
The second DIY craft in our Kiwi Crate was a homemade xylophone. Kiwi Crate provided us with all the materials, we simply had to put it together. I really liked this xylophone and while Lorenzo was playing the bells I accompanied him on the xylophone.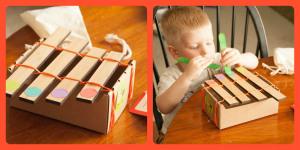 Kiwi Crate also included instructions on how to make 6 additional homemade instruments. Kiwi Crate offers several different plans, the one time crate, the 3 months of Kiwi Crates, the 6 months of Kiwi Crates and the full 12 months of Kiwi Crates. I think these would be a great gift for family that lives far away. Or for a parent or grandparent like me that is creatively challenged. It would also be fabulous for the upcoming summer months. Get one for each kid and let them have a bast each month this summer. Make sure you connect with Kiwi Crate on Facebook,  Twitter, and Pinterest.