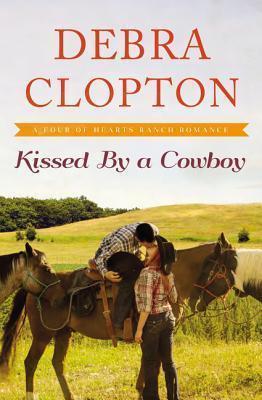 Kissed by a Cowboy by Debra Clopton
Published by Thomas Nelson on 2016-02
Genres: Christian, Fiction, Romance, Western
Pages: 320
Format: Paperback
Goodreads


Having lived through her parents' endless string of "matrimonial bliss gone wrong," Cassidy Starr knows when the odds are not in her favor. Divorced and humiliated, her faith on rocky ground, Cassidy is through with love. She's been bucked o_ that horse far too many times. Instead, she returns to Wishing Springs, Texas, and the rundown farm she's inherited from her great aunt Roxie. She'll reopen the strawberry farm and a bed & breakfast and follow in her aunt's footsteps, remaining forever-independent, happy . . . and single.
As part of my association with the Fiction Guild blogging group, I am often provided with books to read and review.  While I'm always open to trying something new, when I see something I know my mom will love, I check with her first. When I read the back cover of this book to my mom over the phone, she could barely wait for me to pop it in the mail to her. I told her she could take a couple of weeks to send me her review. I can always tell when it's a good book because instead of getting the review in a couple of weeks, I got it in two days. That means Gloria (my mom) probably stayed up all night reading this one!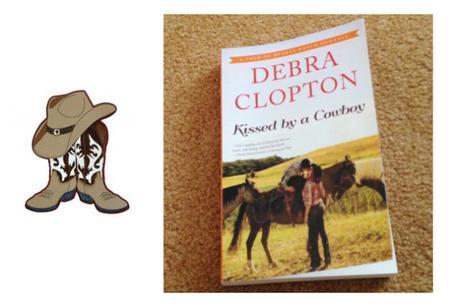 So without anything further from me, here's Gloria's review:
"This is my first book to read that was written by Debra Clopton and this is the third book in her series called 'A Four of Hearts Ranch Romance Book 3'. I will say that while this book can be read as a standalone, I really wish I would have read books 1 and 2 before reading this one. Truth be told, if I was rating this book using a 1-5 star rating system I'd probably give it a 4, but if had I read books 1 and 2 before reading this one, I'm betting this rating would go up to 5 stars for this book!
Early into this book you are taken to Wishing Springs, Texas where everyone seems to know each other. All the characters seem to come alive, and feel very warm and friendly.  They are the kind of people you feel like you've known them all of your life.  I felt that I lived there and knew all the characters personally.
Divorced Cassidy Star returns to accept her inheritance, the farm and house where she spent her best childhood memories from her great Aunt Roxie.. Her plans are to run the farm, take care of the peach orchard, plant some strawberries, and open a bed and breakfast (B & B). She does not want to get involved with any men because of all of the hurt that she experienced in her first marriage.
Cassidy Starr and Jarrod had a previous history when they were teenagers. He gave her a kiss, got spooked and ran off.  Her farm sits next door to the ranch where Jarrod is raising cattle fighting the cattle rustlers and taking care of his grandfather who has Alzheimer's.  Will Cassidy and Jarrod be able to renew their feelings for each other or do they both have too much baggage?
This story was easy reading and  I really enjoyed my visit to Wishing Springs, Texas. I look forward to future novels by Debra Clopton and recommend this series for readers that enjoy contemporary westerns.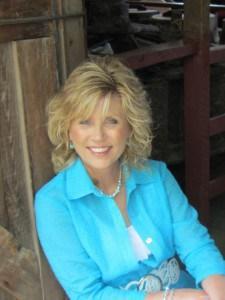 Bestselling author Debra Clopton has sold over 2.5 million books and her holiday story, Operation: Married by Christmas has been optioned for an ABC Family Movie staring LeAnn Rimes. Debra writes cowboy romances, inspirational, Christian romance, contemporary and western romances set in Texas. She is known for her snappy dialogue, cowboy heroes and spunky heroines. Her awards include: The Book Sellers Best, Romantic Times Magazine's Book of the Year. She's also a Romance Writers of America Golden Heart Finalist, and a triple finalist in the American Christian Fiction Writers Carol Award.
A sixth generation Texan, Debra lives on a ranch in central Texas with her husband Chuck. She loves to travel and spend time with her family. She is the author of the much loved Mule Hollow Matchmakers series where you never know what the Matchmaking "Posse" is going to do next! She has written for Harlequin and Harper Collins Christian and now with DCP Publishing with her newest series New Horizon Ranch/Mule Hollow collection. She is currently working on her 39th novel surrounded by cows, dogs and even renegade donkey herds that keep her writing authentic and often find their way into her stories. She loves helping people smile with her fun, fast paced stories.
I received a paperback copy of this book without cost from the publisher through The Fiction Guild, a Thomas Nelson/Zondervan book review bloggers program. I was not required to write a positive review. The opinions I have expressed are my own.
~ ~ ~ ~ ~ ~ ~ ~ ~ ~ ~ ~ ~ ~ ~ ~ ~ ~

It would be great if you would stay connected with me!! You can follow me on Twitter @DebiL1611, like me on Facebook at 2014 and Beyond, circle me on Google+, follow me on Tumblr, Instagram and Bloglovin', subscribe on YouTube, or connect with me on LinkedIn and Pinterest.

Please make sure to visit my homepage and subscribe to my blog for more great posts on running, fitness and lifestyle topics as well as food, product, music and book reviews, and more!