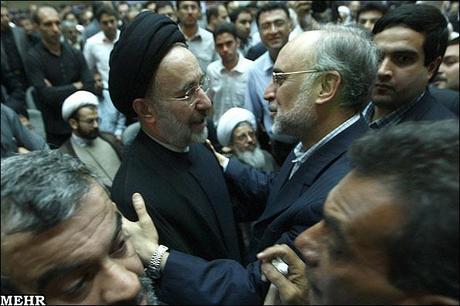 Ex-president Khatami (reformer) meets Salehi, the current Minister of Foreign Affairs, on the funeral cermony of Hojatoleslam Sodoughi.
Sodoughi was the Friday Prayer of the city of Yazd. This picture will start many talks and discussions in the Persian language media on the next days.
Look at the curious faces of the people in the background. They probably want to know what these two are talking about. Was the talk important at all? Or just "hello, what a great man"? Did Khatami want to have any talk with Salehi? A step for "national reconciliation"? Probably they didn't have enough time for any deals. This picture will have some aftereffects. 
See more picture on Kaleme (title: reformists and conservatives on Sodoughi's funeral ceremony.