you must be observing while reading my last few posts that I am going on with more skin care posts and reviews- reason being i am concentrating more on being healthy with glowing skin. Probably makeup would even not work without a healthy skin. So lets make our health and skin better.
Moving with the flow, here is review of one more worth mentioning product from the most applicable category- Bath and Body.
Its Khadi Natural Jasmine Soap. Actually while my visit to D Mart. I found that they have for the first time have got Khadi Soaps on their shelves. So i picked two- Jasmine Soap and Lemon Soap. But in excitement to try I opened the lemon soap first and soon got over so sould review it on time.
But ...I made sure to let you through my experience with Khadi Natural Jasmine Soap. provi
Price- 125 gms of bar for 70 INR. Easily Available online and on retail counters too.
Ingredients- Complete list with % mix is not there. Its only Key Ingredients mentioned on Label- Jasmine, Wheatgerm Oil, Glycerine and Vegetable Oils.
Khadi is known for its herbal formulations and their soaps are not exceptions and the label mentions about the formula clinically proven, Dermatologiaclly tested and GMP, Ayush certified but a complete list of ingredients would be appreciated.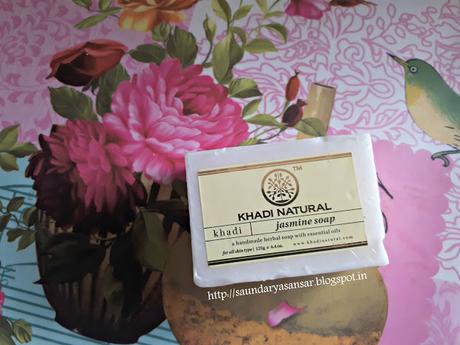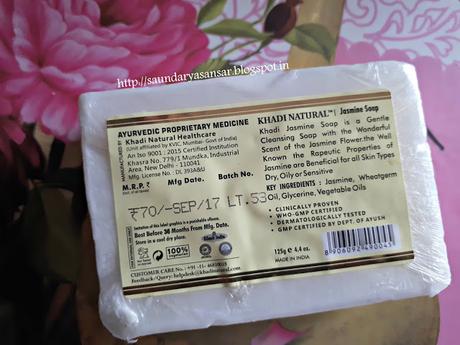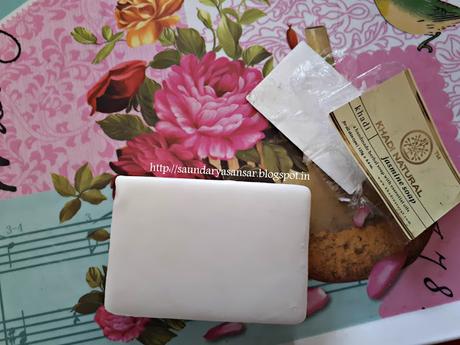 Khadi Jasmine Soap is a gentle cleansinf soap with the wonderful scent of the jasmine flower, the well known therapeutic properties of jasmine are beneficial for all skin types- dry, oily and sensitive.
The Khadi Natural Jasmine Soap bar is all wrapped in transparent thin poly cover with a label mentioning details about the product. Just unwrap it to get a first sniff of fresh jasmine flowers.
its a opaque soap bar with a strong but captivating jasmine fragrance. Apply this on your wet body and it would lather like usual soaps. Can be easily washed off leaving your skin clean and fragrant. Although the soap is not drying but during extreme winters, body lotion is needed.
What I liked in the soap-
it has an amazing fragrance which stays for a couple of hours after having bath.
It does not rip off moisture from skin.
it does not melt so goes long way; its been more 15 days I am using this but still half way done with the soap.
I have been using my DIY jasmine/mogra hydrosols (flower waters) since long as facial sprays and love the way they soothe my irritated and tired skin. Soap with the same fragrance with vegetable oils and glycerine base would surely be great deal.
People who are fond of handmade soaps and loves floral fragrances would surely love this.
This would suit almost all skin types from dry, oily to sensitive (i am not considering facial skin).
Overall The Khadi Naturals Jasmine Soap is a great buy an highly recommended for people who love trying different herbal and Ayurvedic preparations for bath and body products.
What has been your current love in bath and body products?? which one would you highly recommend for me to try??