Once before, I was a morning person. There was a time I even woke up early enough for morning yoga, and this breakfast was during that fun, healthy time where I was so drained of energy that anything seemed healthy. KFC was just across, so its gravitational pull was quite powerful.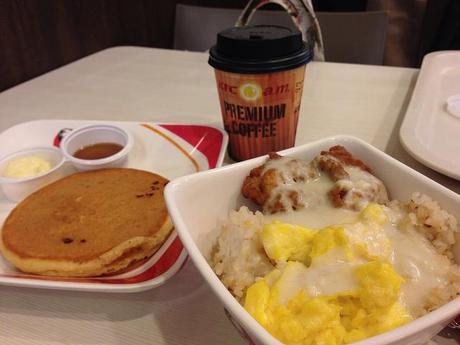 Breakfast Steak Fully Loaded, P110.00 (coffee included)
A bowl of steamy garlic rice, soft scrambled egg and Original Recipe Chicken fillet topped with creamy white sauce and tasty chocolate chip pancake.
There wasn't much of the breakfast steak, as you can see from the picture. It was soft and delicious as expected, but I wish there was more. At the least, the rice was really flavorful so I almost didn't mind. The scrambled eggs were done well and the messy white sauce connected everything together masterfully. The pancake was not bad, even better than the usual fastfood pancake, and the coffee was well, coffee.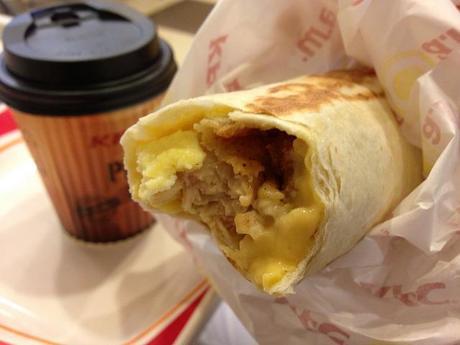 a.m. Twister, P100.00 (coffee included)
with scrambled eggs, cheese and Original Recipe Chicken in a tortilla wrap.
Like all twisters, I liked this one. It tasted a lot like the breakfast steak since it had pretty much the same ingredients. Also like all twisters, it felt a bit too light for me at the time. Haha. Still worth it, though.
Menu: 
Breakfast Menu
Verdict:
Breakfast Steak: Good
Chocolate Chip Pancake: Good
a.m. Twister: Good
Does my favorite fast food joint have the best breakfast menu? Hmm.. I guess so!
Love KFC Breakfast? Hate it? Let me know by commenting below, or just tweet me!


Also from KFC:
The Zinger Strikes Back! and Some Other Good Stuff from KFC
Other Restaurants in The Fort:
Brasas: Latino Heat
Chuck's Deli: Buffy the Sandwich Slayer
Good Earth Roasts (GER)
Gyu-Kaku: The Time is Ripe to Grill Some Tripe
IHOP: The Latest Pancake Craze
Jollibee: Ultimate Burger Steak and Flip Float
Kasbah: A Moroccan Lunch
Kebabers: Cheese Kebabs
Órale!: The Best Quesadillas
Pancake House: Cookie Butter Pancakes Surprise
The Best Pasta of Pasto
SM Aura Premier: Pepper Lunch Express under the Sky Park
Racks: My Favourite Ribs
Red Garlic Bistro: Trotting the Globe, Clove by Clove
S&R: My Favourite Pizza
Saboten: Enjoyin' Some Loin
Saint's Alp: Taiwanese Chicken Goodness
Sbarro: Rolling in the Deep Dish
Seattle's Best: Sea Salt and Salad
Stacy's: The Sweet Kind of Retro
Stella Wood Fired Bistro: Nothing Less Than Stellar
Sunshine Kitchen: Second Dawn
Tapeo: Spanish Surprise at the Fort Strip
The Cheese Steak Shop: Philly Cheese Steaks in the Phillyppines
Toast Box: Going Goreng
Tokyo Tokyo: Burgers and Chopsticks
The Kebab Factory: The TKF Trilogy
URBN: Dining with Style
Uncle Cheffy: A Piece 'a Panizza
Wildflour's Cronut: The Doughnut and Croissant's Love Child
Wrong Ramen: The Weirder, The Better
Yabu: Bed of Rosus
Let Me See That Zong
Facebook: KFC PhilippinesWebsite: http://www.kfc.com.ph/Online Delivery: https://kfcdelivery.com.ph/Twitter: @KFCPhilippines