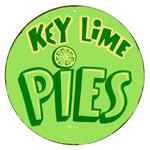 When you hear Key Lime pie, don't you also think about boardwalk cafes, palm trees, hot sun, and cool 80's shades (a la Blanche on Golden Girls)? Yes, yes. The Golden girls were really into cheesecake and herring pie  (Remember that episode?)... Although I've never been to Key West and never tried an "authentic" key lime pie, it's just so quintessentially Florida. 
And while perusing the pages of The America's Test Kitchen cookbook, I came across a low-fat, low-calorie version of key lime pie. Now don't think that the calorie discount means a disappointing pie. Not at all. The recipe comes courtesy of The America's Test Kitchen - The Healthy Family Cookbook (recipe after the jump). 
I can't bake if my life depended on it because I have a serious disability with following instructions. It's not that i can't. It's that by nature, I'm more inclined to change things up and in baking, that ends with disastrous results - ya - like the time I pretended to be a great baker and changed up the recipe of a chocolate cake. Only to find liquid goo sitting in my oven baking bubbling for an hour (I overdid the liquids). Anyway, let's get back to a recipe that did NOT fail me and it won't fail you. You have my seal of "inept baker approved." 
First you mix the wet ingredients:



Then you pour into a pie shell (yes, I  used pre-made. You can judge me!)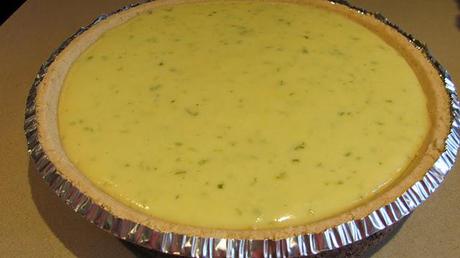 Looking good right? Then, pop in the fridge for a few hours and after, bake only for 15 minutes (the testers figured out that by baking for a short period of time, it really added a more robust lime flavour). After it cools, put back in the fridge until you're ready to serve. I skipped the whipped cream (or meringue) topping. Calorie cut backs. Despite that, both hungry husband and my hungry family loved the pie. I was so proud of myself.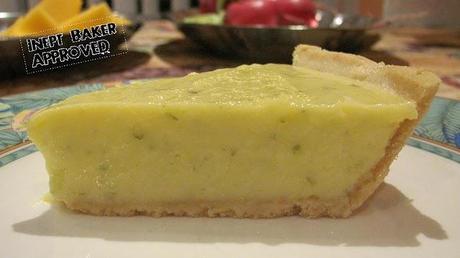 Voila. Ain't that a pretty lookin' pie? Now go to your kitchen, put on your apron and start baking. I can tell you with 100% certainty that it tastes way better than herring pie...
Enjoy!Foodie Wife


KEY LIME PIE


Serves 8 to 10
Lime Filling
4 teaspoons grated zest plus 1/2 cup strained juice from 3 or 4 limes
4 large egg yolks
1 (14-ounce) can sweetened condensed milk
Graham Cracker Crust
11 full-size graham crackers, processed to fine crumbs (1 1/4 cups)
3 tablespoons granulated sugar
5 tablespoons unsalted butter, melted
WHIPPED CREAM TOPPING (I omit this)
¾ Cup heavy cream
¼ Cup confectioners' sugar
½ lime, sliced paper thin and dipped in sugar (optional)
1. For the filling: Whisk zest and yolks in medium bowl until tinted light green, about 2 minutes. Beat in milk, then juice; set aside at room temperature to thicken.
2. For the crust: Adjust oven rack to center position and heat oven to 325 degrees. Mix crumbs and sugar in medium bowl. Add butter; stir with fork until well blended. Scrape mixture into 9-inch pie pan. Press crumbs evenly onto bottom and up sides of pie plate. Once crumbs are in place, line pan flush with large square of plastic wrap, and use spoon to smooth crumbs into curves and sides of pan. Refrigerate lined pie plate 20 minutes to firm crumbs. Bake until lightly browned and fragrant, about 15 minutes. Transfer pan to wire rack; cool to room temperature, about 20 minutes.
3. Pour lime filling into crust; bake until center is set yet wiggly when jiggled, 15 to 17 minutes. Return pie to wire rack; cool to room temperature. Refrigerate until well chilled, at least 3 hours. (Can be covered with lightly oiled or oil- sprayed plastic wrap laid directly on filling and refrigerated up to 1 day.)
4. For the whipped cream: Up to 2 hours before serving, whip cream in medium bowl to very soft peaks. Adding confectioners' sugar 1 tablespoon at a time, continue whipping to just-stiff peaks. Decoratively pipe whipped
cream over filling or spread evenly with rubber spatula. Garnish with optional
sugared lime slices and serve.
Notes:
1. To make sure the graham crackers form a firm, coherent crust on the bottom of the pie pan, press them down firmly with a cup or glass. Be careful not to cover the pan's lip with crumbs, however.
2. If the finished pie sticks to the pie pan when you're ready to cut, simply dip the pan into a bowl of warm water to loosen the pie.