Who said Cornflakes can only be eaten with milk? There are so many ways to eat it and my best way to love eating the Kellogg's cornflakes is in the form of chivda and also with the yogurt salad. The taste is just out of the world and i got these ideas from Here.
I got bored of eating the crispy,golden flakes in the traditional form, cold milk and the flakes. Then i heard  so many amazing recipes that can be made out of this crunchy flakes. Healthy breakfast leads to great start of the day. So whip up the perfect breakfast for any occasion using these cornflakes.
But who said cornflakes can only be used in breakfast? They are perfect for brunch,for baking, as Appetizers, As starters,Entree and even a Desert! Most of these dishes are not only quick but also adds amazing crunch and flavor.
Using Cornflakes as a breakfast or as an appetizer is the best way of including fiber, nutrient and taste which is low in calorie, low in fat and high in taste and the best part is, these cornflakes Breakfasts are also filling.
Why would anyone miss the chance of eating different, flavourful and yummy breakfast each day!? I just love going to Gupta's for breakfast. Their recipes just take hardly 10-15 min and are so flavourful. I have already gone for the past 12 days to their place for breakfast and every day i have. had a new yummy recipe.
The way they name the recipe is also very appetizing.So i just don't think twice before barging in to Gupta's for breakfast :)
When we came to know about the variety of dishes that was made, it was only two or three people who volunteered to taste the dishes. As the news about the simple yet delicious dishes made out of cornflakes spread, there are so many people who just want to have the taste of the recipe. Poor Mr.Gupta, he is being surrounded by so many people every morning to invite them for breakfast!
I am sharing two of my favorite dishes that i got to taste from Gupta's and it is so simple that we can let even the school kinds try this.
The first one is "First crush wala nashta". When there are sudden friends coming over and when you find no time to prepare a mouth water sweet, this one comes to the rescue. Just ask them to chill in the couch for 10 min and surprise them with this delight.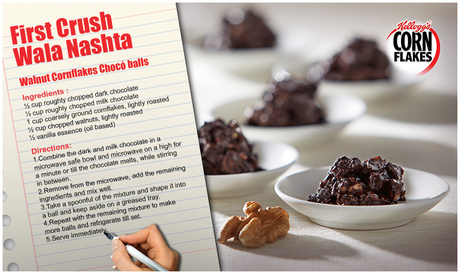 I am sure every group has a fitness freak.And for those who are super conscious on every calorie they eat, nothing can beat this "Homework wala nastha" Super simple, very fresh and very light!
Homework wala nashta with a cup of cold lemon tea is a delight!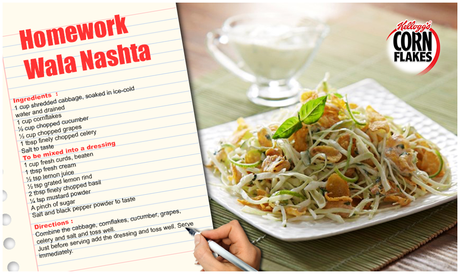 Well these where my favorites from Guptaji's menus. What is yours? Havent you visited them yet? just reach their place ring the bell and induldge in flavor Dhamaka :)