The green movement has really taken off in the last few years. With more people becoming socially conscious of what is going on the environment they live in, many parts of their lives are moving towards living and acting "greener."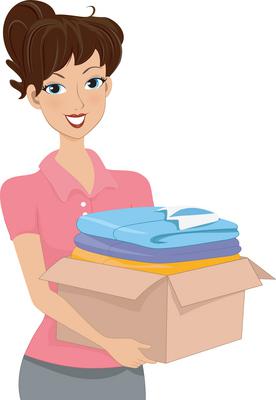 Unnecessary items don't have to be waste. While most people simply throw away old, unnecessary, or unused items, there's a better and greener way to dispose of these items. Television sets, sofas, light bulbs, clothes, electronics, and other household items that are no longer useful to one person can be re-used or recycled. Local thrift stores, the Salvation Army and Goodwill will take old items to either sell them back or donate them to those in need.
Be resourceful with packing containers. Rather than purchasing brand new boxes at the store, find other ways of getting the packing containers. People post ads on Craigslist for gently used moving boxes – often for free. After you use those boxes, you can post your own ad on Craigslist or recycle them. Some moving companies also use plastic boxes that can be used multiple times.
Packing material at your fingertips. Again, going to the store to purchase packing materials is not the only option. Household items – things that might have been thrown away – such as old newspapers, towels, and sheets can all be used as packing materials. However, if there is a shortage of household items to use, purchase biodegradable bubble-wrap.
Check your moving truck. Check the tires of a rented truck to make sure they're inflated properly. That way, you get more gas mileage. Also consider driving at 70 mph if the windows are closed in order to get the best gas mileage. If you choose to keep the windows open, maintain a speed of about 55 mph.
Hire a professional when moving. Regardless of the distance use a moving company. Movers do this for a living, so they know how to pack items to ensure fewer trips.
Natural resources are being depleted and it's our responsibility to help conserve what's left. One of the areas people can become more environmentally friendly is during a move. It doesn't matter if it's a small move that requires minimal work or a large move that has an individual or family leaving the state; there are ways to keep a move green. Packing materials, packing strategies, moving companies and more can all help to reduce one's carbon footprint during this stressful time.