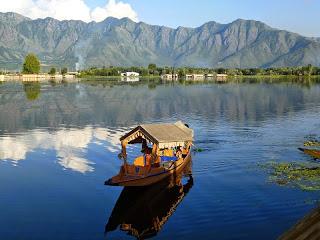 Kashmir is well known for its angelic beauty, snow capped mountain peaks, picturesque
lakes, whispering streams, cascading waterfalls, clean and green surrounding, sprawling meadows covered magnificently by the colorful wildlife flowers, fruit laden orchards and many more. 
But the real gems of Kashmir are the houseboats, which are seen floating over the picturesque, some of which are centuries old that enhance the splendor of Kashmir and its picturesque lakes beyond expectations. 
Houseboats of Kashmir provide golden opportunity to enjoy the heart stirring beauty of the nature as well as royal retreat and the warm hospitality that let the tourist enjoy remarkable vacation with an outstanding experience. 
So if you are ready to treasure this lifetime experience come to Kashmir rightly describe as Paradise on Earth. The shikara and the houseboat commuters have lived on the Dal Lake for centuries and still the traditions is continuing, inviting the tourist to enjoy the unique cruise in a classy and fashionable way. 
More of all to make the cruise more memorable and enjoyable tourists can book the houseboat according to the budget and preferences from the below given lists. 
Categories of Houseboat in Kashmir 
Deluxe Houseboat 
Budget Houseboat 
Luxury Houseboat 
First Class Houseboat 
So if you are planning for a houseboat tours in Kashmir, book the tailor made Kashmir houseboat packages and rediscovers yourself and enjoy royal treat that you will love to enjoy in forever and ever.