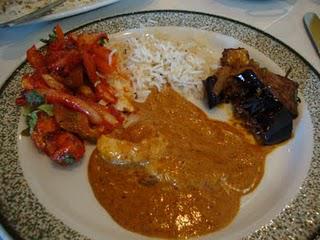 I wonder how many of us can remember our first taste of curry?  Curry of any cuisine is so common place now that it is hard to imagine life without it or even a time when it wasn't the norm.  Well, the first time I had a curry I was aged about 11 (so 25 years ago) and the restaurant my parents took me to all that time ago was in Levenshulme, Manchester. 
At the time I understood it to be Indian cuisine but have since learned that it was Nepalese.  Perhaps I should have realised this at the time as my first ever curry was called Lamb Nepal!!  I can remember the dish as being a rich curry sauce that wasn't too sweet except for the half mango that it was cooked with it. - it was delicious and from then on I was hooked. 
The home of my first ever curry was Kantipur and it is the same restaurant that moved from Levenshulme to Stockport about 5 years ago.  When I visited Kantipur since the move, I recognised the hostess as the same waitress all those years ago in Levenshulme.  It turned out that they were one and the same and she now runs the business with her brother.  So now what you get is a very well established, family-run restaurant delivering a first class contemporary Nepalese cuisine to a new, eager audience just 5 miles away from where the business began.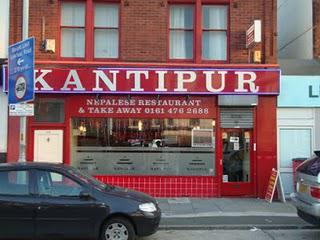 On the A-board outside the front of the restaurant it states: "Nepalese and Indian Cuisine", maybe this is to appease the concerns of the more moderate customer that likes to stick with what is known and trusted.  Myself, I always like to order from the specials or chef's recommendations and not only judge a place on the quality of the food but also the originality and diversity in it's options.  I like to be taken on a culinary journey and experience new things. 
Kantipur certainly delivers on choice.  In fact the standard curry options that you would expect to see make up only a very small part of the menu.  The specials menu is extensive with interesting delicacies ranging from a dish called Khajana Chara which is chicken stuffed with cheese and spinach, to pepper-hot dry curries such as the Chara Bhuteko, which as well as a greater use of black pepper, the chef also uses ginger in a similar way to how I experienced it in Cambodia which is to use it almost as a vegetable.  This generous amount of ginger produces a wonderful heat the does not hurt but instead makes you salivate for more.
The vegetarian and seafood options are extensive also.  Often you find that seafood dishes only include prawns, here the Kantipur offer Nepalese dishes that feature cod, tiger prawns, calamari, sardines and cuttle fish.  In the vegetarian section the dishes do not just leave out the meat - they are a celebration of the ingredients themselves.
A visit to Kantipur was long overdue so last Sunday after we returned from a short camping trip and did not want to cook we thought it a perfect time to sample some more dishes and share it with you on the blog.
We decided not to have a starter (except for the customary poppadoms) in order to leave room for a main dish each with a side dish to share.  This way we could have a banquet style meal without over-eating.  We chose: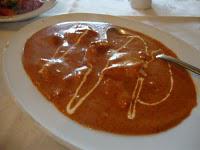 Makhan Fish (cooked in a special butter sauce, flavoured with fenugreek leaf)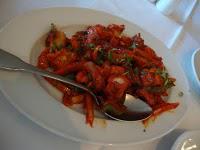 Chicken Lalitpur (tender cubes of chicken deep fried.  Cooked with special Nepalese homemade lightly sweet and sour sauce, flavoured with spring onion and ginger).  This came with the option of green chilli, which we decided not to have on this occasion.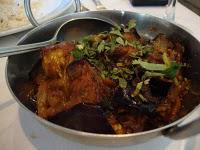 Bhanta (aubergines)
The Makhan Fish is a favourite from a previous visit and did not disappoint this time.  It was beautifully creamy but not too sweet.  The fish was perfectly cooked, tender but retained its consistency well in the dish.
The Lalitpur was a new choice for us but again it was great.  As the chicken was deep fried and cooked in sweet and sour sauce with ginger, it had more than a bit of an oriental taste to it - however the extensive use of onion gave the dish a shaslick style and taste too.  It felt like a fantastic bit of fusion cooking but perhaps it is actually very authentic Nepalese.   It is worth noting that the batter used was made with cornflour which meant it was gluten-free too.
We absolutely love Kantipur and would highly recommend a visit.  Be daring though and try something new and if you are vegetarian there are still lots of great dishes to choose from.  The service is warm and friendly and the prices are very competitive:
Our meal of 2 x Poppadoms and chutneys, 2 x main meals, 1 x side dish, 2 x pilau rice, 1 large wine and 2 soft drinks came to just £33 plus tip!