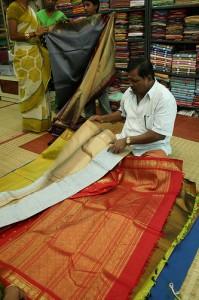 Kanjeevaram silk sarees are products from the town of Kanchi also known as Kanchipuram, located close to Bangalore. The silk used in Kanjeevaram sarees are known for its elegance as well as its durability. Kanjeevaram sarees are worn on weddings and other auspicious occasions. The wardrobe of a South Indian woman is incomplete without its presence. The bright colors and motifs on the saree make it a beautiful garment. Kanjeevaram sarees are considered as heirlooms and are passed down from generations.
History
Kanjeevaram sarees have been in the making for over 150 years. It is woven tightly, utilizing zari threads for weft and wrap patterns. Weft borders that are interlocked are a common feature in Kanjeevaram sarees. Although silk is most common, Kanchipuram also makes silk- polyester and cotton sarees owing to the demands of the present market. Most of the current Kanchipuram silk weavers are trained in Kalakshetra, a cultural center which was established in the 1970′s. Kalakshetra produced saree designs that were heavy in fabric weight, style and also included wide borders.
Hen, parrot, flower, pot, diamond, creeper, peacock, lotus, mango, elephant are some of the traditional motifs used on the sarees. Some sarees even depict stories from Hindu mythology. Silk and cotton sarees are woven with thread as opposed to pure zari, which is common in Kanjeevaram sarees.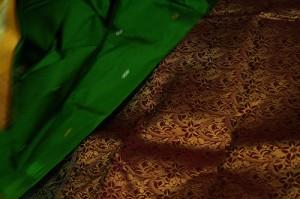 Silk extraction process
Silk used in Kanjeevaram sarees are extracted from silkworms that feed on mulberry leaves. The artisans of Kanchipuram, who are also involved in sericulture, raise silkworms in cane baskets. These cane baskets contain mulberry leaves which are food for the worms. Artisans obtain fresh mulberry leaves from mulberry plantations situated nearby.
After this, the leaves are cut up into small bits and placed evenly in the cane baskets. Worms feeding on these leaves gradually mature. At this stage they are placed in other circular baskets with compartments. The worms now eject secretions like thread, which they use to build a semi transparent cocoon around themselves. The silk used in Kanjeevaram sarees is extracted from these cocoons.
Process of making sarees
After the silk has been extracted, it is dyed and dried in sunlight, making it ready for the loom. The border, pallu and body of the saree are made separately after which the weaver interlocks them in a joint that is impossible to detach. Kanjeevaram sarees with a normal design and plain border could take around 10-12 days for the weaver to produce while more decorative ones can take about 20 days.

kanjeevaram sarees bangalore nethaat , kanjeevaram sarees kanchi nethaat , Kanjeevaram sarees nethaat , kanjeevaram silk sarees nethaat online