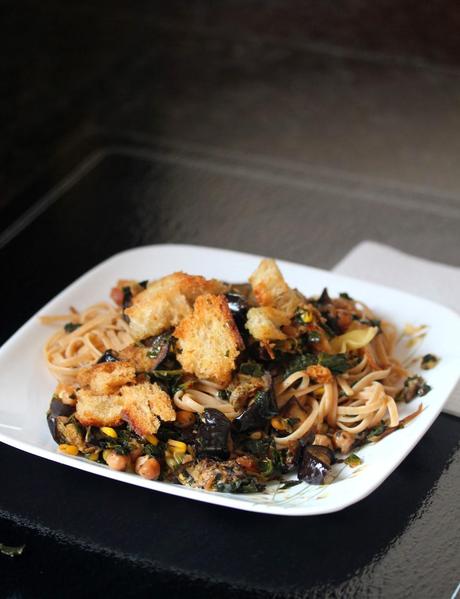 There's so much goodness going on in this one pasta dish it's insane. It's healthy and flavourful at the same time, like when does that ever happen? JUST KIDDING! It totally happens all the time. You just gotta look for the right ingredients. Like kale!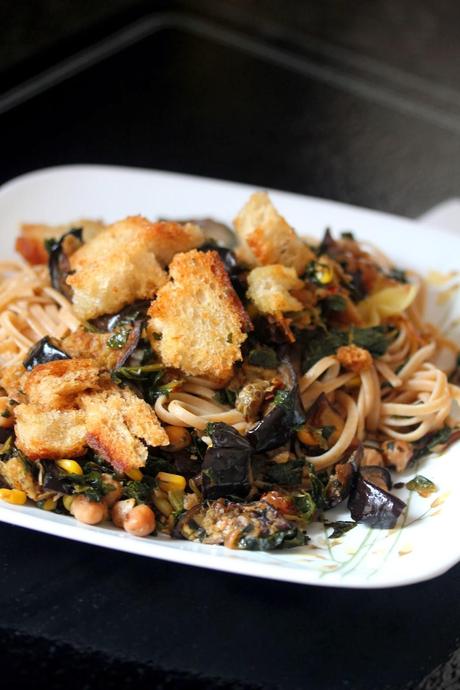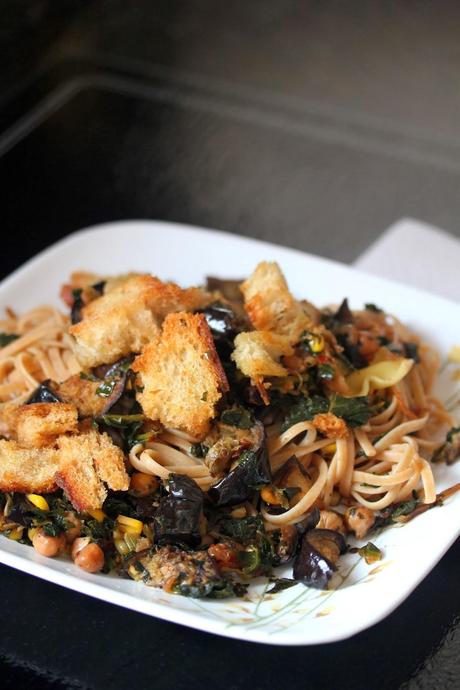 This might actually be one of the more decadent healthy dishes, maybe it's because of the croutons; I'll let you be the judge. I've never made homemade croutons before but we had stale bread hanging around and I felt like being fancy schmancy so I tossed 'em in some olive, placed them on a baking sheet, and tossed them in the oven at 400F. They were crunchy and golden and oh so tasty.


Kale, Eggplant, and Chickpea Pasta


Ingredients 3 small eggplants or 1 large eggplant1/4 cup + 2 tbsp olive oil (I never actually measure oil so this is just approximate)1/3 cup raisins2 tbsp water3 medium sized shallots, thinly sliced3 garlic cloves, minced1 can chickpeas, drained and rinsed1/2 cup corn1/4 cup sun dried tomatoes1 1/2 tsp red chili flakes or more1 tsp saltgenerous sprinkling of pepper4 cups of kale, chopped relatively fine1 standard box of pasta (bow ties are great)
DirectionsPreheat the oven to 425F. Slice your eggplant in 1 1/4 inch thick rounds and place on a baking sheet. Cover each side generously with olive oil and place in the oven once it's preheated. Bake the eggplant for about 25 mins or until golden in color (flip the eggplant around the halfway mark). When the eggplant is done chop it into bite sized pieces and set aside.Bring a large pot of water to a boil. Cook pasta according to the directions.Combine raisins with water and heat in microwave for 30 secs to plump them up. Add 2 tbsp of olive oil to a large pan. Once heated, add shallots and garlic. Cook until fragrant and translucent. Place chickpeas, corn, sun dried tomatoes, and chili flakes in the pan. Stir it around until the chickpeas and corn are warmed through. Add the raisins, kale, salt, and pepper. Cook until the kale is wilted then add the eggplant to the mix. Give everything a good mix about so that everything is well incorporated. Plate it up and serve with croutons, if you desire.