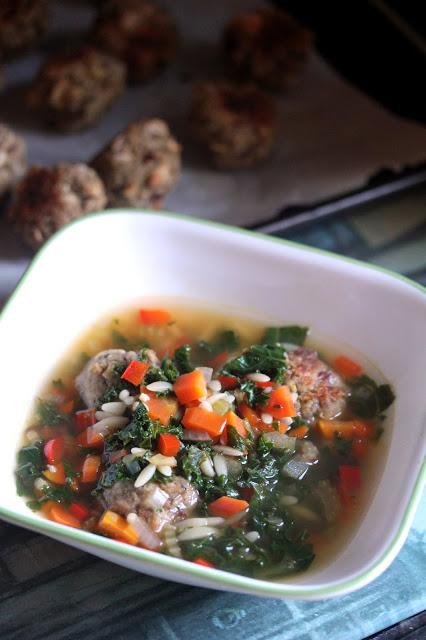 This soup looks like an Italian Wedding soup to me. Can't say I've ever had one. An Italian Wedding Soup or an Italian wedding. 
Sometimes, I'm not even sure what I'm writing. But I will say that I always end up cracking myself up. I hope you can appreciate my zany humour, too.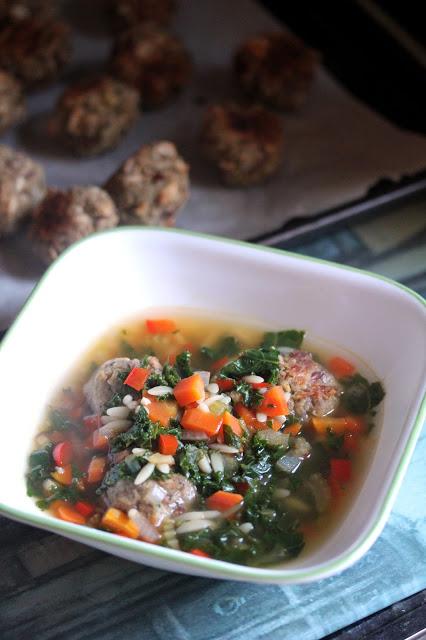 This soup is so flavourful! The beanballs are just killer. I love me a good beanball, like these we made FOUR years ago! 
I just felt so healthy and satisfied after eating this soup. I was like "life is good." Do you ever feel that way after eating a meal?  If you haven't, try out this soup! You won't regret it ;)
Kale and Orzo Soup with White Beanballsadapted from Shock Munch
IngredientsFor beanballs:1 small onion, minced 2 cans of white beans, like Navy or even Romano, drained and rinsed1/2 cup panko bread crumbs4 cloves of garlic, minced1/4 cup whole wheat pastry flour2 tbsp olive oil1 tbsp soy sauce1 tsp oregano1 tsp basil1 tsp vegetable seasoningzest of 1 lemonsprinkling of red pepper flakes
For soup:1 tbsp olive oil1 small onion, minced2 carrots, peeled and diced2 stalks of celery, diced1 red pepper, chopped4 cloves of garlic, minced1/2 cup dried orzo9 cups veggie brothjuice of 1 lemon1/2 bunch of kale, choppedsalt and pepper, to taste
DirectionsPreheat oven to 400 degrees F. Grease a baking sheet with oil.
Mash beans in a large bowl. You want them pretty much completely mashed but if parts of beans are still visible, no problem! Add the remaining beanball ingredients. Add a dash of water if the mixture seems dry.
Form golf ball-sized beanballs and place them on the baking sheet. Spritz or drizzle with oil. Bake the balls for 30 mins, flipping at the halfway mark.
Heat oil in a large soup pot over medium heat. When hot, add onion, carrots, celery and red pepper. Cook for 3-5 mins. Throw in the garlic and the orzo, stir about for 30 secs. Pour in the broth and let simmer for 15-20 mins. Add in the lemon juice and kale and turn off the heat.
When the beanballs are finished, remove from the oven and add some to each bowl. Ladle over the soup and enjoy!