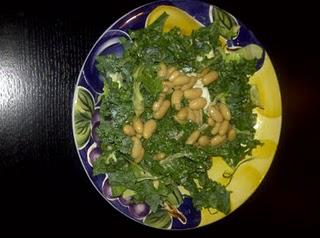 I got the most gorgeously ripe kale last week, and I wanted to do something new ~ try it in a salad as opposed to a sautee or soup, my usual route for this vegetable.  it's got a nice crunch, an interesting texture, and just a touch of bitter, so I went into my fridge and pantry to see what I could do to bring it to life in a new way.  Here's what I came up with!  Truth is, I loved it so much that I made it about 5 times in 2 weeks.  (I even brought it to the beach!)  The ingredients for the dressing may sound a bit strange, but go with me on this one.
1 head of kale, washed and chopped into bite size pieces

½ head of napa cabbage, washed and chopped into bite size pieces

½ can rinsed and drained cannelini beans

1 TBSP tahini (sesame paste)

1 generous TBSP hummus

¾ cup Greek salad dressing (or similar red wine vinaigrette)
Wash and chop your greens and place them in a large mixing bowl.  In a separate bowl whisk together the salad dressing, tahini and hummus until well combined.  Pour the dressing over the greens to coat well.  Add the beans and refrigerate for 30 minutes and then serve chilled. Feel free to add a few squirts of fresh lemon to brighten the taste even more!