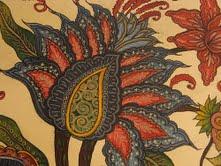 The practice of painting on cloth has been carried out in India from the Indus Valley Civilization onwards. Now known as Kalamkari, this millennia old tradition is starting to gain a niche market.
The word 'Kalamkari' is a combination of the Sanskrit word 'Kalam', meaning pen, and the Hindi/Urdu word 'Kari', meaning work. The word signifies work done with a pen. It involves painting onto cotton or silk fabric with colors derived from vegetables and other organic sources. Although commonly practiced since the Indus Valley Civilization, Kalamkari as an art form was not popular until the eighth century. Contact with Persian and European nations enriched the art form and made it popular abroad, particularly during the Mughal era. It was during the Mughal period that Masulipatnam emerged as a major center of Kalamkari art.
Later, Europeans arrived in steady streams from Portugal, France and Great Britain and were greatly impressed by this traditional art form. As a result there was a rising demand for Kalamkari art in the European markets. During this period, another place, Srikalahasti, emerged as a center for Kalamkari. However, post-industrialization, there was a steady decline in the demand for this art and the artisans who previously had excelled in this craft were forced to find work in a different industry. Towards the end of the 20th century, new interest was taken in the art form and a niche market soon came into being for this.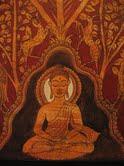 Kalamkari art is made both by hand painting and by block printing. Hand painted Kalamkari designs involve intricate designs which narrate tales from the Ramayana and the Mahabharata along with other mythological tales. Even now, Masulipatnam and Srikalahasti remain the main centers of the art form. The art form, over the years, has undergone a lot of changes in terms of style. The various influences it has imbibed over the years from foreign cultures like the Persian and European cultures, have enriched the art. Srikalahasti remains the only center to maintain its purist tradition, since it was largely under Hindu rule and was free from external influences.
Kalamkari artworks are marketed in various forms, like wall hangings, table covers and door mats. It is also used on garments like the kurta and salwar kameez and there is increasing demand for these products in the global market. Kalamkari, which represented the oldest tradition of painting on cloth, and faced a decline for almost a century, is now experiencing its former days of glory once again.

Handicrafts
,
Handmade
, kalamkari arts-nethaat