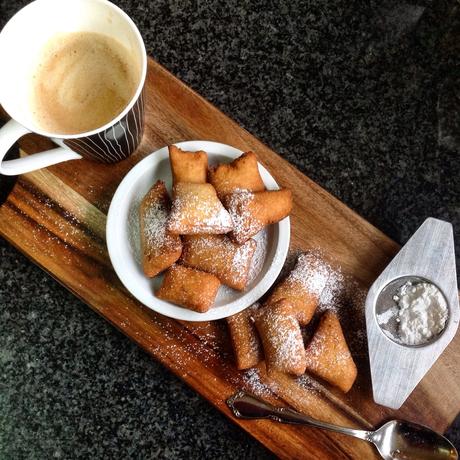 Yesterday's overcast and drizzly weather was a welcome relief for many, from the very hot humid beach days that we've been blessed with ( yes I know, most people can't handle the heat but as a beach bum, I'm loving it! )
Although not a cold day, just a beautifully cooler day, the family requested some comfort food in the form of a cottage pie for dinner and me, I've been luss for all things old school, and so yesterday I tried my hand making a tea time treat which brought back many a fond memory of young days gone by..
This recipe was passed on by a very dear and loving aunt of mine, who is now late, but who always found the time to fill her farm kitchen with aromas of this treat whenever we visited, be it for breakfast, after lunch or tea time in between.
Barifois Kajooras
1 1/2 cups sugar
3 cups flour
2 tsp baking powder
2 tsp ground elatchi powder ( cardamom )
2 tbls ghee
1/2 cup milk
1/2 cup water
1 egg
Method:
Place the dry ingredients in to a baking bowl.
Add the ghee and work together till it has been crumbed.
In a seperate dish, whisk the wet ingredients together.
Slowly add the wet ingredients to the dry ingredients and mix till a dough forms.
Roll out onto a floured surface ( approximately 1 cm thick ) and using a pizza cutter, cut into squares or diamonds.
Fry in hot oil.
Strain and place onto absorbent paper.
Enjoy while hot.