We recently had some issues with our 12 year old Jack Russell, Petey. While he's an adorable little guy, unfortunately he has a very sensitive stomach and that often causes problems for us. When we are going out of town and have to find someone to take care of the pups, we have to be very careful about how they feed poor little Petey, or by the time we come home, he's on a food strike, or he can't keep food down, or even worse, he's got "bathroom" issues.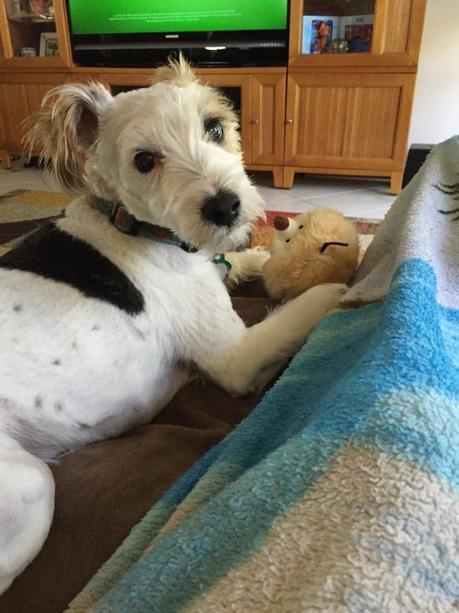 I went up to my hometown, Cleveland, Ohio back in May. Petey's schedule got mixed up, and his routine food got changed, and by the time I came home, he was a big train wreck. At this point, we are back to rice and chicken with broth for him and the only treats he can have are organic, contain pumpkin and other "moving" ingredients. These organic treats are not cheap so we were thinking that maybe it would be better (and cheaper) if we made our own. There's also the ongoing concern about all the preservatives and other unnecessary fillers and byproducts used in commercial dog treats in order to give them shelf life.... I can't imagine that's very good on Petey's stomach either.
Right about this same time, I saw that the K9King Dog Treat Silicone Bone Shaped Mold Pans were being offered for a product review and I signed right up. Lucky for me, I was selected and they arrived just the other day. While I'm still learning the "ins and outs" of (1) how to make dog cookies and (2) how to make a video blog (vlog) post, I did the best I could. The pups are happy with the dog treats and I think they came out great!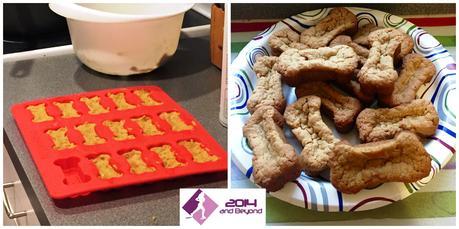 Our first attempt came out pretty successful and I think this K9King silicone bone mold pan was exactly what we needed. If you want to start making your own puppy treats, you can head over to AMAZON and pick up one of these K9King silicone bone mold pans for yourself!
I received the product mentioned above for free using Tomoson. Regardless, I only recommend products or services I use personally and believe will be good for my readers.
It would be great if you would stay connected with me!! You can follow me on Twitter @DebiL1611, like me on Facebook at 2014 and Beyond, circle me on Google+, follow me on Tumblr, Instagram and Bloglovin', subscribe on YouTube, or connect with me on LinkedIn and Pinterest.
Please make sure to visit my homepage and subscribe to my blog for more great posts on running, fitness and lifestyle topics as well as food, product, music and book reviews, and more!