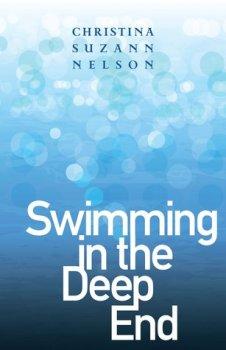 Swimming in the Deep End by Christina Suzann Nelson
Published by Kregel Publications on September 25, 2018
Genres: Domestic Life, Family Life, Literature & Fiction, Women's Fiction
Pages: 288
Format: ARC, Paperback
Goodreads
Buy on Amazon



A moving novel entwining the many faces of motherly love

Jillian Cline has the perfect daughter: loving and smart, she's an Olympic hopeful with a bright future. But when Izzy becomes pregnant, Jillian fears that future is lost. Worse, she must confront her own secret past and hope the decisions she's made don't drown their whole family.

Izzy can't believe God let this happen to her. She knew the risks, but who thinks about that when they're in love? Now she has to face the consequences–and the disappointed stares from everyone who thought she was the perfect Christian girl. At least she has the baby's father, Travis. Nothing can tear them apart, right?

Margaret Owens had determined dreams for her son. She's furious that Izzy's pregnancy jeopardizes his college baseball scholarship and terrified that Travis will be trapped in a life of struggle and poverty–the life she's tried so hard to save him from. She'll do anything to protect him–even if it means forcing him to leave Izzy.

Stacey Frey is aching for a child of her own. But the son she was meant to adopt was taken before she could hold him in her arms. It feels like she'll never stop mourning; even the move to this new town hasn't distracted her from the pain. How can she and her husband find peace? Is there any hope of a family in their future?

And in the midst of all this . . . an unborn baby. Whose arms will hold him in the end?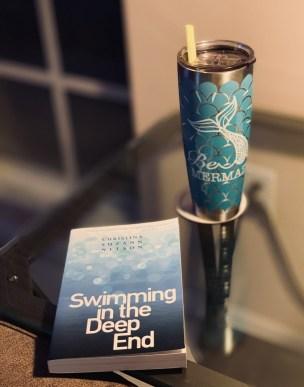 Back in October, I received an email from Ms. Nelson asking if I would be interested in reading her book, Swimming in the Deep. I responded with a quick "yes" based on what I had read about the book.  Just a couple of weeks later, JustRead Tours sent out a sign up for their Blog Tour for the same book and I couldn't help but to sign up since I knew the book would soon be coming in the mail!
To be honest, I get hundreds of emails every week from publishing companies and authors asking me if I'm interested in their books. Ninety percent of the time I have to decline these offers – not always because I'm not interested, but because my "to be read" stack can easily get out of hand thanks to — well, life itself — the day to day living, work, and medical visits with my spouse.  This book, Swimming in the Deep End, was one I was glad I didn't pass up!
I'll warn you to grab your tissues so you'll be ready for this emotionally packed book! You won't help but to be affected by your emotions if you are a human being and you read this book!  
The story is provided to readers with four different points of view.  First there's Jillian, whose past choices continue to cause her to struggle both in her marriage and as a parent.  Jillian's daughter and teenager, Izzy, is slated to have a future in competitive swimming, but she discovers she is pregnant.  Izzy's boyfriend is Travis and his mother, Margaret is trying to do the best she can as a single mother.  She can barely make ends meet and unfortunately this causes her to be absent in the lives of her four sons.  Last there's Stacey, who has just moved to town with her husband.  They've experienced the loss of a child after their efforts to adopt ended in failure. It has been two years and they are finally ready to move forward and give adoption another chance.
By the end of this story, readers will learn some surprising details about a prominent figure, and they will see God's love, forgiveness, and grace shining throughout the story.  The story and the characters felt real and believable, and it grabbed me at the start and moved me throughout. I enjoyed the story very much and I'm glad I had the opportunity to read it.  I would recommend Swimming in the Deep End to anyone looking for a strong, deep and powerful read that will touch your heart long after you've finished the book.
---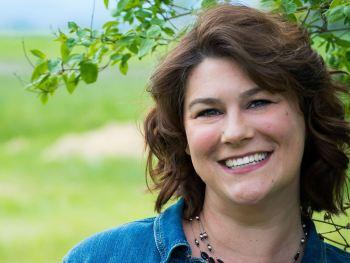 Christina Suzann Nelson, inspirational speaker and award-winning author of If We Make It Home, celebrated the release of Swimming in the Deep End, on September 25, 2018. Her first novel was honored as one of Library Journal's top five inspirational novels of 2017. She was named the 2017 OCW Cascade's Writer of Promise. Her stories have been published in the Cup of Comfort for a Better World, Cup of Comfort for Adoptive Families, as well as other publications. She writes and speaks about hope after dysfunction.
Ms. Nelson is over the top about her passions, including the stories created somewhere in the twists and turns of her less-than-focused brain. When she's not writing, she's working with the Every Child initiative, chasing escaped steers, reading, breathing in the sweet smell of her horse, hiking with her dog, or enjoying her just-as-crazy family.  
Ms. Nelson lives in Oregon's Willamette Valley with her husband and four children.  Connect with Ms. Nelson on social media ~
---
I received a complimentary paperback copy of this book from the author, and then I received a digital copy from the publisher through NetGalley in exchange for my honest review.  The opinions I have expressed are my own and a positive review was not required. I am disclosing this in accordance with the Federal Trade Commission's CFR Title 16, Part 255: "Guides Concerning the Use of Endorsements and Testimonials in Advertising."
---


~ ~ ~ ~ ~ ~ ~ ~ ~ ~ ~ ~ ~ ~ ~ ~ ~ ~

It would be great if you would stay connected with me!! You can follow me on Twitter @DebiL1611, like me on Facebook at 2014 and Beyond, circle me on Google+, follow me on Tumblr, Instagram and Bloglovin', subscribe on YouTube, or connect with me on LinkedIn and Pinterest.

Please make sure to visit my homepage and subscribe to my blog for more great posts on running, fitness and lifestyle topics as well as food, product, music and book reviews, and more!