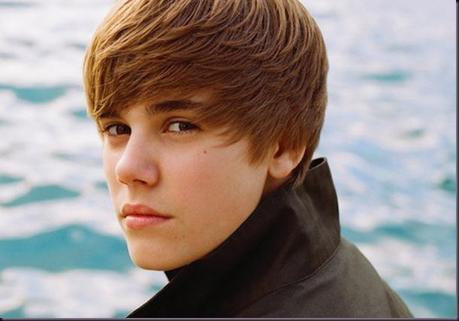 The internet's first mega worldwide pop star discovery, Justin Bieber is in danger of being banned by the very medium that discovered him in the first place. Bieber's latest release, "Baby" has had so many "dislike" hits, (well over 1,000,000 at the last count) on YouTube, obviously by those either annoyed or envious by his success, that the video channel has been forced to consider pulling his latest release off of the site, causing utter pandemonium within Bieber's army of female teenage admirers.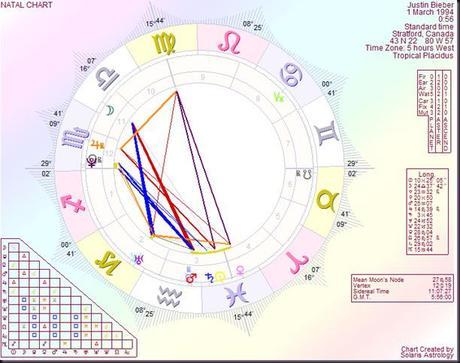 Justin was born in Stratford, Ontario in Canada on 1st March 1994 at 00.56hrs. His Sun is in creative Pisces, he has a deep, hidden Scorpio Moon and an adventurous Sagittarius Ascendant. There are a couple of important things to note about the chart before I move on to look at the planets. Firstly this is a watery chary, six planets in emotional water signs and no planets in earth. As well as this, majority of the planets in this chart are either in fixed or mutable signs and there is only one in a cardinal sign. What do I make of this? Well a lack of earth is quite simple to explain. There is very little grounding to this lad, he will tend to lack practicality, resourcefulness and general common sense. Often those with a lack of earth planets tend to overcompensate by seeking that grounding in other people, expecting perfection and stability from them. Thus, he may be hard to live with, and he will tend to worry greatly. With a lack of cardinality in his chart, he will tend to follow trends and things that he knows, rather than pushing back the boundaries and trailblazing new forms of music. He will be reactive rather than visionary. In my view, a star for the moment, rather than one who will stay at the top lasting  the test of time. That's not to say he will give up on music when his star wanes, this chart screams out creativity and he will continue to write and to play. Finally as an overview, almost all of the planets sit in the Eastern hemisphere, suggesting that Justin is interested in his self rather that considering the needs of others. Such an imbalance can lead to a certain level of selfishness.
Right looking at the planets and aspects within the chart, we have a loaded 3rd house including the Sun. Here we find Saturn, Mars and Mercury joining the Sun in Pisces which is intercepted in the 3rd. Venus also conjuncts this stellium from the 4th house sitting in Aries. Communication and the local environment will be important to Justin, however despite his worldwide fame, Justin will remain quite a reserved, even quiet character. The Saturn conjunct to the Sun sees to this, despite the more outgoing Sagittarius ascendant which suggests the temptation to live a party lifestyle. Justin's father left his wife and remarried and this conjunction clearly illustrates a lack of love received from his dad. Pluto's close connection with the Nodal axis shows a deeply close bond between Justin and his mother who brought him up as a single parent.
Justin will be attentive and keen for knowledge (Mars/Mercury) and  he will have a mental ability to be creatively constructive – by this I mean that his mind will work in poetic sort of way, song writing and creating lyrics will come naturally to him.  This creative urge will remain very high in his list of personal importance throughout his life. The Sun (along with Venus) trines to Jupiter bringing him plenty of optimism and making a wedge formation with the Midheaven a fair slice of luck in his public, home and work environment. The Mercury/Mars conjunction will also contribute to him a sharp temper which square to Pluto and trine to the Moon can come out in an emotional rage. He will have a sympathy and understanding to the needs of women and will always probing beneath the surface of any issue to get to the truth. Justin will be suspicious of other people's motives, and this can lead to worry and irrational fears.
I get the feeling of the threat of paranoia over this chart. This is probably compounded by the Moon sitting in Scorpio in the 11th house. The Scorpio moon needs to know everything going on around you, and if it doesn't panic may set in. This is a controlling, emotional Moon, bubbling under the surface. On the outside is calmness personified, on the inside is a cauldron of emotion. If Justin isn't in control of his life, then trouble may brew for him. The other problem aspect on the chart is a square between Saturn and Pluto which conjuncts his ascendant. This can bring enormous success, but also personal breakdown and transformation.
He will have three places of solace as far as I can see. At home, on stage and with close friends. Venus in the 4th house brings a love of home-life and of family – he will feel settled here. With the Moon in the 11th house, close friends and groups he will be associated with, maybe charity based especially as Jupiter sits in the 12th house of serving and sacrifice. he will be very charitable to those less fortunate or people in need & this will bring him great joy and comfort. The last place of course is performing. Neptune sits with unpredictable Uranus in the 2nd house of money and finance. This conjunction explains exactly how Justin was discovered. Neptune in the 2nd often shows a career in creativity and Uranus rules technology. Where was Justin discovered? On the internet via YouTube.
Back in 2008 when he was found on YouTube by his future manager Scooter Braun, Justin's Solar Arc chart showed up Justin's fortunate discovery perfectly. Solar Arc Jupiter was bang on his Ascendant heralding a brand new international direction for him, as well as conjunct Pluto bringing him huge slices of success. Solar Arc Mars (ruling Justin's 5th house of creativity with Aries on the cusp) was conjunct his natal Sun so moving forward in his creative pursuits and Solar Arc Sun was sextile natal Uranus highlighting the connection through the internet (Uranus through Aquarius) rules the 3rd house of communication. The luckiest of lucky breaks.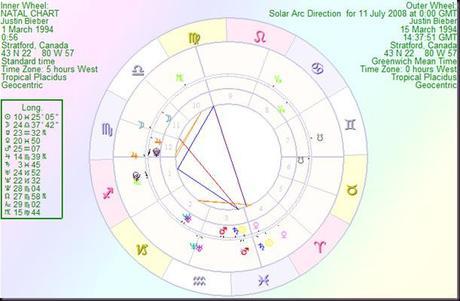 Right now the dream is well and truly alive with Neptune quindecile his Midheaven so his music and creation is being focused across the globe. However problems may lie ahead in the road. Transiting Neptune will soon connect with natal Saturn at 3 degrees Pisces which as I mentioned before squares Pluto and the Ascendant. This aspect will begin to show itself at the start of next year and will continue through until that start of 2014 when Neptune finally moves out of range. This is a slow transformation of the teenage Justin, which will move him on into a far more mature person. However with Saturn, Neptune and Pluto involved I fear this change will be a disorientating and quite difficult one for him. Moving from teenage pop sensation to a more mature adult star is an idea of the journey that awaits Justin with all the temptations of money, drink and maybe drugs (all ruled by Neptune here on this chart). I hope he keeps that serious head (which he does have) firmly on his shoulders.