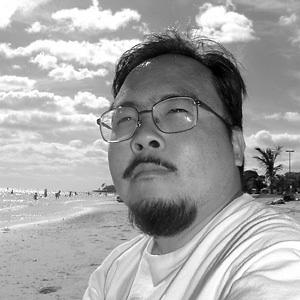 My third interview in the "Hawaiian Blogger Interview Series" was with Ryan Ozawa. Ryan works and lives in Oahu and is involved in just about every facet of media and technology you can think of.
He is best known as the creator and host with his wife, Jen, of possibly the most popular podcast on "Lost" called "The Transmission" which is how I got to know about him.  Last year, when the series ended, "The New York Times" profiled him in an article entitled, "Finding Themselves In Lost" which I highly recommend you read!
Ryan's was the only "Lost" podcast broadcasting from the actual location where Lost was filmed on the island of Oahu. I thought that his audio episodes offered one of the most insightful looks at "Lost" and had the special bonus of his knowledge of where most of the scenes were filmed.
For my blogger series, I was interested in Ryan's point of view on the reboot of Hawaii Five-O, which he chose not to focus on in a dedicated podcast. Ryan was the first to encourage me to do my own podcast which is how the "Hawaii In Vermont" Podcast came into existence.
In this interview we talked about his former Lost Podcast, how he got his start podcasting, his opinions on the impact of tv filming on location in Hawaii, and how he and other locals view the two shows.
You can keep up with Ryan on his Hawaii blog, at HawaiiWebLog.com. To listen to Ryan's own podcasts you can search on the Internet for "Popspotting", his pop culture podcast or for more on "Lost", you can search for "The Transmission" to find out when Ryan and Jen will be posting their next and probably last episode about the show. 
Also, don't forget to be on the lookout for his witty preview articles of new Hawaii Five-0 episodes on the website
NonstopHonolulu.com
Again, stay tuned for the final Hawaiian blogger interview in this Special Edition of the "Hawaii In Vermont" podcast. It is with Wendie Burbridge, blogger for the Hawaii Star Advertiser's Pulse website with her own Hawaii Five-0 blog entitled, "Five-0 Redux."
Also, don't miss our next regular episode of 
"Hawaii In Vermont" which will review the newest Hawaii Five-0 episode scheduled to air 
Monday, March 21st and entitled, "Na Me'e Laua Na Paio" (Heroes and Villains.) 
Thank you and Aloha!