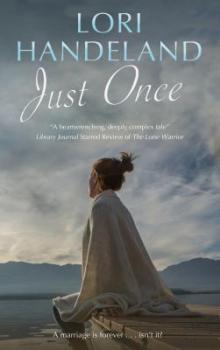 Just Once: Contemporary Women's Fiction by Lori Handeland
Published by Severn House Publishers on January 1, 2019
Genres: Literature & Fiction, Women's Fiction
Pages: 336
Format: ARC, eBook
Goodreads
Buy on Amazon




What do you do when you are forgotten by the man you've loved for twenty years? What do you do if you are the one who is remembered?


Frankie Sicari is roused from sleep late one night by a key rattling in the front door lock. It's her ex-husband, Charley Blackwell: a man she hasn't seen for nearly a quarter of a century. What's baffling is that Charley seems to think they are still married, and has no recollection of his current wife, Hannah.

When medical tests reveal shocking findings, Frankie finds herself reluctantly caring for the man who left her twenty years earlier, while Hannah is relegated to the sidelines. How can Frankie forgive the man who abandoned her when she needed him most? And how can Hannah cope with the impending death of the man she's loved for the past twenty years – especially now she is faced with the shattering truth that he has never stopped loving his first wife, Frankie?
When I read this author's bio, I was a little worried – paranormal is not my genre and just wasn't sure how far away from that genre she could go, even though this book was listed under "contemporary women's fiction".  I can attest to the fact that this book is indeed under the correct category and that Ms. Handeland is very skilled in this genre.  This was a great book and I'm glad I took the chance.
Can you even imagine your ex-husband — the one who cheated on you and then married his mistress — shows up at your door and appears to believe you are still married? Just that concept alone makes for a great story, and it's exactly the story of Just Once by Lori Handeland.
When she found out that he was having an affair, Francesca (Frankie) Sicari divorced Charley Blackwell. Charley then married the mistress, Hannah, and had been married with her for the past twenty years.  Then one evening, Frankie gets a call from Hannah and she's looking for Charley.  Frankie has absolutely no idea why Hannah would be calling her thinking Charley would be there, but before she can even figure it out, Charley shows up trying to use his door key as if it was the normal thing for him to do.  It is clear that Charley believes that Frankie is his current wife, but when when Hannah tells Charley that she's his wife, he really thinks she's crazy.
Charley undergoes hospital tests that reveal a devastating diagnosis – he has a brain mass.  This diagnosis could very well be why Charley has suddenly forgotten the past twenty years of his life.  He seems to have forgotten his marriage to his current wife, Hannah, his divorce from Frankie, and even more so, he has forgotten that he and Frankie's daughter, Lisa is now dead.
It's at this point Frankie makes a life-changing and emotional decision to go along with Charley's belief that they are still a couple — still very much in love and married.  Her decision ultimately forces her to deal with the past that she thought she had overcome those many years ago.
I thought the book was wonderful and sad at the same time. In all honesty, if I had met someone like Hannah, I know for a fact that I'd want nothing to do with her despite the tragedy she must live through. She's a very selfish person and it made me feel even worse for Frankie.  Just Once is a well-written book with very descriptive characters that tugged at my heartstrings.
---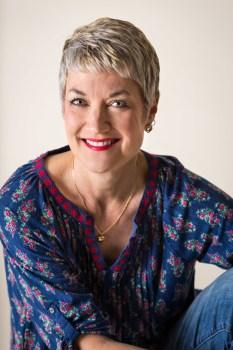 Lori Handeland is a New York Times and USA Today bestselling author with more than 60 published works of fiction to her credit. Her novels, novellas, and short stories span genres from paranormal and urban fantasy to historical romance. After a quarter-century of success and accolades, she began a new chapter in her career. Marking her women's fiction debut, Just Once (Severn House, January 2019) is a richly layered novel about two women who love the same man, how their lives intertwine, and their journeys of loss, grief, sacrifice, and forgiveness. 
Lori sold her first novel, a western historical romance, in 1993. In the 26 years since then, she has written eleven novels in the popular Nightcreature series, five installments in the Phoenix Chronicles, six works of spicy contemporary romance about the Luchettis, a duet of Shakespeare Undead novels, and many more books. Her fiction has won critical acclaim and coveted awards, including two RITA Awards from Romance Writers of America for Best Paranormal Romance (Blue Moon) and Best Long Contemporary Category Romance (The Mommy Quest), a Romantic Times Award for Best Harlequin Superromance (A Soldier's Quest), and a National Reader's Choice Award for Best Paranormal (Hunter's Moon).
Lori Handeland lives in Southern Wisconsin with her husband. In between writing and reading, she enjoys long walks with their rescue mutt, Arnold, and occasional visits from her two grown sons and her perfectly adorable grandson. Connect with Ms. Handeland on social media ~~
---
I  was provided a complimentary copy of this book by Severn House Publishers through NetGalley.  Opinions expressed in this review are completely my own. I was not compensated for this review and all thoughts and opinions expressed are my own. 

~ ~ ~ ~ ~ ~ ~ ~ ~ ~ ~ ~ ~ ~ ~ ~ ~ ~

It would be great if you would stay connected with me!! You can follow me on Twitter @DebiL1611, like me on Facebook at 2014 and Beyond, circle me on Google+, follow me on Tumblr, Instagram and Bloglovin', subscribe on YouTube, or connect with me on LinkedIn and Pinterest.

Please make sure to visit my homepage and subscribe to my blog for more great posts on running, fitness and lifestyle topics as well as food, product, music and book reviews, and more!