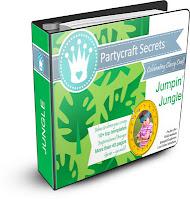 It's no secret that Jungle / Safari Parties are wild.  Whether you hold them indoors or in the great outdoors, it's fabulous fun to dress up as either a jungle-explorer in kahkis, turn yourself into a feathered member of a lost tribe, or release the animal in you.
It is with great pleasure that I announce that I have finally released the Jungle Party Craft and Activity Ebook for you all to enjoy.
The ebook has plenty of inspirational ideas, as well as templates for you to print out and use, including a headdress, fob-watch, telescope, goodie bag and more.  The beauty of a template is that you can print out 1 or 100, depending on how many guests you have.
Of course, there's also the Ballet Birthday Book, as well as themed party craft ebooks for Fairy, Princess and Pirate parties, and my family's favourite; the mermaid party ideas ebook.
Don't forget that you don't have to have a party to use the books; parents say they're perfect for rainy day activities, or are boredom busters for housebound toddlers and preschoolers.
So go on... go wild!