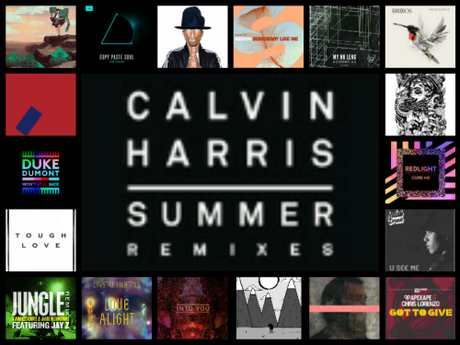 What a month June has been for music. We had the wonderful return of Jessie Ware with her new single 'Tough Love', not to mention new music from Duke Dumont, Jamie xx, Porter Robinson and the reworking of Yogi's 'Christian Bale'. Festival season got well under way with Parklife and Isle of Wight but it was Glastonbury Festival that took center stage this month, with headliners Arcade Fire, Metallica and Kasabian thrilling audiences, not to mention fan favorite Dolly Parton. It's safe to say Glastonbury Festival went down a 'storm' … excuse the pun. Yes even the weather took center stage which interrupted Rudimental's set and briefly closed the Pyramid stage. What would a festival be without a bit of rain, mud and an electrical storm? Roll on next year! Catch up on the highlights here.
The official charts saw a bit of a shake up with streaming sites such as Spotify, Deezer and Napster to count towards Official Chart rankings for the first time. The home of the Official Chart, yes Radio 1, has also seen a bit of a shake up. Longtime broadcaster Edith Boman,  Rob Da Bank, Jen Long and Ally McCrae are among some of the presenters axed from the schedule (Sad times!). This has paved the way for exciting new changes, such as an evening new music show with Huw Stevens, B Traits joining the Friday night dance lineup, while Annie Mac and Pete Tong's shows have been increased by an hour. #Raving. Read the rest of the changes here.  The BBC also announced details of their new BBC Music Awards, set to take place in Earls Court Dec 11th and hosted by Chris Evans and Fearne Cotton.

Itunes UK celebrated their 10th anniversary this month. To mark the occasion, they released the all time best selling albums and singles, which included Adele's '21′, Ed Sheeran and Emeli Sande, while Robin Thicke's 'Blurred Lines' topped the best selling single. When Zane Lowe isn't conducting incredible interviews on Radio 1, such as the recent Rick Rubin feature interview, he's announcing an exciting new music show on MTV called 'Soundchain', which is set to feature artists from Ed Sheeran, Queens Of The Stoneage, Chase and Status and Kasbian. Speaking of which, Kasabian announced their UK and Ireland tour starting this Autumn. If that wasn't enough, there's plenty of new music releases lined up such as new music from Rudimental tipped by end of the year, Florence and the Machines third album, new Snow Patrol in 2015, a debut album from Hozier in September and even more Haim greatness in the pipeline. Oh and incase you're not aware, June 10th has officially being named 'Drake Day' by the Mayor of Houston ….put it in the diary!
July surely has to be dubbed 'Festival Month' with a whole host of Festivals lined up including, Wireless, Festibelly, British Summer Time Festival, Latitude, Longitude, LoveBox, Eminem at Wembley, T In The Park and even G In the Park. Last but not least, don't forget the continuation of Annie Mac's Superstar Djs on Channel 4.
Ok, now on with the music. Check out my selections below:
1) Calvin Harris – Summer (Diplo & Grandtheft remix)
What better way to kick off June favourites than with the aptly titled track 'Summer' from Calvin Harris with Diplo and Grandtheft  on the remix. This is the second collaboration from the duo having previously remixed Calvin's 'Sweet Nothing' ft Florence. While retaining Calvin's original idea, the two drops allow the heavyweights trademarks to shine from their tantalising trap vibes, grime-heavy bass lines, defined percussive beats and some intermittent bed squeaks … always keeping it interesting. Be sure to catch Diplo pretty much touring everywhere this summer, while Grandtheft is currently on his 'Keep it 100′ tour. The 'Summer' remixes are available here.
2) Jack Garratt – Worry
London singer songwriter Jack Garratt unveiled his new single 'Worry', taken from his debut EP 'Remnants'. The single serves as the follow up to 'Water', where Garret delivers moments of pure chilled out R&B before hitting us with some heavy synth drops and a fuzzy infectious hook. Garratt's soulful vocals has great range highlighting his impressive falsetto ability. Currently in the middle if his UK tour, upcoming dates for Garratt include Secret Garden Party and In The Woods. 'Remnants' is due July 14th and is available now.
3) HRLY & Bosey – Take Me
Brighton based producer/ DJ's HRLY & Bosey have collaborated on an exciting new trap banger. 'Take Me' serves up some infectious trap stylings and an incredible drop that takes the track to the next level with its trap infused horns, bass heavy beats and echoed/distorted vocals. 'Take Me' is packed with plenty of edge and attitude and marks an impressive effort from the duo.
4) Keaton Henson – Elevator Song
When London singer/songwriter Keaton Henson unveiled his debut album four years ago, he presented a personal and stunning selection of folk ballads. Despite Heatons crippling anxiety with performing, Henson has since unveiled his new body of work, which presents a vast change of direction for him; a classical piece titled 'Romantic works'. Recorded in his bedroom, 'Elevator Song' opens the collection of work. The purely instrumental track takes us away for 3 minutes to a place of pure tranquility with simple piano and strings. If only all elevator rides were as blissful as as this. 'Elevator Song' is available now from his 'Romantic Works' album.
5) Isaiah Dreads – You See Me (Prod. Preditah) Make way for some serious rising talent in the form of 16 year old Grime artist Isaiah Dreads.  His new single 'You See Me' sees Dreads going in on the Preditah produced banger. Dreads delivers some serious skills and spitting over the impeccably produced beats from Preditah. You might remember Preditah from some of his incredible remixes from Danny Brown's 'Dip' to Disclosure's 'Stimulation', and now he's done it again with the infectious trap-hop hooks dominating 'You See Me'. Dreads and Preditah prove to be an exciting collaboration. 'You See Me' is set for release July 21st and is available to pre order now.
6) Crystal Fighters – Love Alight
Time for some sun-drenched music from electro pop quartet Crystal Fighters.  'Love Alight' is the first new material to surface since their 2013′s 'Cave Rave' album and what better way than with this uptempo track, filled with soaring melodies, flamenco style guitars, euphoric vocals and hypnotic beats. No surprise it featured as Zane Lowe's 'Hottest Record', as it will no doubt be the summer soundtrack for many this summer. Upcoming dates for Crystal Fighters include Lattitude Festival and Lovebox. 'Love Alight' is available now.
7) Kwabs – Into You
Kwabs has unveiled his new single 'Into You', taken from his 'Pray for Love' EP. The single serves as the follow up to 'Last Stand' and 'Wrong Or Right' produced by SOHN. Now Kwabs has teamed up with producer Chris Loco to deliver yet another impressive single with some infectious production from Loco. Kwabs sure knows how to pick his producers. Kwabs stunningly emotive and soulful vocals are delivered with such passion, especially the rousing hook with defined, tribal percussive beats. Upcoming dates from Kwabs include Latitude and a headline date at London's Koko this October. 'Pray for Love' EP is available now.
8) Redlight – Cure Me ft Lolo
Bristol based Producer Redlight (aka Hugh Pescod) has unveiled his new single 'Cure Me', featuring the sultry vocals of Brooklyn singer Lolo. With deep house dominating the music scene, 'Cure Me' is set to follow in the same path as Redlight's previous singles from '36' to 'Lost In Your Love' and 'Get Out My Head'. 'Cure Me' delivers some punchy deep house vibes, signature house piano and an infectious hook you'll be singing all day. Having recently signed to Polydor Records, the Bristol producer is currently working on his debut album due later this year. Upcoming dates for Redlight include Creamfields and Jersey Live. The 'Cure Me' EP is set for release August 17th via Polydor Records, featuring remixes from Actress, New York Transit Authority and DJ Die. Pre order your copy here.
9) Apexape & Chris Lorenzo – Got To Give
Apexape, aka Benny Kane and Dr Specs have teamed up with Chris Lorenzo of Cause and Affect, to deliver their monstrous bass heavy single 'Got To Give'. With its pulsating basslines, eerie synths and suspenseful descending riffs and rolling drops, 'Got To Give' delivers on all fronts. The single is available now via MistaJam's Speakerbox Records. Upcoming dates for Apexape include Ibiza and Mallorca rocks this July.
10) Broods – Mother and Father
New Zealand siblings Broods, aka Georgia and Caleb Nott, unveiled their new single 'Mother and Father', which serves as the follow up to the successful 'Bridges' EP. The single is taken from their forthcoming debut album 'Evergreen', and delivers a soothing synth driven track. Georgia's light, airy vocals and heartfelt lyrics are effortless and provide a nice contrast to the defined percussive beats throughout. Set to support Sam Smith on tour this autumn, further dates for Broods include Hoxton Square Bar and Longitude in Dublin. 'Mother And Father' is available now, while their debut album is set for release August 22nd via Polydor.
11) My Nu Leng – Knowing (Break remix)
Time for some epic drum n bass from Symmetry Recordings owner Break, as he takes on My Nu Leng's 'Knowing'.  The remix serves as the followup to his 'Moving On' EP and delivers a beast of a track with its bass heavy vibes, glitchy production and growling bass lines. Break retains My Nu Leng's original charm, from the serene piano motif and ambient effects throughout, before ramping up the tempo to delivery a high energy drum n bass monster. Break's 'Knowing' remix is set to feature on My Nu Leng's 'The Masterplan Remixes EP', which includes remixes from Lorenzo and Zed Bias. 'Knowing' is available now via Black Butter Records.
12) Méron – Somebody Like Me
Prepare yourself for some epic progressive dance beauty. Rising producer Méron has has unveiled his latest offerings 'Somebody Like Me', which serves as the follow up to 'Along With The Stars'. The track delivers with such force and impact, from its soaring house piano vibes, stirring strings and rousing builds throughout. A definite hands in the air track that you wish would never, ever end. Presenting a stunning vibe and drawing comparisons to Prydz, Méron is one producer to keep a close eye on. In the meantime, check out his soundcloud here. Somebody Like Me is available now via Spinnin' Records.
13) Avan Lava – Last Night (Copy Paste Soul Remix)
Having recently released his 'Like This' EP, Copy Paste Soul has since remixed 'Last Night' from Brooklyn trio Avan Lava. With his infectious whomping bass line, soulful vocals and feel good vibes infused throughout, Copy Paste Soul has already received great support from the likes of Annie Mac, Scream and Disclosure. Check out his soundcloud page here to hear 'deep things growl and whompy things warm'. Upcoming dates for Copy Paste Soul include Lost Records at Fire London.
14) Grimes – Go ft Blood Diamonds
Yes, Grimes is back after almost two years and has unveiled her new single 'Go', ft producer Blood Diamond. Originally written for and thankfully rejected by Rihanna, 'Go' paves the way for her highly anticipated return and serves up the first new material since 2012′s album 'Visions', and the remarkable single 'Oblivion'. With its moody, atmospheric vibe, and trap infused stylings, Grimes has certainly peaked our interest for what's yet to come. Currently working on her new album, 'Go' is available now. Upcoming datea for Grimes can be found here.
15) X Ambassadors & Jamie N Commons – Jungle remix ft Jay Z
American rock band X Ambassadors and British artist Jamie N Commons, have made quite the impact with their single 'Jungle', which featured in the World Cup inspired 'Beats By Dre' campaign. Giving the single a reworking is n one other than Hov, yes Jay Z now features in the remix, bringing 'Jungle' to a whole new level of epic proportions. The hard hitting track serves up a sense of empowerment with some ferocious skills and lyrics from Jay Z 'If your god is bigger than my god up there, and my god is bigger than your god down here, whom shall I fear?'. The new jungle remix is available now.
16) Pharrell – Frontin' ft Jay Z (Disclosure remix)
Brotherly duo Disclosure recently reworked on of their favorite songs ever. Yes Pharrell's 'Frontin' ft Jay Z has been given the Disclosure remix which sees the boys breath new life into the 2003 classic. The duo deliver an upbeat garage infused remix, with Pharrell's infectious vocals mixed seamlessly throughout. Even better, the track was offered as a free download as a result of reaching 1 million likes on Facebook. Be sure to catch Disclosure touring everywhere this summer including Ibiza, Reading & Leeds and Bestival as well as featuring on Annie Mac's 'Superstar DJ' programme on Channel 4.
Check out the full playlist below with over 90 minutes for your listening pleasure.