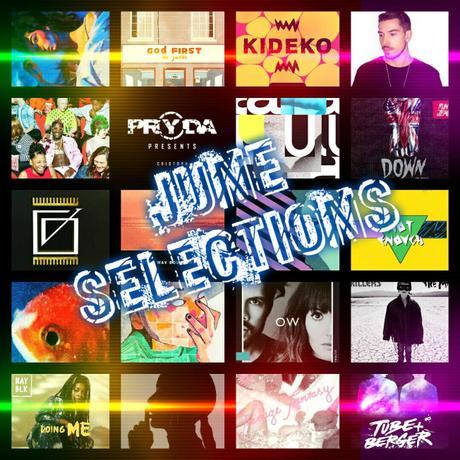 1) Denney Vs Mekon – What's Going On
Word of warning, this song will make you want to go out #raving! UK Producer/DJ Denney from Leeds, unveiled his new single 'What's Going On'. The single served as Pete Tong's Essential New Tune, as well as Danny Howard's Hottest Record while filling in for Annie Mac the past few months. As one of the leading figures in the house scene right now, 'What's Going On' serves up some pulsing bass, thrilling drum patterns and an infectious vocal sample from Mekon's '00 hit of the same name, featuring the vibrant vocals of Roxanne Shanté. With the breakout success of 'Low Frequency' two years ago, Denney has gone from strength to strength with a string of releases via Hot Creations and Crosstown Rebels. Speaking with Danny Howard, Denney spoke about hounding Mekon for the original vocals and working on the track the past four years: "I must have done four or five different versions but it wasn't right. I finally revisited it last year, and here we are". With a summer of touring, festivals, Ibiza gigs and further Summer releases ahead – watch this space for an official release.
What's Going On – Official release TBC
Tour
2) Lorde – Perfect Places
With the release of her sophomore album, Melodrama, Lorde unveiled her latest single, 'Perfect Places'. Having previously shared 'Green Light', 'Liability', and 'Sober', 'Perfect Places' serves up Lorde's trademark anthemic choruses, whirring synths and unique sense of synaesthesia (seeing sounds as colour). Produced and co-written alongside Jack Antonoff (Fun, Sia, Taylor Swift), Lorde captures emotion like no other and serves up some darker undertones, with its throbbing syncopated rhythm, infused with sleek R&B stylings. Throughout 'Perfect Places', Lorde suggests partying as a mechanism for survival and the bold extents people go to, in order to feel more alive. "All the nights spent off our faces / Trying to find these perfect places / What the fuck are perfect places anyway?". Fresh off the success of her Glastonbury debut performance on the Other Stage last weekend, with 'Green Light' featuring as the BBC TV coverage intro music each day, Lorde is set to go on tour this Autumn with 5 UK performances including O2 Apollo in Manchester (26 Sept), London's Alexandra Palace (Sept 27) and Glasgow's O2 Academy (2nd October) – unfortunately no Irish dates announced yet.
Melodrama
iTunes
Google Play
Tour
3) Mr Jukes – Grant Green Ft Charles Bradley
Having last featured in my March Selections, Mr Jukes, aka the solo project of Bombay Bicycle Club frontman Jack Steadman, is back with new single 'Grant Green'. His latest offering sees him team up with American singer Charles Bradley for a delightful dose of gospel infused soul. Mr Jukes pays homage to the late American jazz-guitar legend, Grant Green, sampling his work throughout and even naming the track after him. Taken from his forthcoming debut album, God First, set for release July 14th via Island Records, enjoy this sumptuous Summer sizzler, filled with plenty of soul and funk. Upcoming dates for Mr Jukes include the Village Underground in Shoreditch (July 10) and a Piano Session for Huw Stephens on Radio 1 (July 5).
God First
iTunes
Google Play
Tour
4) Grace Carter – Silence
Time to slow the pace down a bit with the stunning vocals of Grace Carter. Ok, so this track might have been released end of May, but I'm sneaking it into my June favourites (Shhh!) The 19-year-old singer/songwriter from Brighton, delivers a confident debut with a personal, yet defiant message. The track premiered as Zane Lowe's 'World Record' on Beats Radio, where Grace commented: "I feel it's quite relatable, and just excited for other people to find some strength in the song, like I did". With over 1 millions streams on Spotify and co-written alongside George and Henry Flint, 'Silence' is available now. Currently working on her upcoming debut project, keep an eye on this rising star!
Silence
iTunes
Google Play
5) Duke Dumont x Gorgon City – Real Life Ft Naations
I feel like you can always count on house music aficionado, Duke Dumont (Adam George Dyment) and North London production duo Gorgon City (Kye Gibbon & Matt Robson-Scott), to produce instant dance-floor bangers. With a string of hits between them including 'Need U (100%) ft A*M*E', 'Won't Look Back', 'Ready For Your Love' ft MNEK and 'Saving My Life' ft RØMANS – 'Real Life' is no exception. Teaming up with rising Australian duo Naations (Nat Dunn & Nicky Routledge) for an infectious slice of 90's house, 'Real Life' is filled with delectable, soulful vocals and infectious house-piano melodies. With Duke Dumont recently offering his production skills to Katy Perry's 'Swish Swish' ft Nicki Minaj, Duke continues to highlight his crossover skills from underground club culture to more mainstream pop stylings. With Dumont and Gorgon City set to take up residency this summer at Amnesia in Ibiza, all three acts are set to perform at SW4 Festival in Clapham, London. (Aug 25-27).
Real Life Ft Naations
iTunes
Google Play
Beatport
Tour: Duke, Gorgon City
6) Jorja Smith – Teenage Fantasy
I last featured Jorja Smith in my January Selections with her impressive debut single 'Blue Lights'. Now the 20-year-old singer is back with her latest offering, 'Teenage Fantasy', serving as the follow up to last year's Project 11 EP along with singles 'Beautiful Little Fools' and her collaboration with Kali Uchis on 'Tyrant'. With 'Teenage Fantasy', Jorja's stunning neo-soul vocals float effortlessly above some laid-back jazz accompaniment, all the while delivering a mesmerising ballad and a mature sound far beyond her years (oh, and an ending that's completely charming). Brimming with talent, Jorja recently featured on Drake's More Life 'playlist/project' with tracks 'Jorja Interlude' and 'Get It Together', further emphasising her global reach. Upcoming dates for Jorja include Latitude (July 13-16), Longitude (July 14-16) and a headline show at Electric Brixton (July 20). In the meantime, check out her cinematic video for 'Teenage Fantasy'.
Teenage Fantasy
iTunes
Google Play
Tour
7) Tube & Berger – Dust Feel Ft. Richard Judge
Again, a bit of an end of May release, but sneaking this gem into my June picks. German Deep house production duo, Tube & Berger (Arndt Rörig and Marco Vidoviz), unveiled their latest single 'Dust Feel'. Featuring the captivating vocals of long time collaborator Richard Judge ('Disarray', 'Ruckus', 'Wide Awake'), 'Dust Feel' serves up an enchanting slice of progressive deep-house with its moody undertones and hypnotising, atmospheric synths. The single is taken from the dynamic duo's sophomore album, We Are All Stars, and follows the success of previously released singles 'Ruckus' and 'International Corporate Motherfuckers'. Upcoming dates for Tube & Berger include Tomorrowland in Belgium (July 23), Ushuaia, Ibiza (Aug 15) and London's Ministry of Sound (Nov 25).
We Are All Stars
iTunes
Google Play
Beatport
Tour
8) Calvin Harris – Feels Ft. Pharrell Williams, Katy Perry & Big Sean
Ok, I think we've found our song of the Summer and unsurprisingly, it comes from Calvin Harris with an assist from Pharrell, Katy Perry and & Big Sean. 'Feels' is an effortlessly cool, sun-drenched single, with its tropical vibes, funky bass-lines and breezy vocal hooks. This is the fourth single to be taken from Calvin's forthcoming album, Funk Wav Bounces Vol 1, and follows previously released singles 'Slide' ft Frank Ocean & Migos, 'Heatstroke' ft Pharrell, Young Thug and Ariana Grande, and 'Rolling' ft Future and Khalid. With a never ending list of contributors, Calvin has recently come under fire from Canadian Producer, Deadmau5, who criticised the amount of high profile guest artists: "Anyone ever remember when calvin harris was just… calvin harris?". The Scottish producer is also a multi-instrumentalist, playing all the instruments on the record – further promoting his never ending talents. Be sure to check out the hyper-stylised, psychedelic video.
Funk Wav Bounces Vol. 1:
iTunes
Google Play
Tour
9) Run The Jewels – Down ft Isaiah Dreads (Z Dot UK Remix)
Fresh off the success of their Glastonbury Pyramid Stage performance, US hip-hop duo Run The Jewels shared a new remix of 'Down' from West London producer Z Dot. Known for his work with the likes of Stormzy, Lady Leshurr and Wiley, Z Dot's remix also features a new verse from 19-year-old rapper Isaiah Dreads ('Hot Spice', 'U See Me'). Z Dot's UK remix featured as Mista Jams 'Jam Hot' on 1 Xtra and serves up some menacing undertones with its skittering 808's, snarling brass swells and Isaiah completely holding his own on the new verse. Upcoming dates for Run the Jewels World Tour include two dates at London's O2 Academy Brixton (Nov 11-12) with further performances in Manchester, Leeds and Birmingham.
Down (Z Dot UK Remix)
iTunes
Google Play
Tour
10) Lil Yachty – Better Ft Stefflon Don
With the release of his debut album, Teenage Emotions, US rapper/singer Lil Yachty unveiled his new new single 'Better'. Featuring rising MC Stefflon Don, who recently featured on Toddla T's 'Beast' ft Andrea Martin, 'Better' serves up a carefree, reggae-infused track, with its breezy, tropical vibes – the perfect summer chill track. 'Better' follows Lil Yachty's 2016 mixtapes, Lil Boat and Summer Songs 2, as well as his most recent collaboration with Carly Rae Jepsen on 'It Takes Two'. Teenage Emotions is available now and features a whole host of guest collaborations, including Diplo, Migos YG and Kamaiyah, Grace, Sonyae Elise, and Evander Griiim.
Teenage Emotions
iTunes
Google Play
Tour
11) Kideko – Dum Dum
I last posted about Kideko in April, when he teamed up with Liverpudlian producer, Friend Within, for their beast of a track 'Burnin' Up'. Now the Brighton producer has unveiled his latest solo single 'Dum Dum'. The single premiered with Annie Mac as her Hottest Record and serves up an infectious samba sizzler, with its vibrant house piano, bustling percussion and bouncy, Carnival vibes. With the massive success of his collaboration with Kwali on 'Crank It' and the re-edit with Nadia Rose & Sweetie Irie ranking up over 15 million streams on Spotify – Kiedko sure knows how to get the party started. Expect this to be heard everywhere throughout the summer season. 'Dum Dum' is available now on Ministry of Sounds. Upcoming dates for Kideko include, Lovebox (July 14-16), Tramlines (July 21), and Creamfields (Aug 24-27).
Dum Dum
iTunes
Google Play
Beatport
Tour
12) Confidence Man – Boyfriend (Repeat- Edit)
Not much is know about this next group, other than they've just shared a ridiculously catchy Mark Ralph edit of their single 'Boyfriend (Repeat)'. Confidence Man are an Australian four-piece group, a supergroup if you will, made up of former members of The Belligerents, the Jungle Giants and Moses Gunn Collective. They also have some of the best names around – Reggie Goodchild, Clarence McGuffie, Janet Planet and Sugar Bones. While Mark Ralph is a UK producer having worked with the likes of Hot Natured, Jamie Jones and Hot Chip. The preppy, electro-funk tune just oozes charm with its funky bass lines, swirling synths, quirky electronic flourishes and sassy vocals to match. With Huw Stephens recently commenting 'I can't emphasize how brilliant they are' and just 'so much fun live', this is one track you're going to have on repeat for quite some time – so 'Get Down!' Having just headlined The Moth Club in London, keep an eye out for future dates from the Brisbane supergroup, including a live session from Maida Vale Studios with Huw Stephens.
Boyfriend (Repeat – Edit)
iTunes
Google Play
Tour
13) Superorganism – Nobody Cares
From one relatively unknown band to another, meet Superorganism. The Main/London collective shared their third single 'Nobody Cares', highlighting their quirky yet captivating form of glitch-tronica. The 8-piece group, made up of Japanese vocalist Orono and a yet-to-be-announced line up of eclectic musicians, have delivered a unique mishmash of quirky electro samples, wobbling basslines and sweet vocal hooks. 'Nobody Cares' is the follow up to 'Something For Your M.I.N.D', which appears to have been taken down due to an uncleared sample, and 'It's All Good'. Upcoming dates for the supergroup include a debut performances at London's Village Underground (Oct 5). Don't miss out!
Nobody Cares
iTunes
Google Play
Tour
14) Ray BLK – Doing Me
Time for a refreshing slice of UK R&B from Ray BLK (FYI, that stands for Building, Living, Knowing). Having kicked off the year as BBC's Sound of 2017 winner, 23-year-old Ray BLK has gone from strength to strength with her straight-talking, down to earth attitude as heard in her latest offering 'Doing Me'. The single promotes self-empowerment at its finest with Ray perfectly balancing her free style vocals with soulful R&B melodies, all the while highlighting the importance of being yourself no matter what. "My dressing is expression so don't judge me by my clothes". Having recently featured on Gorillaz's latest album Humanz alongside Zebra Katz and Rag'n'Bone Man, expect plenty of new material from Ray BLK this year. Produced by Jimmy Napes (Disclosure, Sam Smith, Jessie Ware), upcoming performances for Ray BLK include Lovebox (July 14-15), Wilderness (Aug 3-6), Reading & Leeds (Aug 25-27) and Bestival (Sept 7-10).
Doing Me
iTunes
Google Play
Tour
15) Cristoph – Feel
Last, but by no means least, is Newcastle producer Cristoph with his new single 'Feel'. Having just signed to Eric Prydz's new imprint, Pryda Presents, Cristoph has the task of representing the label's first ever release – and what a way to kick things off. 'Feel' serves up a mesmeric slice of progressive house, with its dynamic beats, swirling synths and Jem Cooke's hypnotic vocals floating effortlessly above. With an impressive back catalog of releases including 'Alone' and 'Closer' via Hot Since 82's Knee Deep In Sound imprint,  his Eleven EP via Sasha's Last Night on Earth imprint, and his collaborative Last Dance EP with Jeremy Olander on John Digweeed's seminal Bedrock imprint – Cristoph is proving just why he's a force to be reckoned with. Having previously joined Prydz on the North American leg of his tour earlier this year, as well as supporting him at EPIC 5.0 in London, upcoming performances for the Geordie producer include his debut at Tomorrowland on the Pryda Stage (July 30), Creamfields (Aug 24-27), SW4 (Aug 26-27) and further support slots for Prydz during his debut Ibiza residency at Hï Ibiza. (Tuesdays from June 20-Aug 22)

Feel
Beatport
Tour
ICYMI: Previous June Posts
One Love Manchester
Oh Wonder – High On Humans
Lido – Not Enough Ft THEY.
Everything Everything – Can't Do
The Killers – The Man
Bicep – Aura
Glastonbury Thursday Picks
Glastonbury Friday Picks
Glastonbury Saturday Picks
Glastonbury Sunday Picks
Vince Staples – Yeah Right ft Kučka & Kendrick Lamar
Check out the full playlist below and here's to another exciting month of music ahead!
Advertisements