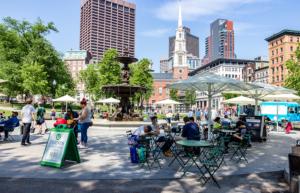 Celebrate Brewer Fountain!
Thursday, June 20, 2019
12:00 p.m.
Brewer Plaza Fountain
Boston Common
This is a free event
Join us this year for "Celebrate Brewer Plaza" on Thursday, June 20. Free food, live music and fun! Bon Me and Cookie Monstah will be giving away free lunch and cookies and we'll have a steel pan band for live music! Capital One will be the sponsor. Come celebrate on Thursday, June 20th, for great food, fabulous live music, and loads of fun.
April 1st kicked off the Friends' 8th season of programming the Brewer Fountain Plaza (the Plaza). In spite of the often-changing weather, many people have been enjoying the "outdoor living room" funded and maintained by the Friends. Our two most successful food trucks, Bon Me and Cookie Monstah, are both back on the Plaza seven days a week each. Berklee College of Music is also back for the live weekday piano performances and we will be working with them this season to implement a pilot program for bringing a variety of live music to the Plaza.
On May 5th, Cinco de Mayo, a food truck promotion took place on the Plaza sponsored by Hood Sour Cream. Hood gave away 1,000 free tacos topped with Hood Sour Cream Squeeze from their branded food truck. The event was a total success and possibly coming later this summer - a free pizza promotion!