That time of the month again. It's going quicker and quicker with every month. Today I bring you July favourites. Once again, I think they are pretty similar with a few added extras that I bought at the beginning of the month.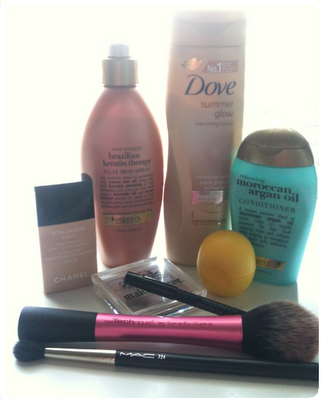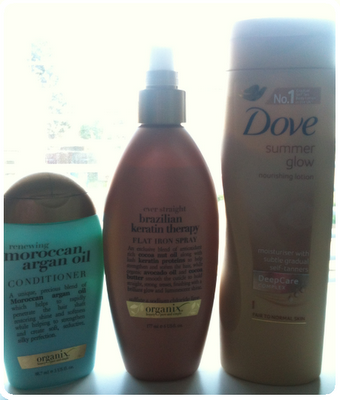 First this month is the Moroccan Argon Oil Conditioner. I saw this in Boots with my sister in mid July. They have a nice section in my Boots, with the Moroccan shampoo and conditioners, to the Brazilian line with heat protecting spray and conditioning oils. I got the mini to start with for £1.99 in case I didn't like it and the full size was £6.99. I don't use this every day. I use it about twice a week and leave it in for five minutes and it smells divine. I'm lucky and have soft hair naturally, however, it's getting to the "desperate for a hair cut" stage and this really helps to keep the ends nice. Once I've used this up, there's still loads left and I use a generous amount, I will buy the larger size. I probably won't get the shampoo as they say buy a cheap shampoo but splash out on the conditioner. I recommend.
Another from this line is the Brazilian Keratin Therapy flat iron spray. I was getting bored of using my Schwarzkopf guardian angel spray and decided to try this. It smells lovely, smells a bit like chocolatey Malibu. Not an alcoholic I swear, haha. Anyway, I spray it on my hair when it's completely dry and then brush it out. My hair goes really soft after applying heat and it never feels dry either. Big thumbs up to this product.
The next product is probably my most favorite of this month. Dove summer glow in fair to normal. I first tried the Garnier Summer body but had a really bad skin reaction to it, which I'm going to talk about in another post, so I thought I'd try this instead. The scent is lovely. The Garnier one, you could really smell the fake tan, it was awful, but this one just smells like summer and a little bit of fake tan. The color is very natural looking and just after one application, it leaves a gorgeous glow. I can't be bothered with a proper fake tan routine as I'm not bothered about looking tanned, but this product adds just the right amount of glow and natural look that I want.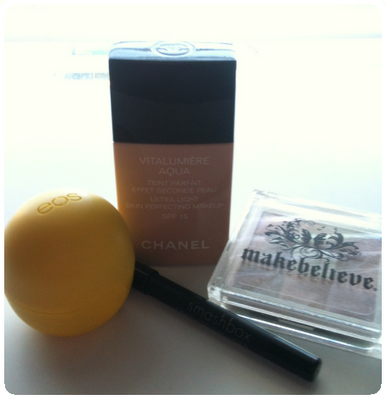 Chanel Vitalumiere Aqua has been in my favourites before. I used it for the first time on it's own the other day, before I was just putting it on redness on top of Max Factor, and it was actually really nice. Once I applied it with the Real Techniques buffing brush, it just looked flawless. And I really love the smell and packaging. It looks sophisticated.
The next favorite is my EOS Lemon Drop SPF15 lipbalm. As it's the summer, I've been using this one because it contains SPF15. The smell is lovely, and it really does keep my lips moisturised during summer time. I love the packaging and can't wait to get more of these.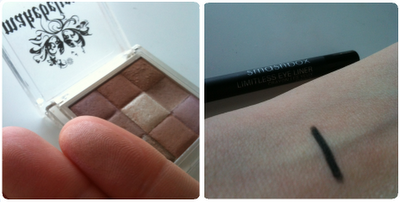 Smashbox Limitless Eye Liner in Onyx is incredible. I recently did a post on Smashbox try it kit and this was included. It's brilliant. It's so pigmented and stays on for ages. I really have to scrub hard to get it off. This is only the starter size but I will definitely buy the full size when it finishes.
The Make Believe Multi color bronzer I've had a while now and this is my second one. I love how there's so many different colours and even though they are all shimmery, it's not over powering and is quite subtle. I've been using it all over my face, the places where you'd naturally catch the sun, and it just looks pretty and not a dirty color as some bronzer can do to fair/light skin. This also looks great on darker skin too as you can see the shimmer more and it's still subtle.

I always have to have a RT brush in here somewhere and this month it's the Real Techniques blusher brush. I'm 90% sure this was in last months favourites as well but I just love it. The dome shape brush just makes applying blusher so easy, and makes it look so blended. Not to mention the RT brushes are the softest I have ever felt. Still saving my Boots points in order to buy more from the range.
MAC 224 brush is amazing too. I'm sure this was in last months too but oh well, it shows how much I like it. I use this every day and really blends everything in really nicely. The brush head is just the right size to blend well.
Now onto my random favourites...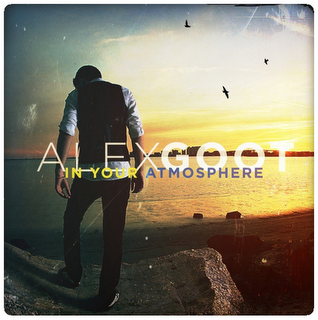 This guy has been in my favourites about 3 times now, I just can't get enough of his music. He's on YouTube and started off doing covers, which are incredible and most of them I prefer to the original versions, however this album Alex Goot - In Your Atmosphere is his first album of all his original songs. He's so talented. I think you should take a listen. My favourites on this album are, Sensitivity, Lightening, We could love and Bright Lights (fly). Which brings me onto my next favorite...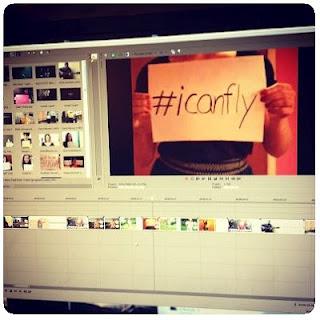 One of my most favorite songs ever is Bright Lights (fly) by Alex Goot. The picture above is the picture he tweeted of him editing his new music video for this song. Did I mention that he not only writes and performs his songs, he edits and makes them all himself too. One talented cookie! Brilliant song and really inspirational, this is the link to the video on YouTube here.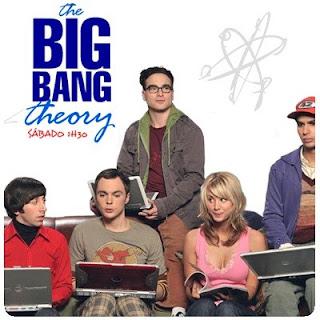 The Big Bang Theory is a brilliant TV programme. Every episode I am in hysterics. Watching this really cheers me up and looking at Leonard helps too, he's cute and yes I have a very big soft spot for him :)
So that's my favourites for this month. Have you heard any of Alex Goot's music or watched The Big Bang Theory? What are your favourites this month?