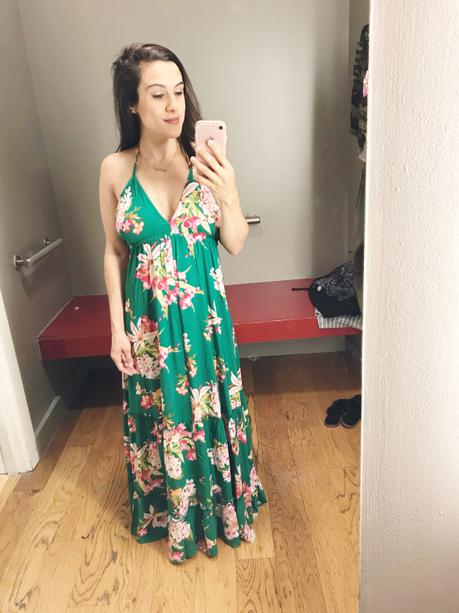 Green Floral Halter Maxi
Happy Monday and Happy 1st Day of July! July is one of my favorite months for a number of reasons. One, being it's my birthday month! Where my fellow Leo's at? (end of July). My sister and I grew up celebrating our birthdays together every summer at the beach. These days, we head to family vacation in August, but we still get plenty of beach days here in NYC believe it or not. I'm also excited for July, because I'm heading on my annual Coach Summit trip!!! Going to meet some of my favorite ladies and business partners out in Indy next week for some fun and inspiration.
Today's try-on is from Express, and it's a mix of fun summer pieces that I can dress up or down, take to the beach, take to my Summit parties, wear during our casual conference, or wear running around with my three boys this summer. All items are linked so you can shop. I do receive a tiny commission if you decide to purchase anything using my link (not in-store or outside of this link), and I so very much appreciate you guys using my shop links as it helps me to keep doing try-ons like this! Can't wait to hear what you think of the pieces!
The green floral halter maxi you see above fits TTS (true to size – I'm wearing an XS), it's super flowy and very comfortable. The length is perfect for my 5'0 frame, and the back has a super deep V cut for a sweet, but sexy look.
OH and Express is having major sales right now, so mostly everything you can get as discounted prices! Whoop whoop!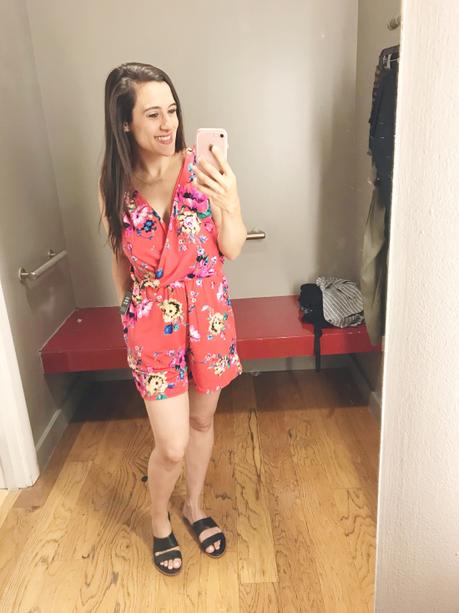 Floral Romper
The one I tried on here is a S, and it was a little big up top, so I snagged the XS off the mannequin! Hoping it fits perfectly, so I can wear it to one our parties in Indy with some wedges! This one is 50% off right now!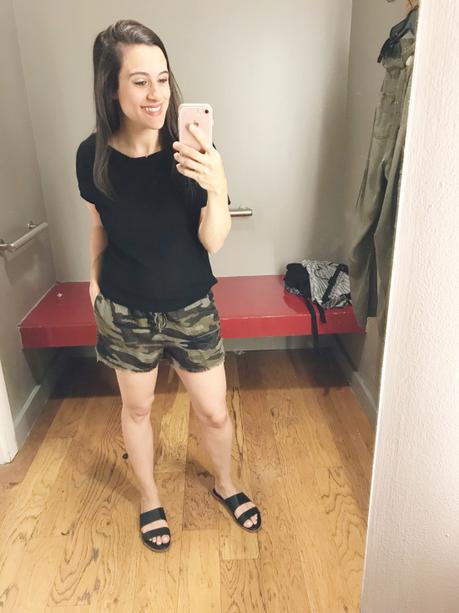 Waffle Knit Tee
Camo Shorts
This outfit is perfect for running around the playground with my kiddos or running errands in the hood. The top is really comfy cozy, and the shorts are a lightweight linen blend and easy to move around in. After looking up the tee online, apparently it's supposed to be an off-the-shoulder-tee, but who knew? I guess you could wear it either way. It comes in a few different colors as well. Shorts on sale!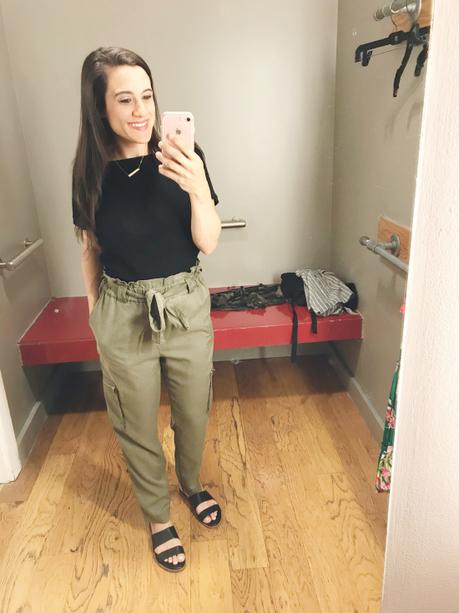 High Waisted Tie Cargo Pant
Paired the same top with these high waisted tie pants that are also the perfect length for my shortie frame. Or maybe they are supposed to be capris, but whatever, they work! Haha. Also crazy comfortable and easy to run around in with three small children yet cute enough to wear to the office if you work somewhere without a super fancy dress-code.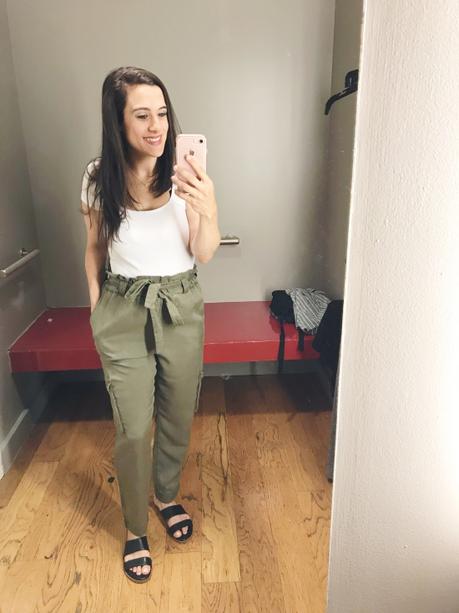 White Ribbed Bodysuit
Same pants, different top. This time rocked a white ribbed bodysuit. I haven't rocked a bodysuit since probably the 80's (I was 5), but I sized up here to a small, and it honestly wasn't as uncomfortable as I'd remembered.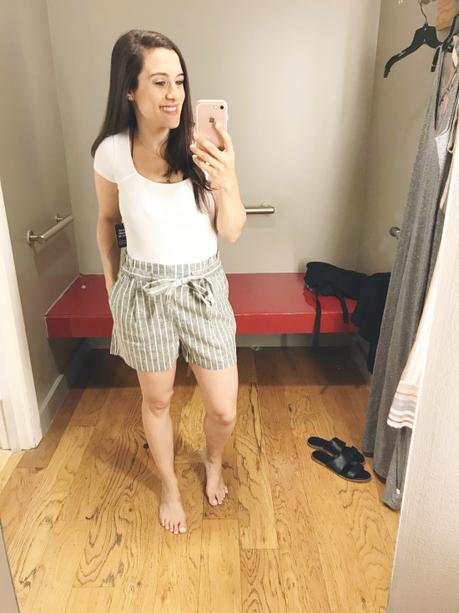 High Waisted Striped Tie Shorts
I tried to mix and match as much as possible to give you different options for how to style everything, and it also works really well if you're into the capsule wardrobe thing, but here is the same bodysuit top with these linen blend tie shorts. I have tried these shorts on before. I loved them then, and I still love them now! These are a size S, but they run a tad big, so I needed an XS. These are also 40% off right now!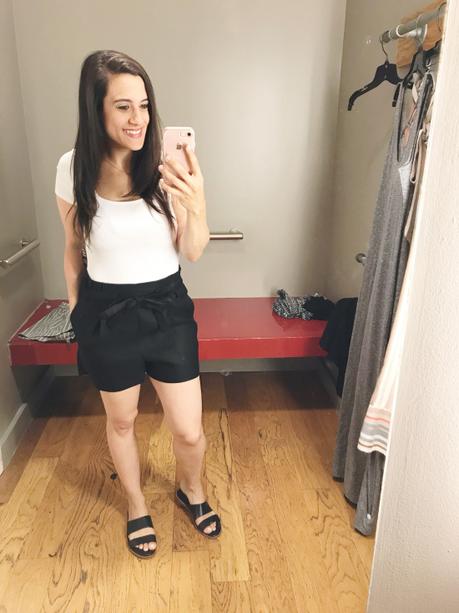 High Waisted Black Tie Shorts
Also comes in navy blue, red, and ivory.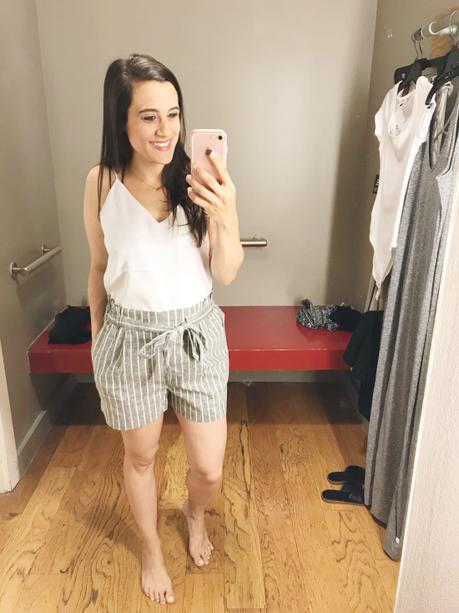 Downtown Cami
Swapped out the bodysuit for this versatile chic cami which you can dress up or down. It comes in a TON of colors and it's buy 1, get one 50% off right now!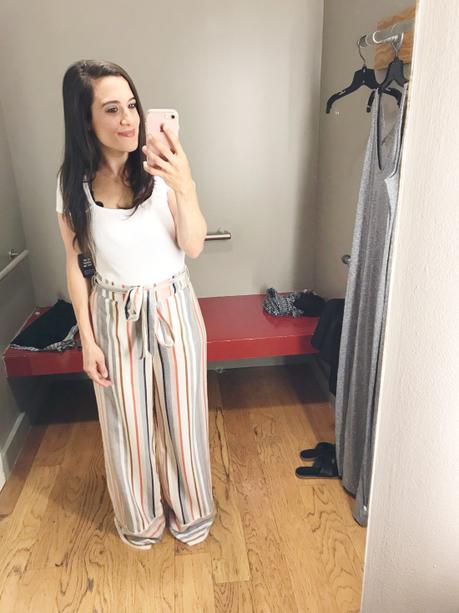 High Waisted Multi-Stripe Tie Wide Leg Pant
I LOVED these pants on the rack, but in reality they were WAY too long on me. They were totally comfortable and if I were about 9 feet taller, I would definitely rock them. Okay maybe I'm exaggerating, but you do need to be kinda tall!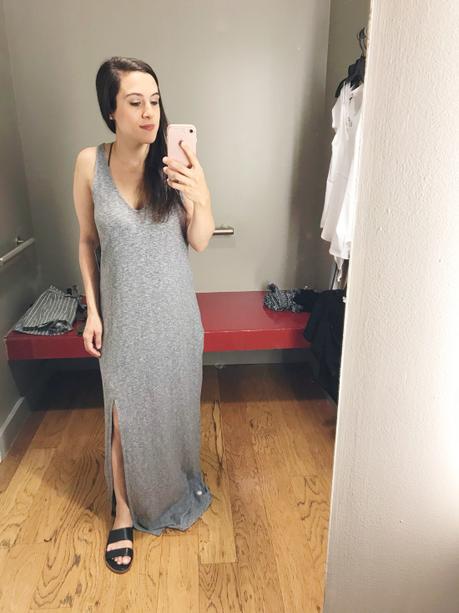 Heathered Strappy Back V-Neck Maxi Dress
FAV item of the day!  I loved it so much, that I bought it even though it's a little long, and I will have to have it hemmed. This particular one is a Medium, because I couldn't find my size right away. The XS fit a little tight, and I liked the looser fit, so I ended up getting the Small. It does come in a few other colors as well (I tried it in black of course), but this one was my favorite.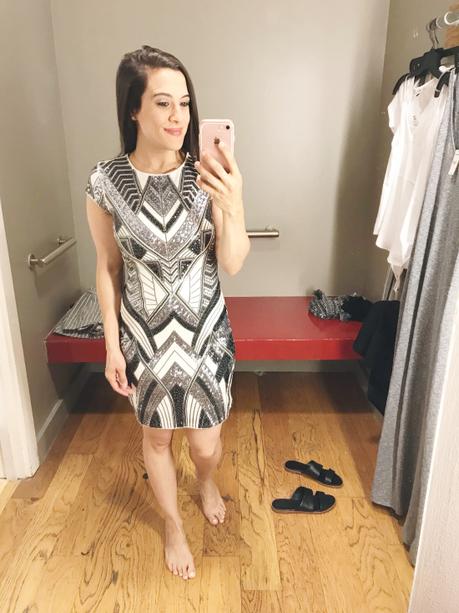 Sequin Sheath Dress
Last but not least, this dress was so fun, I had to try it on, even though I have nothing to wear it to! Could be great for a summer wedding or fancy party. It was sort of a pain to get on and off as it's very body hugging (I would prob wear Spanx under), but I really like it!
And there you have it! Can't wait to hear what you think and which items you love! I have the full try on Saved on my Instagram Stories if you want to check it out!
Hope you're all kicking the week off strong! I rocked a double workout today as our BRAND NEW 100 day program launched coaches to begin testing it out! You know I had to try it! It's going to be a combo of HIIT, strength, and balance for 20-30 minutes per day and it's set to a LIVE DJ! Very excited! There is ONE sample workouts available for non-coaches if you want to try! Just shoot me a message. Make it a great week everyone! July 4th is coming!
XO,
Gina