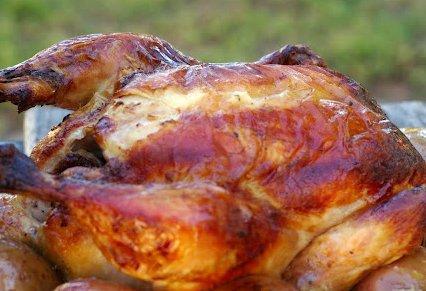 We are now at the end of our
Gourmet 50 Women Game Changers
. Julie Powell is # 50. Mary from
One Perfect Bite
leads us through all
50 women game changers.
Thank you Mary, and my other fellow bloggers for allowing me to accompany you on this wonderful ride. Julie Powell is an American author best known for her book
Julie and Julia.
Powell was born and raised in Austin Texas. She attended Amherst College where she got a double major in Creative Writing and Theatre. She later married Eric Powell, an editor of Archeology Magazine. While working for the Lower Manhattan Development Corporation in 2002, Powell began a blog chronicling her attempt to cook all the recipes in
Mastering the Art of French Cooking.
The blog quickly took off and soon a book deal was made. In 2005
Julie and Julia
was published. Powell's second book was entitled
Cleaving: A story of Marriage, Meat, and Obsession.
This book deals with an affair she had after her first book was published. It goes into details how the affair affected her own marriage. It also has her as an apprentice in a butcher shop. 
Cleaving
was published in 2009. A film adaptation of her Julie and Julia was released in 2009. She and her husband Eric Powell are still together. They live in Queens NY. I decided to make Roast Chicken.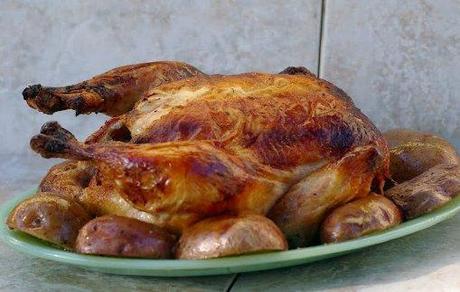 Roast Capron (Chicken)
adapted from The way to cook
a 5-7 lb roaster chicken
Cleaned and trussed cavity salt and peppered
1 tablespoon softened butter or oil
To flavor the roasting juices
1 medium carrot
1 medium onion
Directions
Preheat oven to 400 degrees.
Massage the skin all over with the softened butter.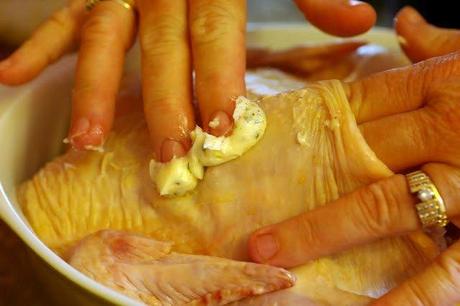 Place breast side up in a roasting pan. In the lower middle rack of your oven.
Twenty minutes later baste the chicken with the accumulated fat.
Turn the chicken on its side
baste again 30 minutes later place chicken on other side.
Add the vegetables to the bottom of the pan.
Open and close the oven door quickly while basting, as to not cool it down.
Thirty minutes later lower the temp of your oven to 350.
Flip the chicken back to breast side up.
Allow to cook another 30 minutes
Baste again.
Cook until juices run clear.
Allow to rest another 20 minutes before carving.
Meanwhile make a delicious deglazing sauce to moisten each serving.
Here is how.
Juices from roasting pan
1/2 cup dry white wine.
1/2 cup heavy cream
Pour the juices into a saucepan, and deglaze the roasting pan with the wine. scraping the resulting liquid into the saucepan. Boil rapidly until liquid has reduced and thickened slightly, then whisk in the cream and continue to boiling until again lightly thickened. Correct seasonings and pass in a warm bowl with the chicken.
The following bloggers are also featuring the recipes of Julie Powell today. I hope you'll pay them all a visit. It is wonderful to see what they all have to bring to the table this one last time.
Val - 
More Than Burnt Toast
, Taryn - 
Have Kitchen Will Feed,
 Susan -
 The Spice Garden
Heather -
 girlichef
, Miranda - 
Mangoes and Chutney
, Amrita - 
Beetles Kitchen Escapades
Mary - 
One Perfect Bite
, 
Sue - 
The View from Great Island
, Barbara - 
Movable Feasts
Linda A -
 There and Back Again, 
Nancy - 
Picadillo
, Mireya - 
My Healthy Eating Habits
 Annie - 
Most Lovely Things
, Jeanette - 
Healthy Living
Claudia - 
Journey of an Italian Cook
,
 Alyce - 
More Time at the Table
, 
Kathy - 
Bakeaway with Me
, Martha 
Simple Nourished Living, 
Jill - 
Saucy Cooks,
Sara -
Everything in the Kitchen Sink
Peace be with you, Veronica