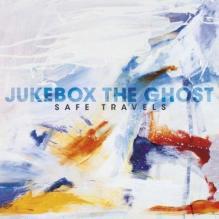 Don't Knock the Jukebox
By Matt Jones
I love when an album's music matches the cover art.
This week, Brooklyn-based three piece Jukebox the Ghost has delivered a fine example of such with their third album, Safe Travels. Much like the album art, which takes some brilliant and bold (if conventional) colors and does something beautiful and delightful with them, Jukebox has crafted an album out of straightforward, conventional elements and yet somehow managed to make it sound new and inspiring in the process.
Jukebox the Ghost sound especially like a Ben Folds vs. Eric Hutchinson vs. The Head and the Heart mashup at times, and at others, you'd swear you were listening to Ben Gibbard singing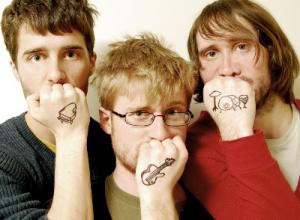 for Scissor Sisters. The Head and the Heart comparisons are striking mostly because of the plunky piano featured on most songs, although the dynamics are typically more aggressive and give this album a vibe that leans much farther towards pop than folk. And as for the vocals – well, Ben Thornewill's voice is Gibbard-esque enough to begin with, but when he inflects a certain direction or when the harmonies come in, it's positively Death Cab. Every now and then a Foxy Shazam-like guitar riff will pop up and surprise you, but it's a decent fit with the overall mix and certainly doesn't detract from the catchy hooks and upbeat aesthetic.
If Jukebox the Ghost commits a crime with Safe Travels, it's only that it is unable to live up to the unreasonably lofty expectations it sets for itself in the first four songs. Which is not to say that Safe Travels is a letdown at all; just that the first four songs are really good. A few other winners are sprinkled throughout the rest of the album – see "Adulthood," "Ghosts in Empty Houses," and "Everybody Knows" – but the quartet of easy pleasers "Somebody," "Oh, Emily," "At Last," and "Say When" are pure joy.
Lead track "Somebody" is a clear winner, combining a falsetto chorus with just enough Phoenix-like lightweight guitar work to shade it with an Indie hue, and the creative click-clacky drumming on "Oh, Emily" is enough to make you happy by itself. "At Last" is perhaps the best song on Safe Travels, spinning a tale of maybe-fated romance to the tune of stirring walk up crescendos and Gibbard-as-ever vocals. There are hints of flamboyance thoughout (see: string flourishes, occasional "OOHs," and previous Scissor Sisters and Foxy Shazam references). But it's never over the top; always just enough to keep things interesting.
In keeping with the "getting old is weird" theme set by so many others this year, "Adulthood" takes a gander at what it's like to still feel young as the body continues to age – which, tongue-in-cheek they ultimately conclude, "no one survives."
Thornewill's piano skills don't go unnoticed on Safe Travels; it's clear he knows what he is doing on the keys (clear from most of the songs, but especially the downtempo "Devils on Our Side"). His range is impressive, and it maximizes the potential of songs that could never reach as high with a less gifted pianist. All three – Thornewill, guitarist Tommy Siegel, and drummer Jesse Kristin – pull their own weight and, from the sounds of the album, generate great chemistry together.
Jukebox the Ghost are clever but not obscure, smart but unpretentious. Headiness might have its place, but it's not on this canvas of fun tunes. Just as it's sometimes more important for a writer to write clearly than to use big words, Jukebox the Ghost have musicked clearly, purposing to have fun with their brand of pop and achieving their goal to great success. Safe Travels is a terrific introduction to this group if you've never heard of them before – here's hoping it colors your week like it has colored mine.
Matt's picks:
(1) Somebody
(2) Oh, Emily
(3) At Last
(4) Say When
(7) Adulthood
(8) Ghosts in Empty Houses
(12) Everybody Knows