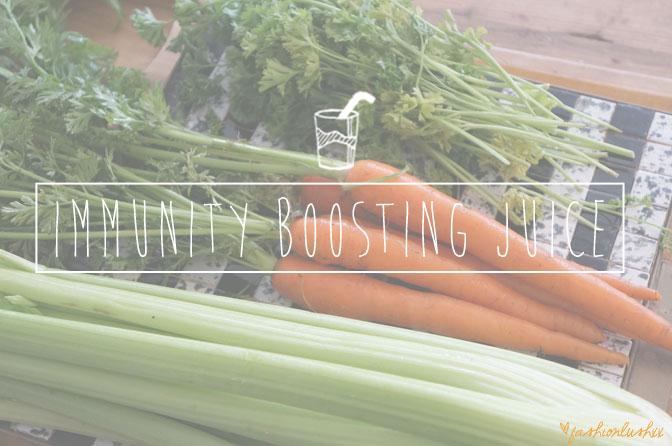 I am reading a new book… and it's a reallll page turner. Ready for this? It's Juicing for life. Yup, a book all about juice, juice, and more juice.
If you care about living a healthy life, if you have 10 extra minutes a day, and if you don't eat enough nutrients- it's time to enter the big bad world of juicing, and this very book is a must have for juicers of all levels. It's chock full of info on why juicing is so important, and it has a plethora of juice recipes in relation to any and all health ailments you may be suffering from (it even has juices to help your hair grow!!)
A few very important things that I personally learned from my new book: 
+ The skins of oranges & grapefruits contains a toxic substance, and if consumed in large quantities, it's a bad situation. Be sure to PEEL these bad boys before entering the juice shoot but be sure to leave on the white pith as that has tons of Vitamin C and bioflavonoids (antioxidant).
+ Tropical fruits that may be grown in foreign countries (where carcinogenic sprays are still used) also need to peeled. Examples: kiwi, papaya, mango, etc.
+ Apple seeds need to be removed before juicing because they actually have a bit of cyanide (yuck) in them.
Anywayssss…. once I got this book and perused the million of recipes, I decided that I would make atleast one new juice a week. All of which I plan to share with you guys. For my first juice, I decided to craft up something that would boost my immunity considering I have been a bit under the weather. Good timing too, it seems everyone is getting that pre-summer bug. Ick.
FOREWARNING: This isn't a "fruity" juice so, if you aren't far into the juicing world, this may be a little much for you. Yet remember, you can always throw in a green apple and some lemon. Nothing wrong with some added vitamins.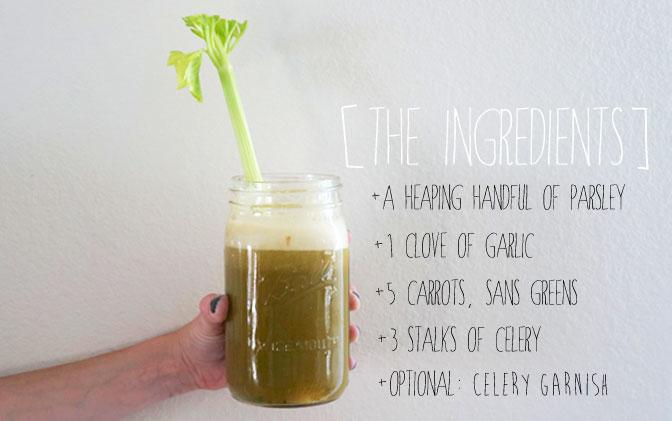 + Throw all your ingredients into your juicer, and drink up ASAP. The fresher, the better. It's got a garlic kick, so be prepared with a pack of gum after your chug this bad boy down. Your significant other will be grateful. +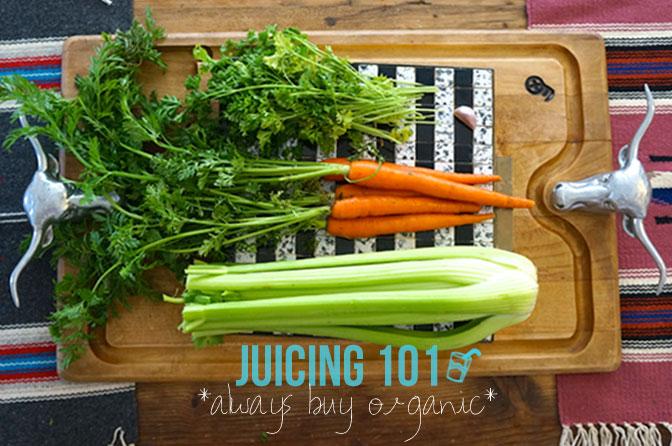 + Always keep in mind, opt for organic fruits & veggies as much as you possibly can. If for whatever reason you can't get organic, just be sure to peel all peel-able fruits/veggies prior to juicing. +
Cheers to all you juicing babes & be sure to stay tuned for more "weekly juices"!