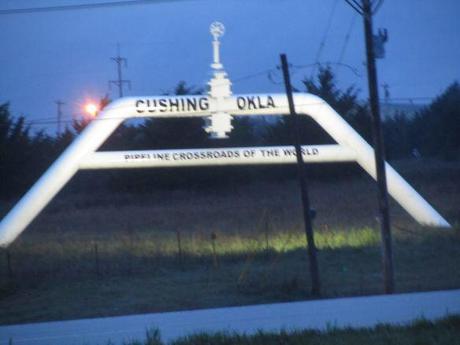 by Andrew W. Griffin / Red Dirt Report
Since reporting on the "Devon Four" yesterday and the fact that two of the environmental activists are facing the serious charge of "terrorism hoax" following their role in a December 2013 direct action in the Devon Energy Tower in Oklahoma City, Oklahoma City Police Department Capt. Dexter Nelson had more to add to the story.
Today, Nelson called Red Dirt Report and said a "memo" has come to his attention explaining that the Joint Terrorism Task Force, led by the Federal Bureau of Investigation, featured two OCPD officers as JTTF members. These officers, along with the Cushing Police Department, Oklahoma National Guard, the Oklahoma Office of Homeland Security, the U.S. Department of Homeland Security, and the Cushing Police Department held a meeting in April 2012 to discuss security measures regarding the Keystone XL pipeline.
Doug Parr, the criminal-defense attorney for the Devon Four – Stefan Warner, Moriah Stephenson, Cory Mathis and Caroline McNally – stated on the LeftVoices radio show this week that energy companies are colluding with local law enforcement in communities along the pipeline route and encouraging them to stifle protester's First Amendment rights by charging them with terrorism, as was the case in the Devon protest where the activists unfurled a glitter-flecked banner with black glitter that was initially interpreted as a "hazardous substance."
The Devon Four are members of both the Great Plains Tar Sands Resistance and Cross Timbers Earth First!
A call to GPTSR and CTEF! spokesman Eric Whelan revealed that the protesters are "cautiously optimistic" as they await a decision on the "trumped-up charges" by Oklahoma County District Attorney David Prater.
Anyway, a few weeks prior to the April 2012 JTTF meeting, President Barack Obama visited Cushing, Okla., a major pipeline "crossroads," to address the building of the southern leg of the controversial pipeline. In fact, in the year prior to Obama's visit – 2011 – over 1,200 American activists protesting the construction of the Keystone XL pipeline had been arrested, according to a report noted by anti-Keystone activist group Tar Sands Action.
TransCanada, the Calgary, Alberta-based energy company that is building the pipeline from the tar sands in the northern areas of the province, near Fort McMurray, all the way to refineries on the U.S. Gulf Coast, has met heavy resistance. A story that got national attention in 2011 involved a Durant, Okla.-area landowner named Sue Kelso who sued TransCanada in 2011 when they tried to force the pipeline route through her property. Kelso fought back and claimed a victory in a legal battle against the Canadian company, which backed off their lawsuit.
So, with that in mind, along with concerns about a pipeline being a potential terrorist target, Nelson said the JTTF had their meeting after Obama's visit and that it was that meeting – along with the participation of two JTTF-affiliated OCPD officers – that attorney Doug Parr was likely referring to.