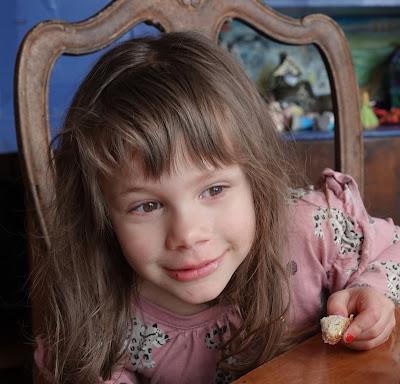 Notice anything different? I got a haircut and now I have bangs! Also, I have fingernail polish, different colors on each nail.
I stayed with Meema and Grumpy on Wednesday and Thursday with a sleepover in between. Because of all the snow, there was no school.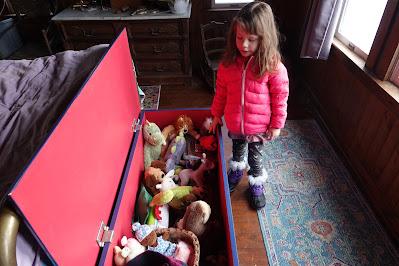 Grumpy made me a HUGE toy chest so I can keep my cooking things and my stuffies safe from Jenny who would steal them off the shelves where they were. And then she would chew them up.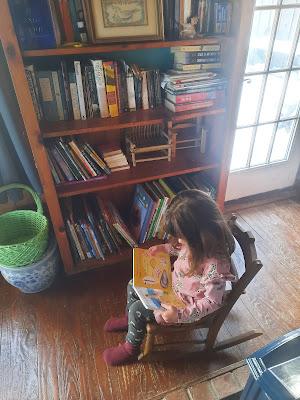 Now the toy shelves are my own library with lots of books. The two bottom shelves are mine--the others are for Meema's books.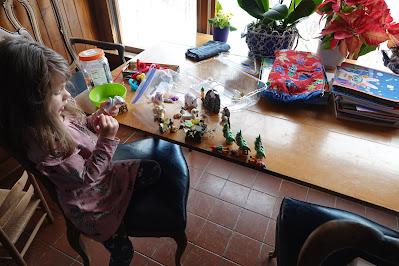 I helped Meema take all my stuff out of a cabinet in the living room so we could clean the shelves (Meema squirted the wax spray and I rubbed it around.) Then we organized my workbooks and art supplies and other stuff. I did some coloring on the creatures Nancy M gave me and played with the Garden People Dianna D sent me. It's fun to organize and find good stuff you've forgotten,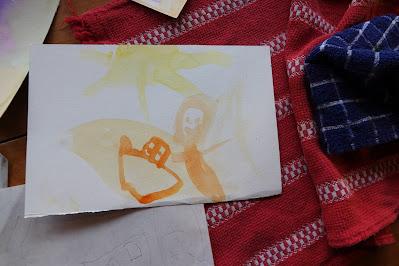 I did some painting, of course. That is something I always want to do. This is a picture of a boat and a mermaid. And the sun.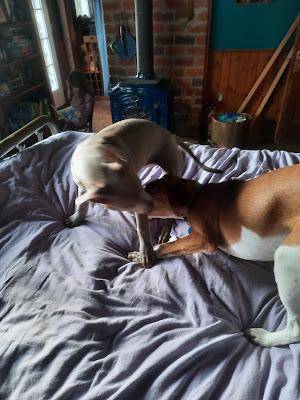 Otter came up both days for a playdate with Jenny. They play really rough, but they are still friends.  Otter did not spend the night though. Meema did not think it was a good idea.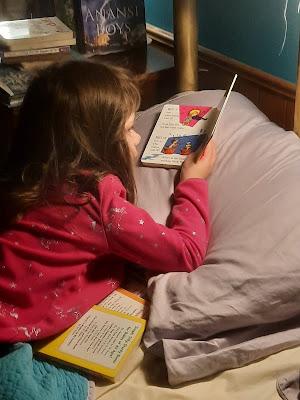 Meema got me a warm pink nightgown with silver unicorns on it. I put it on after my bath and got in bed to read some of my books. 
Meema and Blue Elephant and Snuggle Puppy sleep next to me but when we woke up in the morning, what do you think! Jenny was between us! With her head on the pillows! And Corycat was on the other side of Meema, also sleeping on the pillow. (Angeline sleeps in the workroom upstairs because she Does Not like Jenny. Neither does Corycat who hisses when Jenny gets too close.)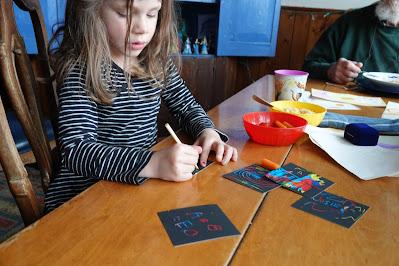 On Thursday, Meema had a fun new thing for us to do--these black cards that have color underneath. You use a pointy stick called a stylus to draw on the black and SURPRISE! your picture is all colors.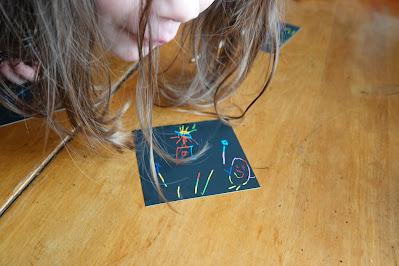 On Thursday we also went up to the Workroom--I call it my office because I have a desk and pencils up there. Meema ironed napkins and I worked at my desk.  
When we got done, we went downstairs and organized the big closet in the living room where my blocks are. We found some stuff that I am too old for and will give away, but we also found lots of things I hadn't played with since before Christmas. The blocks are my favorites.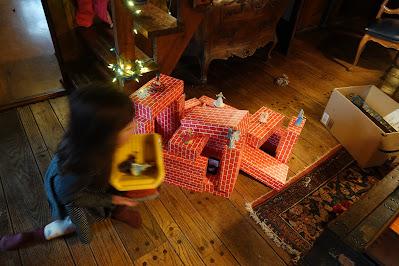 I built a big fancy castle and used my dump truck as transportation for the Castle People.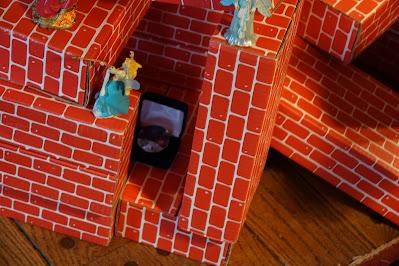 This is a hidden room, and a big diamond is in it. The fairies are standing guard.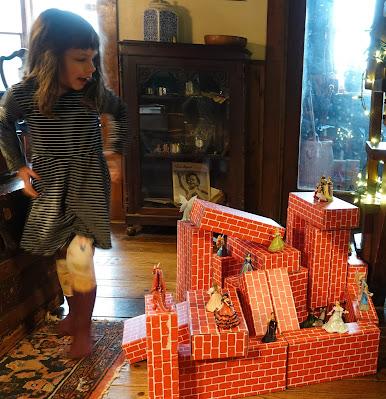 The Castle People love it. It is made of bricks so the Big Bad Wolf can't blow it down. And there is a courtyard for the horses. I think it is really perfect and would have left it there but Meema and Grumpy said it was really in the way between the kitchen and living room. Also Jenny. She would steal the Castle People and knock down the blocks. 
So, after my dad came to get me and saw it, I put it away. (Grumpy helped.)I will build a bigger one next time.