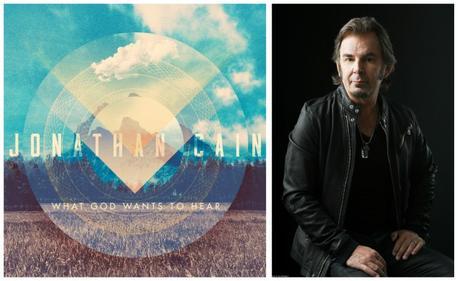 If you are my age, you would have been sleeping not to know who the band, Journey was back in the 70's (gulp).  Flash forward all these years and most of my friends from back in that era have gotten saved and sober just like me. I say flash forward again because  Jonathan Cain, who was the longtime keyboardist and rhythm guitarist from Journey, has released a new album called What God Wants to Hear.
What God Wants to Hear is Jonathan Cain's first solo CD since 2006, and a really cool note here is the fact that former Journey drummer, Deen Castronovo, plays the drums on this LP as well. I'm thinking this album caused a reunion of sorts for those two! The tracks on What God Wants to Hear are:
"Deeper Than Deep"
"Bold in Prayer"
"Rush Into Me"
"Have Your Way With Us"
"In Your Waters"
"What God Wants to Hear"
"Sanctify Segue"
"Sanctify"
"Fall Into You"
"This House"
"Can't Take My Eyes Off of You"
"Why I Breathe"
"Because the Blood"
So I'm not sure of the details of Jonathan Cain's story other than the basics: He had struggles and "storms" both in his personal and professional life to which Cain declares "Only God can take a mess and turn it into a message, a test into a testimony, a trial into a triumph, a victim into victory."  I say AMEN to that! 
Cain is currently married to Pastor Paula White, who is a senior Pastor at New Destiny Christian Center in Orlando. Leading worship at his wife's annual women's conference, Cain felt a new joy in his music. His wife said she had never heard him sing like that and that something had "shifted" in him.  After encouragement to record music reflecting his new joy of music, Cain began to ask, "What does God want to hear from me?"  Soon afterwards, the songs began to pour out. 
My favorite? I'd have to say for this album I have two.  The first is Bold in Prayer for sure! I love the drums in the song, both at the beginning and throughout.  I also love the lyrics to the song.  You take a listen:
The second favorite of mine is Rush into Me and I love the old rock feel and how the words flow so well. Listen to this one:
I really liked a lot of the songs on What God Wants to Hear, and I'm sure you will too! This album is a great find, and I'm glad I had a chance to take a listen. You can get more information on Jonathan Cain by heading over to Addiction Sound, Twitter, Facebook and Instagram. For a recent interview with Cain, go to Parade Magazine.
I very appreciatively received a complimentary copy of this CD in exchange for my review.
~ ~ ~ ~ ~ ~ ~ ~ ~ ~ ~ ~ ~ ~ ~ ~ ~ ~

It would be great if you would stay connected with me!! You can follow me on Twitter @DebiL1611, like me on Facebook at 2014 and Beyond, circle me on Google+, follow me on Tumblr, Instagram and Bloglovin', subscribe on YouTube, or connect with me on LinkedIn and Pinterest.

Please make sure to visit my homepage and subscribe to my blog for more great posts on running, fitness and lifestyle topics as well as food, product, music and book reviews, and more!