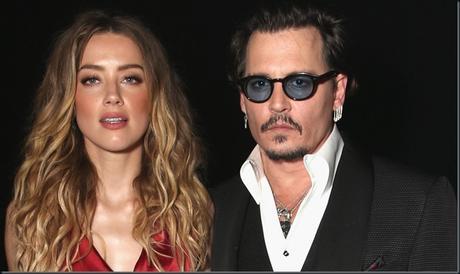 Early this morning I read the news that Johnny Depp and Amber Heard are breaking up after what seems to have been not the easiest and smoothest of relationships. Just recently they had the furore over Amber illegally importing her pet dogs into Australia and this lead to her not only damaging her own reputation but that of her partner as well. I met Amber briefly a couple of years ago and I found her not to be the most easy of people to be around, and it seems Johnny has come to the same conclusion as I did in my brief encounter with her.
Now I have looked at Johnny Depp (9th June 1963 in Owensboro, Kentucky at 08.44am) and his relationships before when he was with Vanessa Paradis and with Amber I only have her date and place of birth 22nd April 1986 in Austin, Texas. Nevertheless, with just a bit of detail missing we can certainly find out quite a lot of information as to how these two related.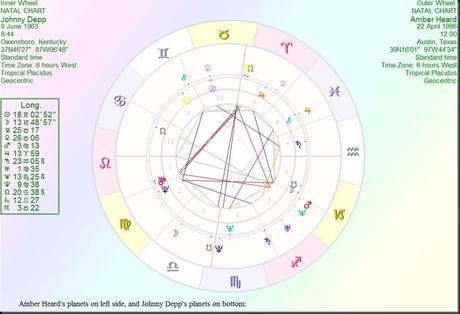 Firstly with Suns in next door signs Taurus (Amber) and Gemini (Johnny) we have two very different characters here. Those Suns are in a tight semi-square or 45 degrees apart, so there is a level of tension that exists between them from the start. Her Moon is definitely in the sign of Libra and his is in Capricorn, signs that are square to each other indicating yet more distance between them; they would not understand each other long term on an emotional level. What about communication then? That's most important for a good healthy relationship and for sorting out problems where you need to talk, is there a favourable link up between her Mercury and his one? Well we have her Mercury in direct and confrontational Aries and his in peace loving, happy as things are Taurus, not happy bedfellows. Do you get the feeling from the start that this wasn't gonna work out??
Next to look at we have Venus and Mars, any romantic or sexual connections then? Well there is a conjunction between her Venus and his one in Taurus and his Mercury is there in the mix too, go artistically there is a link and we have friendship for sure - they met on the set of a the film "the Rum Diary" in 2012. We have a weak 135 degree angle (Sesqui-square) between her Mars and his Venus bringing some fascination with each other, but no other strong Mars Venus contact. Each Mars is in an earth sign, Virgo for him and Capricorn for her so they were reading off the same page in the bedroom and his Mars/Uranus makes a double trine to her Sun and a trine to her Neptune, so some healthy competition, imagination and plenty of "kinky" action, but this astrologer is left at a real loss as to how these two actually got together long term in the first place.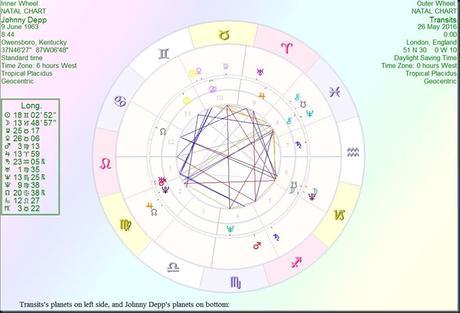 As I have an accurate birth time for Johnny, it is easier to look at his chart and get his perspective on the break up than on her one. Firstly, Johnny's Mars/Uranus conjunction (Mars rules 9th house of beliefs and the law and Uranus his 7th house of permanent relationships and litigation) is being caught in a pincer movement as Mars retrograde opposing Sun and Venus all square this conjunction. I did mention just a couple of days ago on my Facebook page that for some the Mars Sun Venus opposition in the skies would inflame relationship situations.
Secondly, the transiting Nodes are square to Johnny's chart ruling Gemini Sun - the Lunar Nodes are always seemingly involved in important times in one's life. Thirdly, transiting Uranus is square to Johnny's own Nodal axis, highlighting his 7th house of marriage and forcing him to take independent and sudden action to separate. Finally transiting Saturn moving in his 5th house of creativity, love and children is very closely square to his natal Jupiter and at the same time opposing his natal Chiron. There is much pain and wounding here as Jupiter affects his 5th house a lot as Sagittarius is enclosed within this house and somewhere in the back of my mind I feel that this break up is not just for himself but for his kids too, he has a boy and a girl from his marriage to Vanessa Paradis.
I have looked at the transits against her chart, but without an accurate birth time it is difficult to make assumptions about her reactions to the split, however her Sun/Pluto/Nodal opposition lies on Johnny's Midheaven/Imum Coeli axis with her Pluto and her South Node at the base of Johnny's chart, so she is going to be like an anchor around his feet and a real drag on his public image as this divorce case gets underway.
#johnnydepp #amberheard #relationships #astrology #solarisastrology