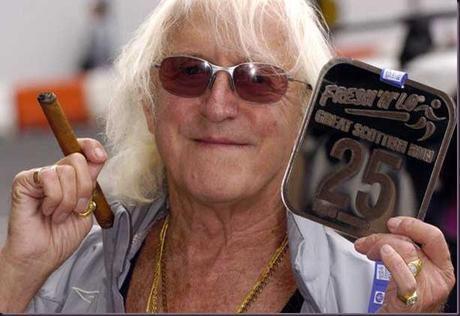 Sir Jimmy Savile was an enigma. One of the pioneering DJ's of British pop culture, an iconic figure who was huge figure on radio in the 60's and 70's and during the 80's was instrumental in charity events and fun runs, raising thousands of pounds for people in need and appearing on Jim'll Fix It, a programme which granted the dreams of countless children who wrote to Jimmy from across the length and breadth of the UK.
Sir Jimmy was born in Leeds in the UK on 31st October 1926, so tomorrow he would have been 85. I do not have a birth time which is a real shame. What we do know is that Jimmy was a secretive Sun Scorpio with a rather critical Virgo Moon. The combination gives one a rather superior air, someone who knows exactly what one is about and what one wants, yet keeps that knowledge away from everyone else. Jimmy had a very deep and very quick and clever mind. Jimmy's Sun sat in conjunction to Venus, so this was a socially aware yet private man, who liked being around people. He got to know them, but few ever got to know him.
There was however a keen competitive edge him too, with a sharp temper if he was angered. Mars is in Taurus, which brings energy in a steady way, and this aided him to do marathons for charity. This energy would have been supplemented vastly by Mars being sextile to Pluto and being square to Jupiter. Notice that the Moon in Virgo is quindecile to Uranus in Pisces. This shows a real compassionate focus and emotion towards suffering and serving others. Jupiter in Aquarius shows huge generosity to helping people in a humanitarian but detached way. The Moon (assuming he was born late morning through afternoon) was at the point of a wedge formation completed by this Sun Mars opposition, highlighting his charity running.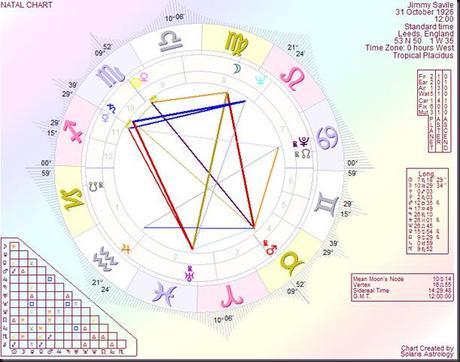 Returning to the Moon in Virgo, this shows a real shyness emotionally, especially showing one's feeling to others. Even if you have strong emotions about someone, this Moon may prevent you ever from having the courage from expressing those feelings. Now Virgo's ruler Mercury is conjunct to Saturn in the natal chart, adding even more of a block to one's expression of emotion. I think there was one more block in Jimmy's life, his mother. The Moon in Virgo is very critical, and even though he had a very, very close relationship with her shown by a wide conjunction between Pluto and the Nodal axis (the maternal axis on the chart), those critical words would have been ringing in his ears since childhood, and his association with her control and criticism would have coloured his association and thoughts of being with other women. Jimmy never got married in his life and he lived with his mother who he nicknamed "The Duchess" until she died. This Moon had one more effect. It severely cools the emotions, so much that one feels that you do not deserve praise or love making you very cold and aloof.
Moving on, Saturn and Mercury sit together conjunct straddling the cusp of Scorpio and Sagittarius. These two planets receive a square from Neptune and a trine from Uranus. Mercury in Sagittarius is very open and thinks of big things and has big ideas. Jimmy was always looking ahead. Saturn in Scorpio fears emotional intimacy and letting go allowing one to experience and fully appreciate personal relationships. This is another link to his bachelor life. The two planets together brought a serious, stern edge to the way he communicated. Here was a man who like to work in solitude where he could compose his own thoughts before speaking. Of course being in a radio studio gave him exactly that type of atmosphere.
Saturn and Mercury square to Neptune in Leo, a link to popular (Leo) music (Neptune). Jimmy first worked on Radio Luxembourg, before moving the UK's premiere pop music station BBC Radio One in 1968 where he broadcasted until 1987. He them moved to several commercial stations until 1997. He was broadcasting into his 70's when he effectively retired, returning to the microphone briefly in 2005 for a couple of years. Jimmy's appearance and his manner was very distinctive with his shell suits and forever smoking cigars, and the trine from Uranus to Mercury did give him a rather unusual and unique way of communicating, especially his love of catchphrases like "as it 'appens" and "Guys and Gals". The trine to Saturn shows that he was a pioneer of all things new, tearing down old barriers to present fresh and new ideas and music.
He passed away as transiting Neptune was directly opposite natal Neptune square to natal Saturn. Neptune connecting with Saturn especially in a square does always tend to weaken the health. At the same time Jimmy's progressed Moon was more than likely square to natal Pluto, which is difficult to deal with, especially as the natal Moon was afflicted by a quindecile to Uranus. His death came a shock to many, aptly echoing the Uranus connection.
He was a true British eccentric and philanthropist and he worked tirelessly to promote charity giving even before the advent of Live Aid, and his like will probably never be seen again. He died of pneumonia a proud Yorkshire man in his home town of Leeds.